Restaurants
Massachusetts is one of the best pizza states in America, according to Food & Wine
As for the very best pizza in Mass.? That honor went to an Eastie favorite.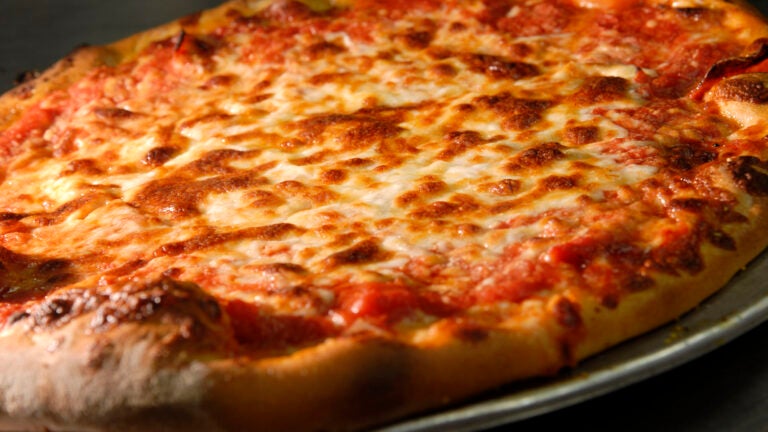 There's no other way to slice it: Some of the best pizza in the country is made in Massachusetts.
On Thursday, Food & Wine published an ode to the best pizza in the United States, naming the top 10 pizza states in the country and detailing where to find excellent pizza in all 50 states. Coming in at number eight on that list? Our very own Massachusetts (though we think it belongs a little closer to the number one spot, which the article's author, Food & Wine senior editor David Landsel, gave to New Jersey).
Landsel wrote that Massachusetts is home to "at least three very distinctive regional styles:" Greek pizza, South Shore bar pizza, and beach pizza. For the best Greek-style pies, he called out George's Pizza House in Harwich Port, while Lynwood in Randolph was given a nod for bar pizza. For beach pizza, Landsel recommended Tripoli Bakery in Lawrence and Cristy's Pizza in Salisbury Beach.
What about more classic styles? Despite the inevitable wait in line, the cash-only Galleria Umberto in the North End was named for its timeless Sicilian pies.
"There's nothing revolutionary about the pizza here—thick squares, with a nice crunch down below, tomato sauce, unremarkable cheese, baked until tiger spotted, but that's not the point," Landsel wrote. "In the new and improved Boston, Umberto's offers a timely reminder that keeping with the times might not only be overrated, but furthermore, if you're really good at what you do, the times can go dump themselves into the harbor."
Regina Pizzeria was also given a shout-out, with a specific nod to the original Thacher Street location. But for the absolute best pizza in Boston — well, that honor went to Santarpio's in East Boston.
"Starting out around the turn of the last century as a bakery, the pizzas to this day have a baker's touch, with a scraggly, blistered, almost Italian bread-like crust that doesn't shy away from the spotlight — a balanced sauce takes center stage, rather literally, never overpowered by the cheese; the plain pies are outstanding, pies with lots of the house sausage are even better," Landsel extolled about the restaurant.
Massachusetts wasn't the only New England state deemed pizza royalty. Food & Wine gave Connecticut the number two slot on the list for best pizza states, with New Haven named a particularly important pizza city; Frank Pepe Pizzeria Napoletana and Sally's Apizza were designated as New Haven stalwarts. Zuppardi's Apizza in West Haven, Roseland Apizza in Derby, Colony Grill in Stamford, and Nana's Bakery & Pizza in Mystic were also deemed must-visit spots for Connecticut pizza fans.
Here are the other pizza-centric eateries in New England recommended by Food & Wine:
Maine: Micucci Grocery in Portland, Pizza by Alex in Biddeford, Luiggi's in Lewiston, The Cabin in Bath, Tinder Hearth in Brooksville
New Hampshire: Tilton House of Pizza in Tilton
Rhode Island: Al Forno in Providence, Caserta Pizzeria in Providence
Vermont: American Flatbread (multiple locations), Pizzeria Verita in Burlington
Check out the complete list of best pizza states and exceptional pizzerias around the country.
Get Boston.com's browser alerts:
Enable breaking news notifications straight to your internet browser.