Restaurants
The Pearl opens in Dorchester with char-grilled oysters and lobster rolls
Co-owner Luther Pinckney said the restaurant "was needed in the area."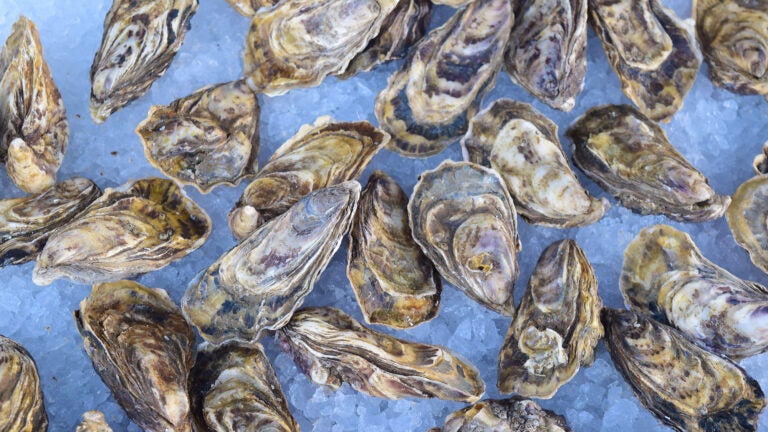 After more than two years in the making, raw bar and grilled seafood spot The Pearl made its Dorchester debut on Wednesday.
Located at the South Bay shopping center, The Pearl showcases an abundance of bi-valves, crab legs, and seafood towers, alongside classic seafood plates like crispy calamari, shrimp scampi, lobster macaroni and cheese, and cold and warm lobster rolls.
Luther Pinckney — who co-owns The Pearl with his wife, Teda DeRosa-Pinckney, and family friends, Mika and Malik Winder — said the restaurant's specialty is its char-grilled oysters, which are topped with garlic parmesan butter.
"One of our managing partners, Malik Winder, has an excellent grilled oyster recipe," Pinckney told Boston.com. "It's unique to us in the city. It's something he's been working on for about six years or so and has gone through a couple different iterations."
While seafood is the focus, diners will also find salads, roasted chicken, and a burger during lunch and dinner hours. Weekend brunch will hopefully be added this month, Pinckney said.
"[A seafood restaurant] is what was needed in the area," Pinckney shared. "It's our passion and love."
To drink, cocktails include tipples like The Spicy Pearl (infused hibiscus tea syrup, tequila, spicy jerk agave syrup, lime juice, ginger beer), the Boston Sidecar (cognac, white rum, Cointreau, simple syrup, lime juice), and the Lucy Pearl Smash (pear vodka, St Germain, lemon juice, pear liqueur, muddled cucumber). Beer and wine are also available.
During Wednesday's ribbon cutting ceremony, Acting Mayor Kim Janey spoke to a crowd gathered outside the restaurant and praised the new addition to the neighborhood.
"If people haven't seen the inside, if you can't hear this music, this beautiful bar, this sign here, this outdoor patio — we deserve things like this in our community," she said. "We deserve to have wonderful things. And we've got to make sure that we continue to offer opportunities for small business owners who want to do amazing things in our city. As mayor, I will always work hard to make sure that there are opportunities like this available."
Pinckney called the opening ceremony an "almost spiritual moment," and said he hopes the restaurant brings a new atmosphere to the neighborhood.
"And an opportunity for the city to get back together and get back to being social," he added.
The Pearl, located at 20B District Ave. in Dorchester, is currently open daily from 11 a.m. to close, and offers both indoor and outdoor seating.
Newsletter Signup
Stay up to date on all the latest news from Boston.com