Restaurants
Readers share their favorite empanada restaurants around Boston
"Hands down the best empanadas ever," wrote one reader about the empanadas from Del Sur.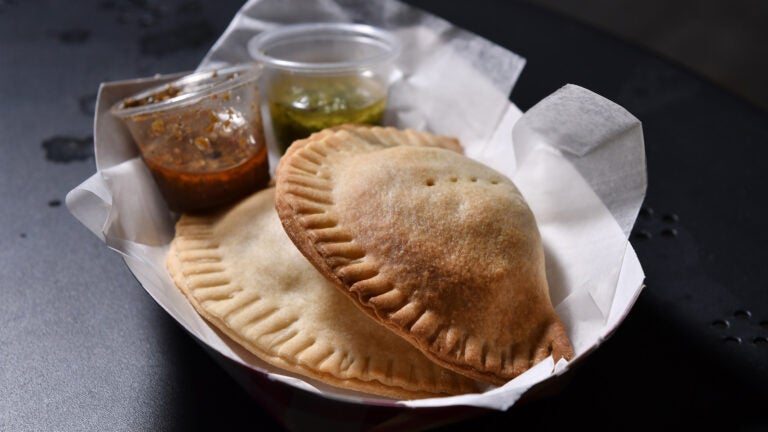 This article is also available in Spanish: Haga clic aquí.
When we asked Boston.com readers where to find the best empanadas in Boston, we received close to 40 recommendations. From empanada stands at farmers markets to Colombian restaurants in East Boston, respondents praised dozens of restaurants for their creative empanada fillings, variety of dipping sauces, and takeout and delivery capabilities, with one reader sharing that an empanada company's home delivery option "has seriously kept us alive during the pandemic." That's nothing to scoff at.
Of course, some readers felt that the dish was best when made in their own home. Stefan Ferrari-Peinl in Charlestown wrote that the region's top empanadas were "in our kitchen, where my Argentinean wife prepares the best meat empanadas with olives, egg, and onion based on her grandmother's recipe." Matty from Malden agreed, writing "My kitchen, because my gf and I are great at making them!" Ok, so when can we come over?
If enjoying empanadas at home isn't an option, you're in luck: There are plenty of excellent restaurants, food trucks, and catering businesses that offer top-notch empanadas in and around Boston. Here are the top five reader-recommended spots, followed by a map where you can find a slew of other empanada destinations to add to your list.
Located within Somerville's Bow Market, Buenas has developed a committed fan base that flocks to the kiosk for out-of-the-box empanadas. Owners Melissa Stefanini and Sebastian Galvez have crafted innovative flavors like La Hawaiana (ham, cheese, and pineapple) and Buenas Beef with a Frosted Flakes crust, which can be found at the market or stocked at a variety of distributors, including Bone Up Brewing, American Provisions, Formaggio Kitchen, and Allium Market. The empanada company has also adapted to the times, offering weekly home delivery and takeout during the pandemic. "They make the best pandemic home lunch treat," wrote Serena Brown from Melrose. "I love being able to support them and have an easy and delicious lunch or dinner! Favorite flavors in my house include 'Big Mac' and ham and cheese.'"
Sebastian Corbat made a name for himself selling empanadas at farmers markets through his company Del Sur, which puts a modern spin on Argentine and Chilean recipes to create empanadas like Fabiola's (ground beef, onions, hard boiled eggs, raisins) and Bolivian Peas (sofrito made with poblano peppers, garbanzo beans, corn). Customers can also find his goods at La Catrina in Boston, and The Fuller Cup and Wright-Locke Farm in Winchester. "Hands down the best empanadas ever," said Sarah from Lexington. "Flavorful, authentic, beautifully made, and [the] ingredients are healthy and often organic." Another reader advised that they "sell out all the time at farmers markets" — you've been warned!
Both Pikalo's Jamaica Plain and East Boston locations received a number of votes from our readers, who touted the empanadas' impressive size and imaginative fillings. "I love that they are large and quite full, also that there is a great variety of them," wrote Rosa from Chelsea. "I want to try them all." We don't blame you, Rosa — with options like Buffalo chicken, bolognese, lobster, and eggplant parm, we kind of want to try them all, too. The shop has also helped make long-lasting memories for some customers. "As corny as this sounds, my first time trying them out was when I was at Angell [Animal Medical Center] for my dog and feeling super stressed," recalled Ashley from Boston. "We picked this place to grab a bite while waiting for some news; these empanadas are a feeling of comfort food for me now."
Named after chef/owner Dan Armbruster's father, the Papá Grande food truck is an empanada powerhouse on wheels. You'll find the truck at locations around the city, including Turtle Swamp Brewing in Jamaica Plain and Monument Square in Charlestown, where customers line up for variations like the Cheeseburger in Paradise (ground beef, cheddar, caramelized onions, pickles), Cholo Vato (Mexican street corn, chile lime crema, cotija cheese), and The Sophia (spinach, artichokes, blend of three cheeses and herbs). "The empanadas paired with their slaw is fantastic, and they cram a ton of fillings into the empanada," wrote Bob C. in Charlestown, referencing Papá Grande's Baja slaw salad. "Chef Dan is the master IMHO."
If it's Colombian empanadas you're after, El Paisa in East Boston is another favorite among readers. In addition to arepas, burritos, and sweet corn dishes, the restaurant serves beef and chicken empanadas. "They're crunchy on the outside and stuffed with meat and potatoes," Michael G. in East Boston stated simply. Order a couple, then follow your meal up with a few house pastries, including panderos, churros, and pan de bono.
Check out the remaining reader recommendations on our map below.
Newsletter Signup
Stay up to date on all the latest news from Boston.com