Restaurants
Where to find $1 oyster happy hour deals in Boston
These are the buck-a-shuck deals available right now.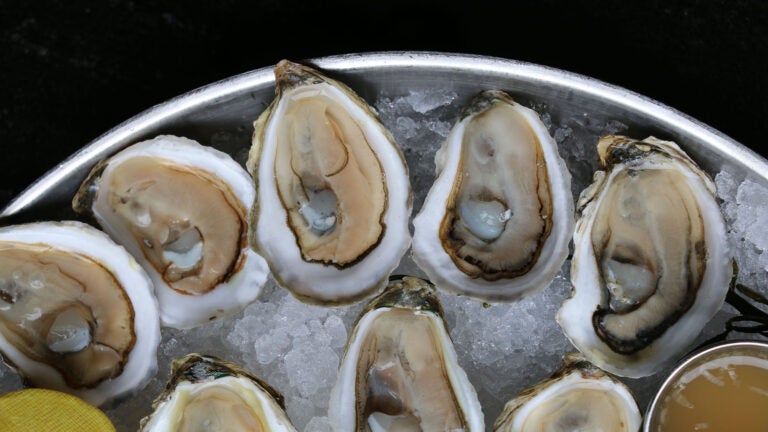 If you're picturing a quintessential New England day, throwing back a dozen freshly shucked oysters is a requirement.
Though the pandemic hit the seafood industry particularly hard, resulting in a 60 percent loss in oyster sales last spring, Boston is still a bonafide utopia for bivalves. Still, slurping down oysters on a regular basis can hit your wallet hard. Tack on drinks and an entrée, and getting together with friends over oysters can suddenly seem more like a special occasion than a typical Boston dining experience.
For a more affordable outing, check out these $1 oyster happy hour deals in Boston, Cambridge, and Somerville:
Where: 224 Boston
When: Mondays, 5 p.m.–9:30 p.m.
VIsit: 224 Boston St., Boston
Where: A&B Kitchen • Bar
When: Thursdays, 3 p.m.–6 p.m.
Visit: 115 Beverly St., Boston
Where: Ashmont Grill
When: First Thursdays of the month, 5 p.m.–10 p.m.
Visit: 555 Talbot Ave., Boston
Where: Black Lamb
When: Daily, 11 a.m.–5 p.m.
Visit: 571 Tremont St., Boston
Where: The Broadway
When: Fridays, 4 p.m.–6 p.m.
Visit: 726 E. Broadway, Boston
Where: Charlie's Kitchen
When: Daily, noon–5 p.m., 9 p.m.–close (two for $1, minimum order of six oysters)
Visit: 10 Eliot St., Cambridge
Where: Fin Point Oyster Bar & Grille
When: Mondays–Saturdays, 2 p.m.–5 p.m.
Visit: 89 Broad St., Boston
Where: Foundry on Elm
When: Sundays, 10 a.m.-close
Visit: 255 Elm St., Somerville
Where: The Glenville Stops
When: Daily, 5 p.m.–6 p.m.
Visit: 87 Glenville Ave., Boston
Where: Grafton Street
When: Daily, 4 p.m.–6 p.m.
Visit: 1230 Massachusetts Ave., Cambridge
Where: Grill 23 & Bar
When: Mondays–Thursdays, 5 p.m.–6 p.m.
Visit: 161 Berkeley St., Boston
Where: Ilona
When: Thursdays, 5 p.m. to midnight
Visit: 783 Tremont St., Boston
Where: Lincoln Tavern & Restaurant
When: Tuesdays, 10 a.m.–10 p.m.
Visit: 425 W. Broadway, Boston
Where: Loco Taqueria & Oyster Bar
When: Mondays, 11 a.m.–12:30 a.m.
Visit: 412 W. Broadway, Boston
Where: Lower Mills Tavern
When: Mondays, 5 p.m.–sold out
Visit: 2269 Dorchester Ave., Boston
Where: Monument Restaurant and Tavern
When: Mondays, 4 p.m.–sold out
Visit: 251 Main St., Boston
Where: Prezza
When: Daily, 4:30 p.m.–5:30 p.m.
Visit: 24 Fleet St., Boston
Where: Rabia's Dolce Fumo
When: Wednesdays, Thursdays, Sundays, noon–6 p.m.
Visit: 73 Salem St., Boston
Where: Rail Stop Restaurant & Bar
When: Wednesdays, 11:30 a.m.–9 p.m.
Visit: 96 Guest St., Boston
Where: Russell House Tavern
When: Sundays–Thursdays, 9 p.m.–10 p.m.; Fridays–Saturdays, 10 p.m.-midnight
Visit: 14 John F Kennedy St., Cambridge
Where: Saloon
When: Thursdays–Saturdays, 4 p.m.–6 p.m.
Visit: 255 Elm St., Somerville
Where: Savin Bar + Kitchen
When: Mondays–Fridays, 4 p.m.–6 p.m.
Visit: 116 Savin Hill Ave., Boston
Where: Scorpion Bar
When: Wednesdays–Sundays, 5 p.m.–7 p.m.
Visit: 58 Seaport Blvd, Ste. 200, Boston
Where: State Street Provisions
When: Mondays–Fridays, 4 p.m.–6 p.m.
Visit: 255 State St., Boston
Where: Summer Shack
When: Tuesdays, 4 p.m. to 10 p.m. (Boston), 11:30 a.m. to 9 p.m. (Cambridge)
Visit: 50 Dalton St., Boston; 149 Alewife Brook Parkway, Cambridge
Where: Vialé
When: Daily, 5 p.m.–7 p.m.
Visit: 502 Massachusetts Ave., Cambridge
Where: Warren Tavern
When: Mondays–Fridays, 3 p.m.–6 p.m.
Visit: 2 Pleasant St., Boston
Where: Waypoint
When: Mondays–Saturdays, 5 p.m.–7 p.m.
Visit: 1030 Massachusetts Ave., Cambridge
Newsletter Signup
Stay up to date on all the latest news from Boston.com