Restaurants
'Everyone's ready': Restaurateurs react to the restrictions lifting in Mass.
"I cannot put into words how much stress this has put on my staff," said TABLE owner Jen Royle.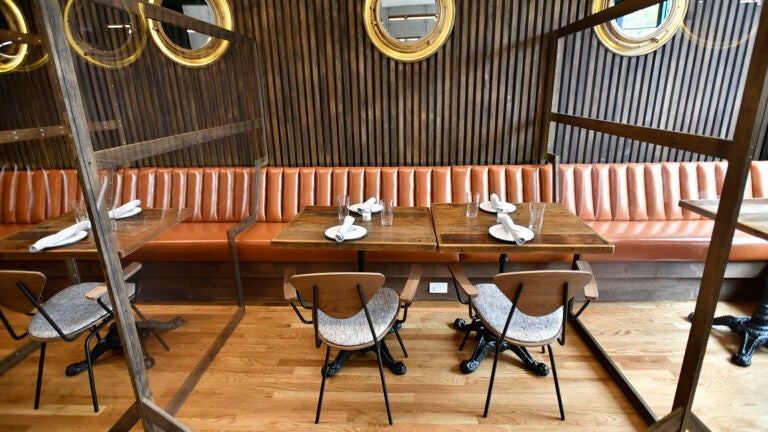 It has been more than a year since the coronavirus pandemic first upended the restaurant industry. Now, with a return to normalcy on the horizon, restaurateurs are celebrating the lifting of restrictions — and worrying about an influx of customers during a particularly vulnerable time.
On Monday, Gov. Charlie Baker announced plans to lift almost all COVID-19 restrictions on May 29, allowing restaurants to operate without social distancing or time limits, and inviting vaccinated guests to dine without masks indoors and outdoors. Following the governor's announcement, Boston acting mayor Kim Janey revealed that the city will follow the state's plans, lifting restrictions in Boston on May 29.
It was a dramatic reversal from the city's previous announcement that it would reopen three weeks after the rest of Massachusetts, and welcome news for many restaurateurs who have been waiting to restore their restaurant to its pre-pandemic form.
"For 14 months, independent restaurants have struggled to survive, and we're excited to begin a new and happier chapter," Massachusetts Restaurants United, a coalition of independent restaurant professionals who have advocated for government relief, said in a statement. "We ask for cooperation as we adjust to new guidance and ensure the safety of our diners and staff. Unvaccinated individuals remain at risk and will be expected to follow mask-wearing guidelines inside restaurants for the foreseeable future. We urge everyone to get vaxxed, then get a reservation."
Jen Royle, who owns TABLE Restaurant and TABLE Mercato in the North End, told Boston.com that she is "more than ready to go back to our original concept of having diners sit together and break bread with strangers."
"Having a tiny restaurant with communal seating and eight courses has been extremely difficult in terms of the amount of individual parties we can social distance and the number of dishes we are going through every night," Royle said. "I cannot put into words how much stress this has put on my staff."
Royle said that TABLE Restaurant will go back to having two long tables inside, as opposed to smaller tables cordoned off with plexiglass barriers that the restaurant implemented during the pandemic. Outside, Royle will add a 35-foot communal table for al fresco dining.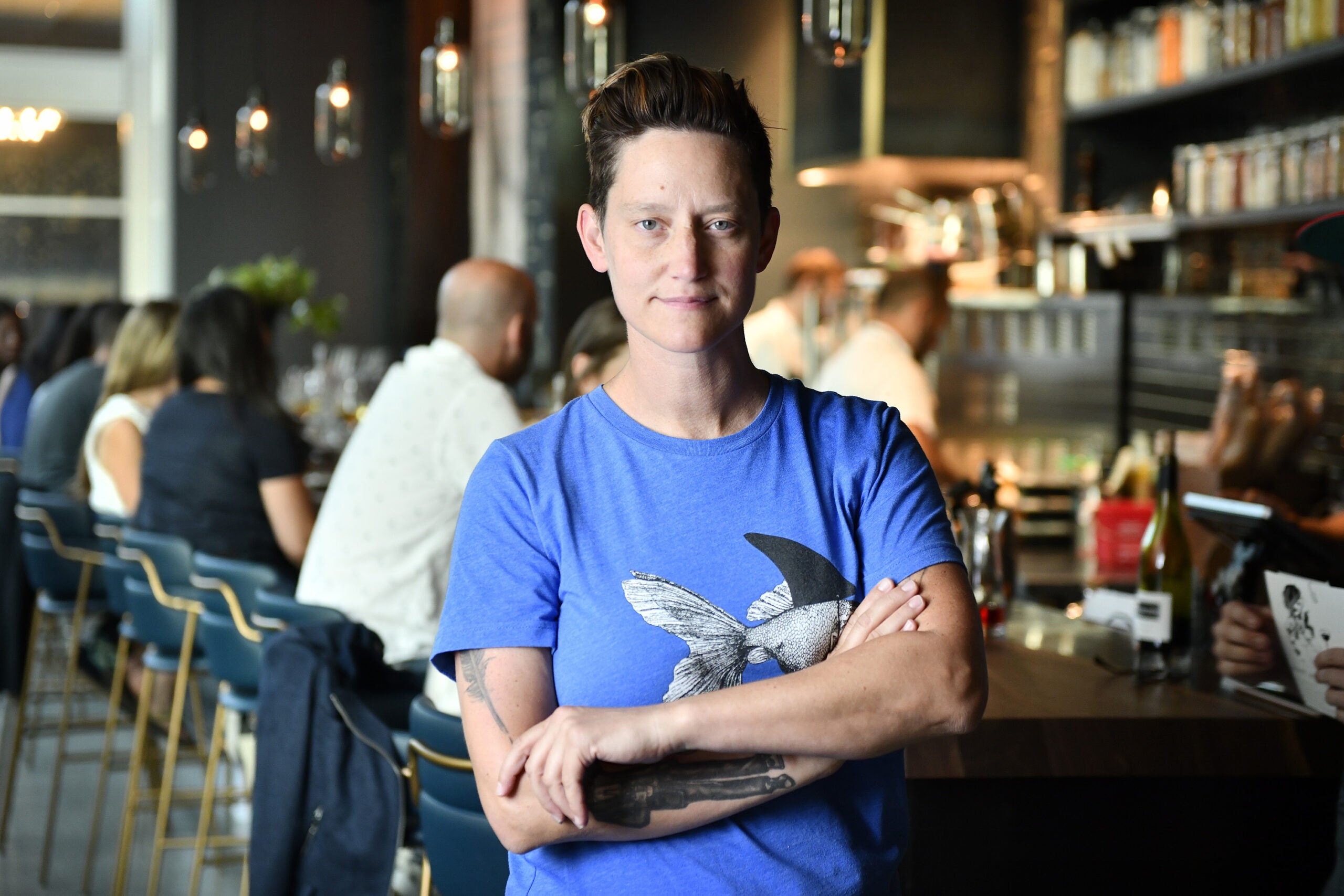 Haley Fortier, who owns wine bars haley.henry in Downtown Crossing and nathálie in the Fenway, said that "the feeling of the Roaring 20s is among us."
"I'm really excited for this reopening because it's bringing us back to a sense of normalcy and livelihood," she shared. "It's been an extremely long, excruciating year for everyone, so to be able to finally cross the finish line is refreshing. I've missed the feeling of a packed bar, both from an owner's side of things and a consumer side of things. … You can certainly feel the shift in people. Everyone's ready. I'm ready."
Jen Ziskin opened Brookline's Punch Bowl in April, and had recently ordered more plexiglass to reopen the bars at her other restaurants, Heritage of Sherborn and La Morra. She said she's "beyond excited to send it back."
"Our staff at all three restaurants have taken full advantage of getting vaccinated, and we feel extremely safe and ready to serve unmasked guests," Ziskin shared. "It will certainly take some getting used to not wearing masks, but most of the sanitation requirements, such as frequent hand washing and sanitizing work surfaces and tables, were practices we were already accustomed to."
While the state will lift remaining restrictions on May 29, businesses are still able to enforce their own masking and vaccination requirements.
"We encourage them to do whatever works for them, for their employees, and for their customers," Baker said during Monday's press conference. "And we also encourage everyone to be respectful and to follow those requirements if a private organization puts them in place."
Many of the restaurateurs who spoke with Boston.com said they will follow the state's guidelines and lift all restrictions, though some noted that they'll take a more staggered reopening approach.
David Doyle, owner of Jamaica Plain's Tres Gatos, Little Dipper, and Casa Verde, said that his initial reaction to the lifted restrictions was: "That's too fast, let's take this in stages." After a tumultuous year, he said that many industry workers are fatigued, and he wants to ensure that they are healthy, both mentally and physically.
"Given that concern, as an owner I don't feel obligated to return to full capacity on May 29 just because we can," he wrote in an e-mail. "I think we'll likely limit indoor capacity to some degree as a safety valve. We may also limit or turn off take-out on weekend nights in order to focus on our dine-in guests."
Guests can also expect to see the digitization of restaurants, like QR code menus and online ordering, remain even after the restrictions have been lifted.
Jose Duarte, chef/owner of Peruvian restaurant Tambo 22 in Chelsea, said that the restaurant will continue offering contactless payment and QR code menus, with printed menus available upon request. The bar's plexiglass dividers will also be used for at least three more weeks, and the staff will continue to sanitize tables, chairs, and door knobs regularly.
"COVID has prompted some changes in our industry that will not go away," he explained.
Nia Grace hopes the proliferation of outdoor dining will also continue. The owner of Darryl's Corner Bar & Kitchen said her concerns lie with the extension of the temporary outdoor dining permits that Boston issued through its Outdoor Dining Pilot Program.
"We understand that last year's provision of extensions were due to the state of emergency," Grace said. "I am hoping that since the city of Boston decided to make the outdoor dining program a pilot this year, that our outdoor extensions are not in jeopardy of being put out of use, especially since we need the additional seats to make up for months of losses."
The reopening will also occur at a moment when restaurants are having a particularly difficult time hiring staff. For some restaurant owners, the prospect of fully reopening with a reduced staff is daunting.
"One of my biggest concerns is the shortage of restaurant workers and the influx of business," Ran Duan, who runs Blossom Bar and Ivory Pearl in Brookline and The Baldwin Bar in Woburn, shared in an e-mail.
Duan said that he has been training and preparing his team since winter and that his entire staff is vaccinated, but he hopes everyone will "understand the new labor problem restaurants are facing and be kind to staff."
Fortier agreed, noting that restaurants are dealing with staffing issues "like never before."
"Unless we find more employees, we aren't going to be able to operate at full capacity, merely for lack of hands," she said. "Think of it this way: haley.henry's kitchen was built for a 30-seat bar. With our extension patio, we are now up to 60 seats. If our little kitchen is getting crushed at the current capacity restrictions, what's about to come? It's like looking at a 30-foot tidal wave that's about to crash on top of your head."
Newsletter Signup
Stay up to date on all the latest news from Boston.com