Restaurants
Dunkin' will give six lucky customers free iced coffee for a year
That's a lot of iced coffee.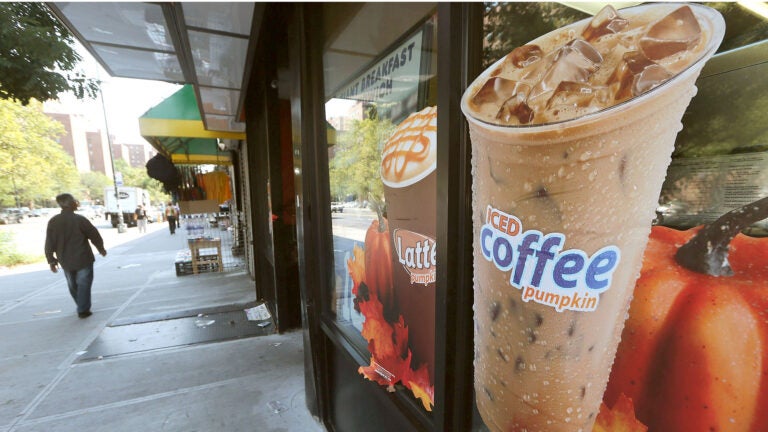 Free iced coffee for 365 days? We'll take it.
In celebration of Dunkin' Iced Coffee Day (it's a thing!) on Wednesday, the Canton-based coffee chain will offer a one-year supply of free iced coffee to six lucky customers. You just have to be in the right place at the right time.
From 8 a.m. to 3 p.m. on May 26, six customers will be selected from Massachusetts stores in the areas of Boylston Street in Boston, South Yarmouth, Bridgewater, Maynard, and Milford, as well as in Londonderry, N.H.. Each chosen recipient will be given $598 in Dunkin' gift cards; a full list of rules and regulations can be found here.
In addition to the giveaway, Dunkin' is marking Iced Coffee Day by donating $1 of any iced coffee or cold brew sold at participating Dunkin' locations to the Dunkin' Joy in Childhood Foundation, which helps children suffering from hunger or illness.
"With our Iced Coffee Day celebration, we are proudly giving back to the people and organizations that are making a difference every day," Victor Carvalho, a Mass. Dunkin' business owner, said in a press release.
Intent on scoring a year's worth of iced coffee? Here are the six Dunkin' store locations that are selecting winners on Wednesday:
129 Parker St., Maynard
715 Boylston St., Boston
436 Station Ave., South Yarmouth
750 Bedford St., Bridgewater
31 Main St., Milford
1 Mohawk Dr., Londonderry, N.H.
Newsletter Signup
Stay up to date on all the latest news from Boston.com