Restaurants
Where to find the best wings around Boston, according to readers
Favorites include Buff's Pub, Slade's Bar & Grill, and Wendell's Pub.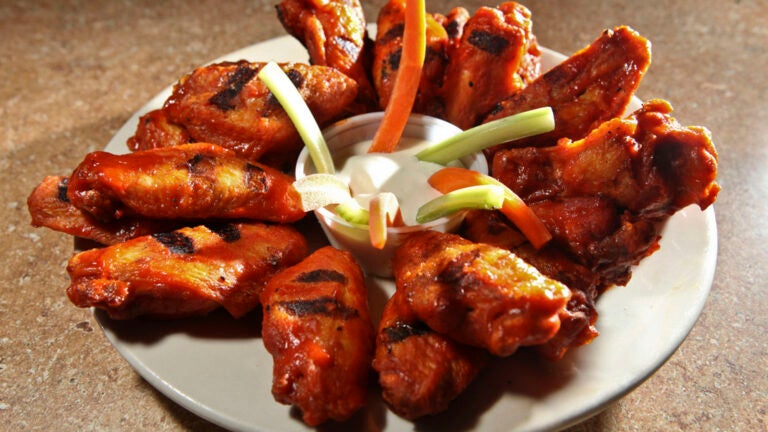 Esquire may have named B.T.'s Smokehouse as the best spot for wings in Massachusetts, but our readers have plenty of additional recommendations.
When the publication released its list of the best wing spots in every state, the Sturbridge smokehouse took home top honors. So we asked readers to pick their favorite wing destination, and while they named more than 20 restaurants, a clear victor emerged.
Buff's Pub in Newton was the most recommended wing spot, with some readers vehemently arguing that any other restaurant doesn't come close.
"Spicy teriyaki [at Buff's]," wrote Bill from Brighton. "Every other answer is wrong."
Sean from South Boston, Rick from Boston, and Elizabeth from Brighton all agreed that Buff's honey hot wings are the best (in fact, Rick wrote that they're "straight fire").
"[Buff's is] a no-frills bar to eat in or take out," wrote Matt from Westford. "There aren't thousands of types [of wings] but what they do have they do well, and have been an institution for years. We always love the regular buffalo-style and honey hots."
Buff's wasn't the only wing haven to elicit a strong reaction.
"I love Brickstone's (Arlington Center) buffalo wings," wrote one reader, who called the wings "big and meaty." "Their sauce is tangy delicious and it doesn't burn your tongue. There's heat in them; it just kicks in after a couple wings when the spice makes your scalp sweat."
Jack from South Boston is a fan of the wings at Moonshine 152, a Southie staple run by chef Asia Mei. He called the wings "melt-in-the-mouth delicious."
"[It's] served with poblano ranch — but if you're really game, get them with chef Asia's 'angry sauce,'" he advised.
"There is DJ's Family Sports Pub in Hyannis and then there is everyone else," wrote Tom from Revere. "I'd bet any reader the check plus a nice tip that DJ's wings are better than their local imposter."
You hear that, readers? Tom's picking up the check.
Other popular favorites include John Brewer's Tavern, The Smoke Shop BBQ, Slade's Bar & Grill, and Wendell's Pub. And if you're in search of something a little more home-cooked, John from Boston said his own wing recipe is the best.
"They are rubbed down in a nice spice mixture and then rubbed down in a rib sauce, cooked low 'n slow," he wrote. "Highly requested for every family event."
See you at John's house?
Take a look at the map below for all 23 reader-recommended wing spots.
Newsletter Signup
Stay up to date on all the latest news from Boston.com