Restaurants
KO Catering & Pies will close on Aug. 28
"Come load up, because when we are out, we are out!"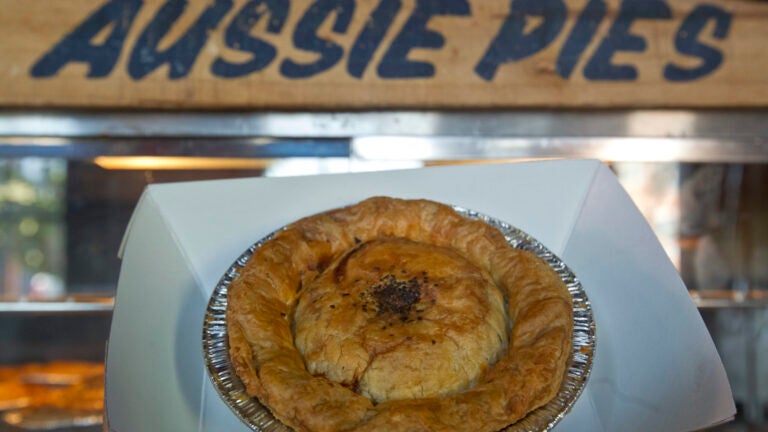 Nearly seven months after KO Catering & Pies owner Sam Jackson declared 2021 as the last year for his Aussie pie restaurant, the eatery has announced its final date of business.
On August 14, KO shared in a Facebook post that there were seven business days remaining. After a brief closure from Aug. 23 to 27, it will reopen for one final hurrah on Aug. 28.
"Come load up, because when we are out, we are out!" the post read. "If you're looking to really load up and want a lot of frozen pies, we strongly suggest emailing us with your order. Looking forward to celebrating the end of our 11 year run of pie life here in Boston!"
Here are KO's remaining operating hours:
August 19: 4 p.m. to 8 p.m.
August 20: Noon to 8 p.m.
August 21: Noon to 5 p.m.
August 22: Noon to 3 p.m.
August 28: Noon until sold out
"We will be baking off 1,000 pies and hope to see as many people as possible for the farewell," the post read.
In January, Jackson told Boston.com that he was selling the business and moving to Tasmania, where he had purchased some land. Potential buyers had the option to receive "all the recipes and all the secrets that I have around the meat pie world [to continue the business]," or to purchase the beer and wine license, all of KO's assets, and operate a new business at the waterfront location.
In the end, it appears that the new owners will do a little bit of both. Andrew and Greta Platt, who opened Cambridge's The Biscuit in 2004, will open Seabiscuit in the KO space. In an e-mail to Boston.com, Andrew shared that Seabiscuit will incorporate KO's beloved Aussie pies, while expanding the menu to include a pastry and coffee program, along with additional entrées, salads, desserts, wine, and beer. An opening date has not been announced.
KO Catering & Pies originally opened in 2010 in South Boston, then expanded to the East Boston space in 2012. Jackson closed the Southie location in 2018. His move to Tasmania may not be the end of his career in restaurants, though.
"The one thing I've thought about that may be quite fun to do once I've settled in is maybe bring a bit of New England down there, and do things like lobster rolls and roast beef sandwiches," he said in January. "I might not have a New England accent, but I've lived here long enough that I've got my chops."
Sign up for The Dish
Stay up to date on the latest food news from Boston.com.