Restaurants
Offsuit manager fired after being accused of misconduct at bar
A series of stories shared on Instagram led to Matt Marini's dismissal earlier this week.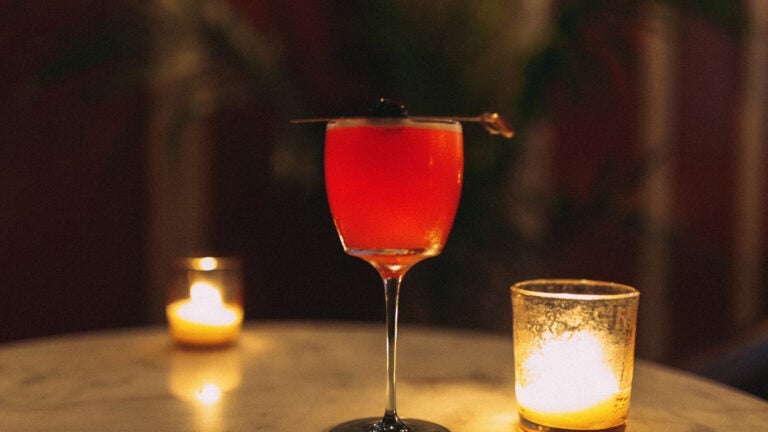 When Offsuit debuted in November, the Leather District lounge quickly garnered attention for its speakeasy vibes and sophisticated cocktails. Owned by the adjacent restaurant Troquet on South, Offsuit patrons were asked to find its unmarked door in an alley. You had to call a number to get in. And that number was often answered by Matt Marini, Offsuit's manager who came out to greet guests in the alley before ushering them inside.
On Wednesday, Troquet announced in an Instagram post that Marini is no longer employed by the restaurant. The dismissal followed allegations of misconduct by two women whose experiences were shared anonymously on Instagram.
In a follow-up post Wednesday, the restaurant delved into further detail about Marini's firing:
"On Monday, Troquet learned for the first time of the accusations against one of our employees via social media. Prior to hearing of these, Troquet had no awareness of the conduct claimed in the posts against this individual. We have conducted an internal review and the individual has been terminated.

We would encourage the individuals involved to come forward so that our legal counsel can speak and/or meet with them. We also of course will cooperate with any public authorities should that become appropriate.

Troquet has been in Boston for 20 years, and this is the first and only time that there has been accusations of this type of nature involving one of our employees. We are proud of the respectful work environment and collegiality that has always existed, and we of course will not tolerate discriminatory or harassing conduct, be it among our staff or with our guests."
A Boston Police spokesperson said Thursday that the department does not have any incident reports involving Marini.
Neither Troquet nor Marini responded to Boston.com's multiple requests for comment.
Troquet owner Chris Campbell told GBH News that Marini was dismissed Tuesday after an investigation by outside lawyers who interviewed the establishment's staff.
"We've always had a policy of zero tolerance, and obviously that was abused," Campbell told GBH.
The accusations against Marini were initially revealed through an Instagram post by Chase Brooks, a bartender at Toro who posted a series of three stories: two from women who anonymously accused Marini of sexual assault and harassment, and one from Brooks, who detailed his own observations of Marini at Offsuit.
"Matt Marini uses his position of power running one of Boston's 'hottest' new cocktail bars to attract and target young women," Brooks alleged.
Michelle Shafer is one of the women who shared her story in the original post. Shafer, a frequent patron of Offsuit, told Boston.com that she visited the bar in July with a friend, and was approached by Marini multiple times with free shots. She said Marini complimented and touched her dress, then grabbed her thigh.
"I tried to tell him to stop, and he just grabbed my leg harder," she said. "And that kind of put me into shock because it really hurt. It was quite forceful. I didn't want to cause a scene. He was like, 'Just wait, just wait,' and he took out his phone. I remember he was standing so close to me, I could see him take the picture. It was a shot of my leg and the edge of my dress and his hand grabbing my leg."
Shafer said she told Marini, "enough," before her friend came over and put herself between the two of them.
"She just was like, 'Hey, she asked you to stop,'" Shafer said. "And he blew up. He really blew up."
According to Shafer, Marini yelled at her friend to leave the bar, before another Offsuit employee came over to calm him down.
Shortly after, Shafer told Brooks, a close friend, about the incident.
"Chase and I said, we can't really sit on this information," Shafer said. "This guy is causing harm. It would be a hell of a coincidence for there to be no other stories with how fast it took us to find someone else. We have to do something about this, and doing the Instagram post seemed like our best option."
They set up an email address, monitored by Shafer, asking others to share their experiences about Marini. Both Brooks and Shafer have shared the anonymous submissions through their Instagram accounts.
Campbell told GBH that "Offsuit is in limbo," and that he doesn't think it's right to open it at the moment. Troquet remains open for business.
Sign up for The Dish
Stay up to date on the latest food news from Boston.com.