Restaurants
The Garrison House brings pub grub and a mug club to Brookline
"We plan on being here and being established in the neighborhood for a very long time."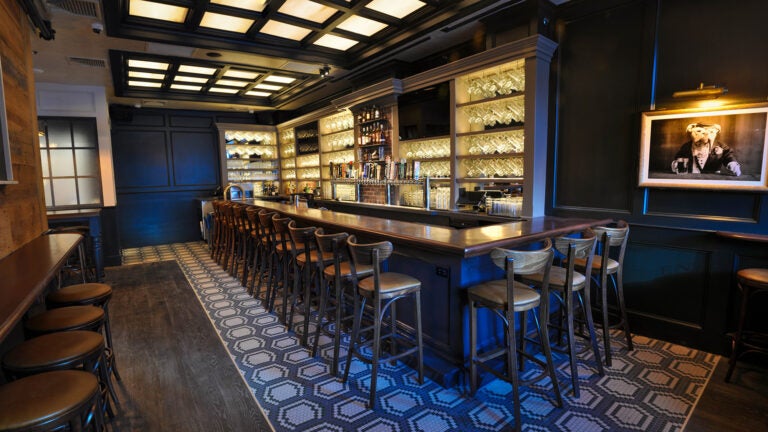 For nearly 30 years, the historic building at 6 Harvard Square in Brookline was occupied by the Village Smokehouse. In 2016, it changed hands and became Magnolia Smokehouse. Now, the storied space has once again been reinvented, this time debuting as The Garrison House.
Run by Hawkeye Hospitality (Elm Street Taproom, Five Horses Tavern, Worden Hall), the Garrison House announced on Dec. 6 that it is officially open. Over the summer, Dylan Welsh, owner of Hawkeye Hospitality, told Boston.com that this is the longest project he's worked on.
"I think I've been at it for 20 months since the first phone call," Welsh said in August. "We've been under construction since November [2020], and I've been on site almost every day. It's been quite the journey."
The menu's current lineup is stacked with classic comfort food, featuring appetizers like poutine, crispy confit chicken wings, and wagyu beef meatballs, along with salads, pizzas, sandwiches, and burgers. Entrées include filet mignon, oven-roasted salmon with risotto-style farro, and Gruyère and white cheddar macaroni and cheese. The Garrison House also has a mug club, which, like the Elm Street Taproom mug club, requires members to sign up through a customized Garrison House app. Each member of the mug club has their own mug hanging behind the bar; membership is awarded after completion of drinking through 30 individual, rotating draft lines, as well all 30 bottles and cans.
Though it hasn't opened yet, the accompanying downstairs lounge, Village Social Club, will occupy the space formerly known as the Ellis Room. Its menu will feature fewer draft lines — 14, as opposed to the 30 upstairs — but with more craft cocktails. Welsh said the Village Social Club will also offer live music and other entertainment.
"We'll just see what the neighborhood is calling for," he said.
The Garrison House's aesthetic closely follows Hawkeye Hospitality's other restaurants, though Welsh said they have kept the historical bar top from Prohibition that has been passed down through the previous tenants. Though planning for the restaurant began before COVID-19, there are markers of the pandemic's impact on the design. A patio will be fashioned out of two parking spaces on one side of the restaurant, and Welsh said they splurged on retractable windows, an updated air filtration system, and a pickup window.
"It should be very convenient for people who are interested in takeout," Welsh said. "I've never done that in any of my other [restaurants] in terms of having a takeout window."
Garrison House is currently open on weekdays starting at 4 p.m. and on weekends starting at 11:30 a.m.
"We plan on being here and being established in the neighborhood for a very long time," Welsh said. "We really want to do it the right way. We want to be thoughtful."
Garrison House; 6 Harvard Square, Brookline; Mondays–Fridays from 4 p.m. to midnight; Saturdays and Sundays from 11:30 a.m. to midnight; garrisonhousebrookline.com
Sign up for The Dish
Stay up to date on the latest food news from Boston.com.