Restaurants
Here's your first look at Blue Owl, Cambridge's new rooftop bar
The Central Square addition will offer globally inspired street food and cocktails.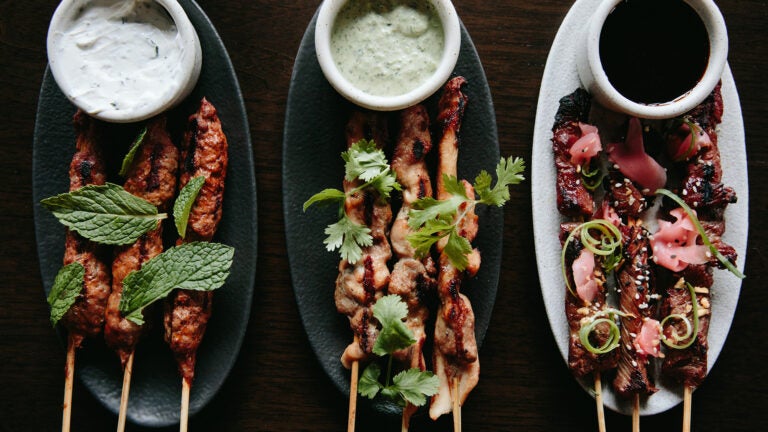 Summer may be winding down, but there's still enough time to spend balmy evenings on a rooftop bar with a cold drink in hand as you watch the sun set over the city. The latest newcomer to enter our small-but-mighty rooftop bar scene? Blue Owl, which is scheduled to debut on the top floor of 907 Main on Sept. 1.
In contrast to its vibrant, colorful sibling The Dial, which opened on the ground floor of 907 Main almost a year ago, the Gensler-designed Blue Owl has a more modern, industrial look, with an indoor bar and dining area and a patio that overlooks Central Square.
Like his menu at The Dial, chef Justin Urso (Catalyst, Chattam Bars Inn) gave the Blue Owl lineup a global spin, this time focusing on international street food. More specifically: Food you might want to eat in the early morning hours after a few drinks.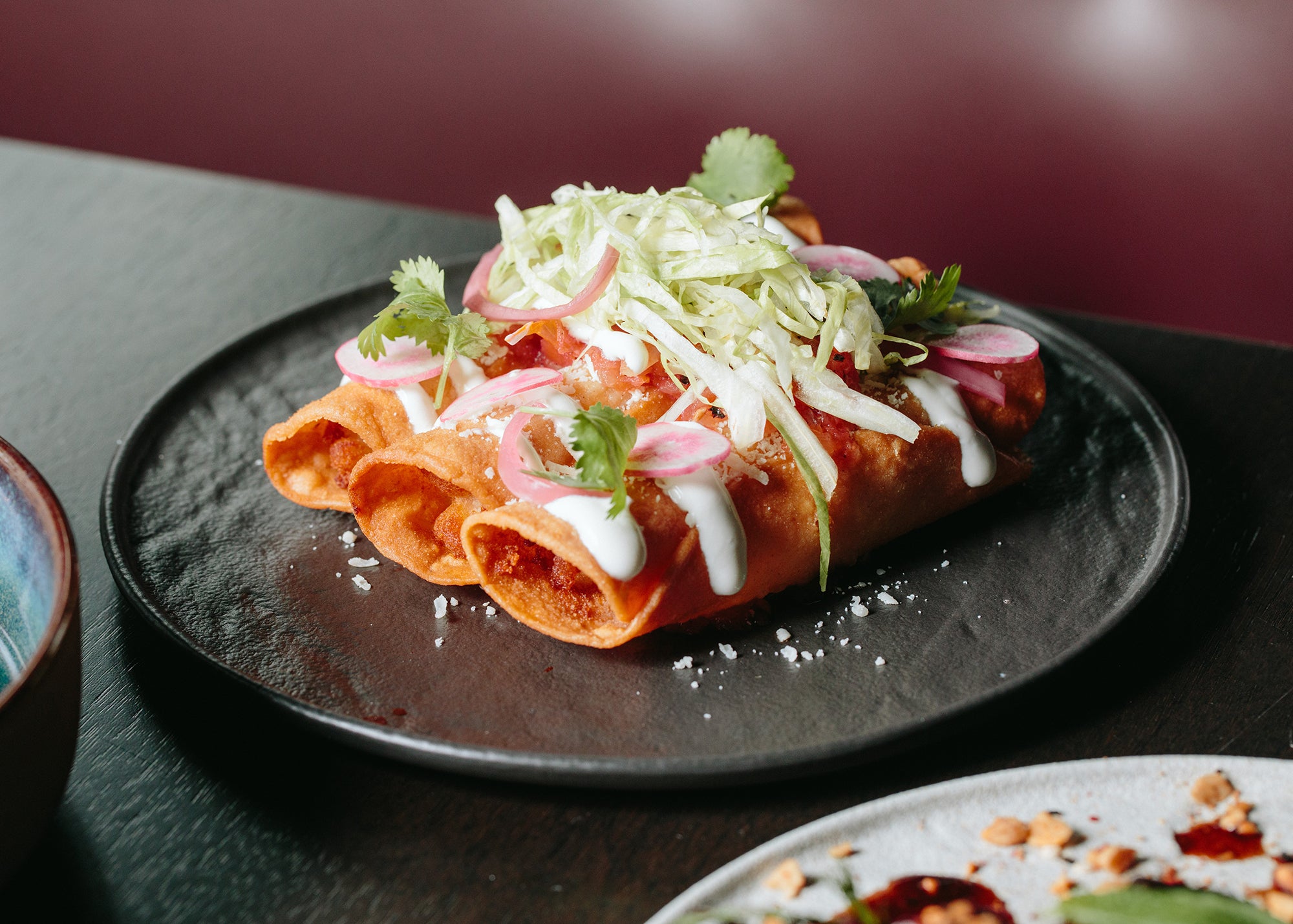 "The whole idea about the food program upstairs at Blue Owl is: You step out of a bar anywhere in the world at 2 o'clock in the morning. What are you eating?" Urso said.
To craft a global menu, he tapped into his own travels and experiences as well as those of his staff, resulting in dishes like Korean fried chicken wings, oxtail beef patty, lamb kofte with tzatziki, flautus, and Peruvian cannoli.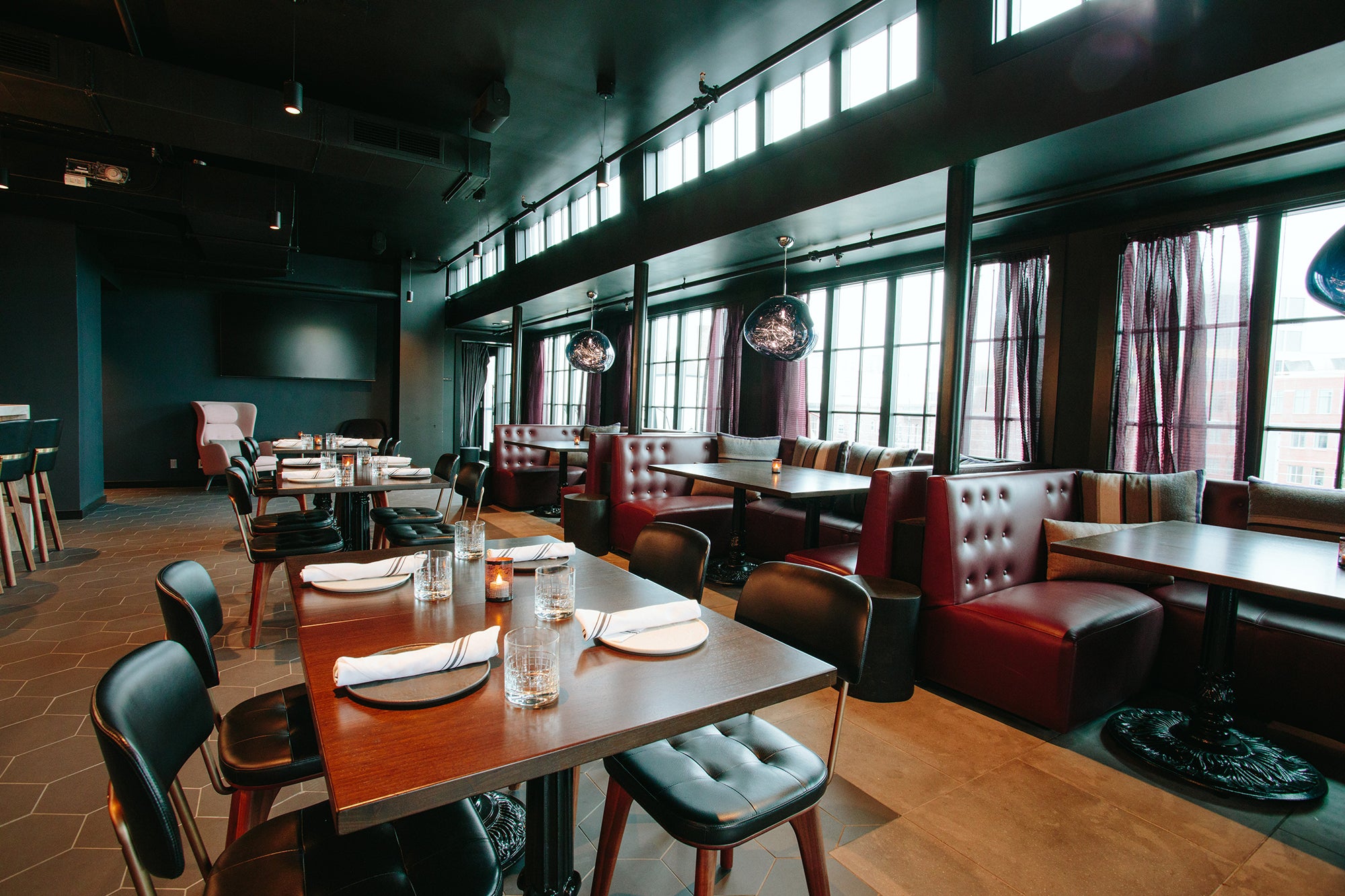 "I'm pretty excited for the podrao," Urso said, referring to a Brazilian-inspired hot dog. "[In Brazil] they'll do it sometimes with a hot dog or a hamburger. We decided to do the hot dog, and it's got ketchup, mustard, mayonnaise, a corn relish, shredded lettuce, and shaved red onions. Then what's really cool is they top it with potato sticks. It's like the ultimate, late night bar snack."
A fried chicken sandwich — another of Urso's favorites — uses piri piri pepper sauce for smokiness and heat, while beef teriyaki skewers are topped with pickled ginger and fried garlic.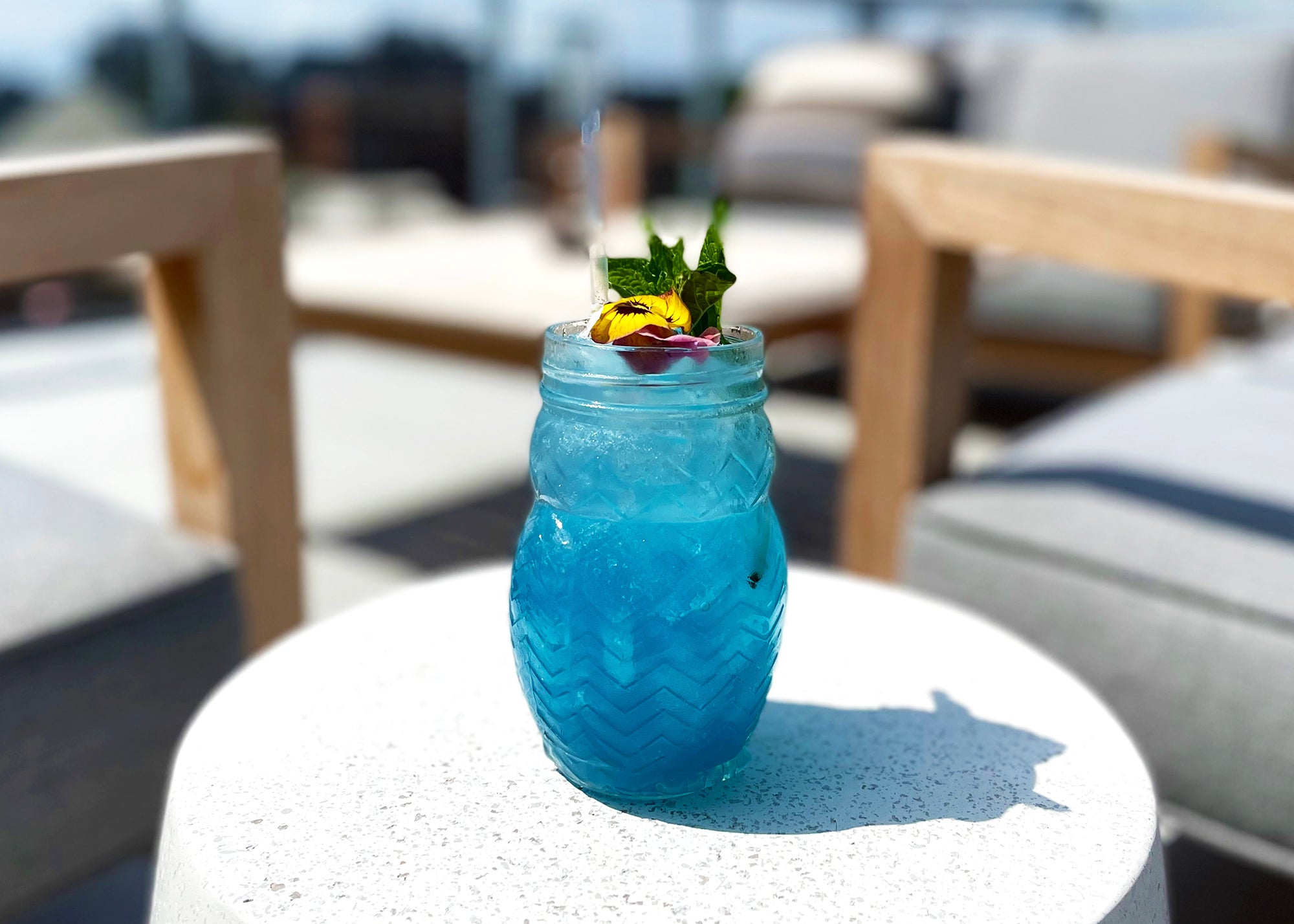 Bar manager Molli Rohland designed a drink menu divided into three sections: Blue Owl Signatures, Seasonal, and Treat Yourself, the last of which takes classic cocktails and gives them a globally inspired tweak. Take, for instance, the foie gras old fashioned, which elevates a standard old fashioned by fat-washing Guatemalan rum with foie gras. For British Eyes Only is Blue Owl's iteration of a Pimm's Cup, highlighting Sipsmith gin, Pimm's, lavender, ginger, and lemon. And the Pale Blue Owl bucks the trend of blue drinks leaning tropical, using mastiha liqueur, vermouth, cardamom bitters, rosewater, and lemon. A couple of large-format cocktails are available for groups of four or more, along with beers, ciders, and wines.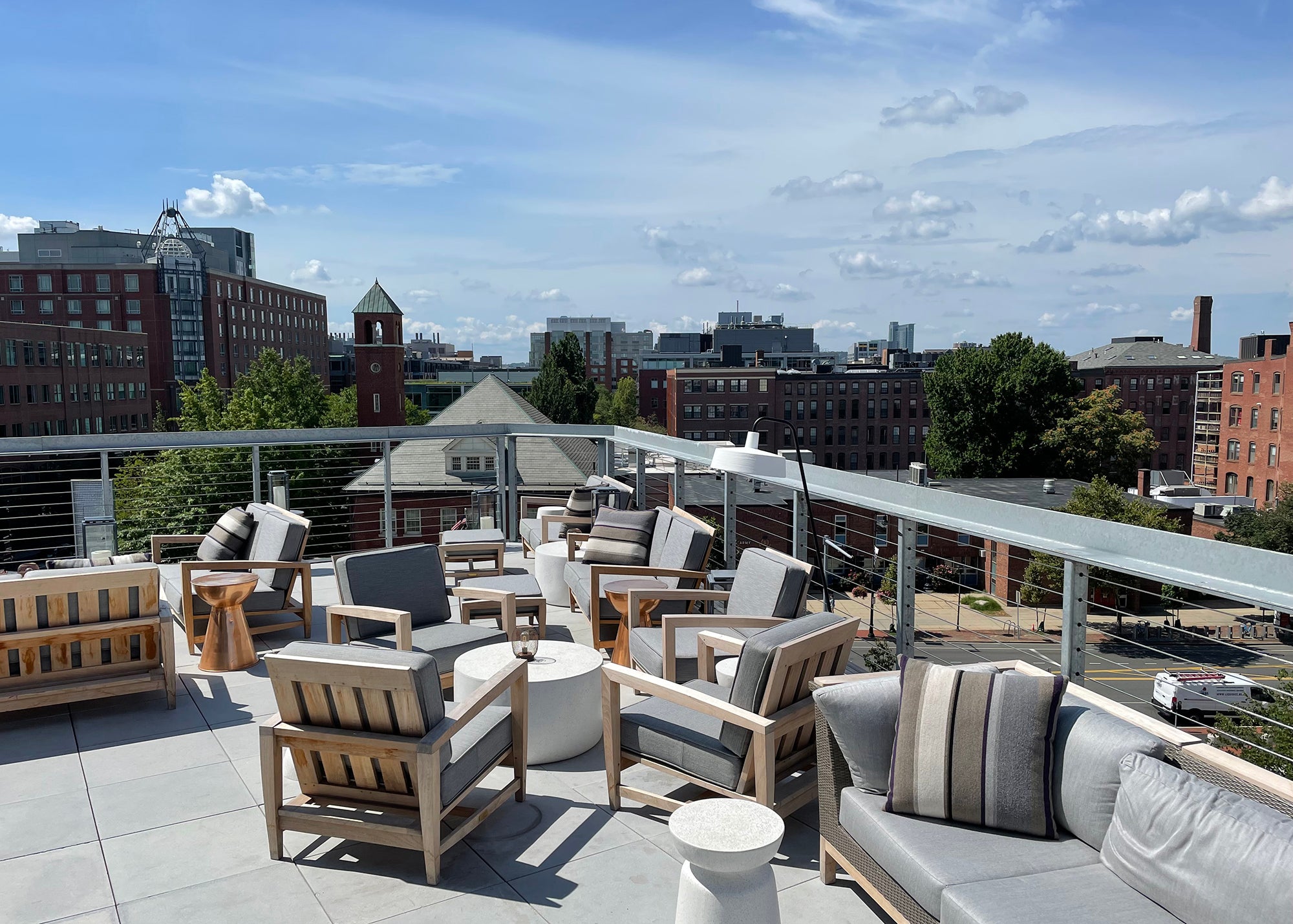 When Blue Owl debuts, guests can stop by Wednesdays and Thursdays from 4 p.m. to 11 p.m, and Fridays and Saturdays from 4 p.m. to midnight. Beyond that, Urso said they may adjust hours depending on the neighborhood's needs.
"We'll kind of feel out the late night crowd in the area," he said. "If the demand is there at 1 a.m. on a Thursday, we'll certainly change."
Follow @blueowlcentralsq on Instagram for upcoming details, and peruse the opening food and drink menus below to start planning your visit.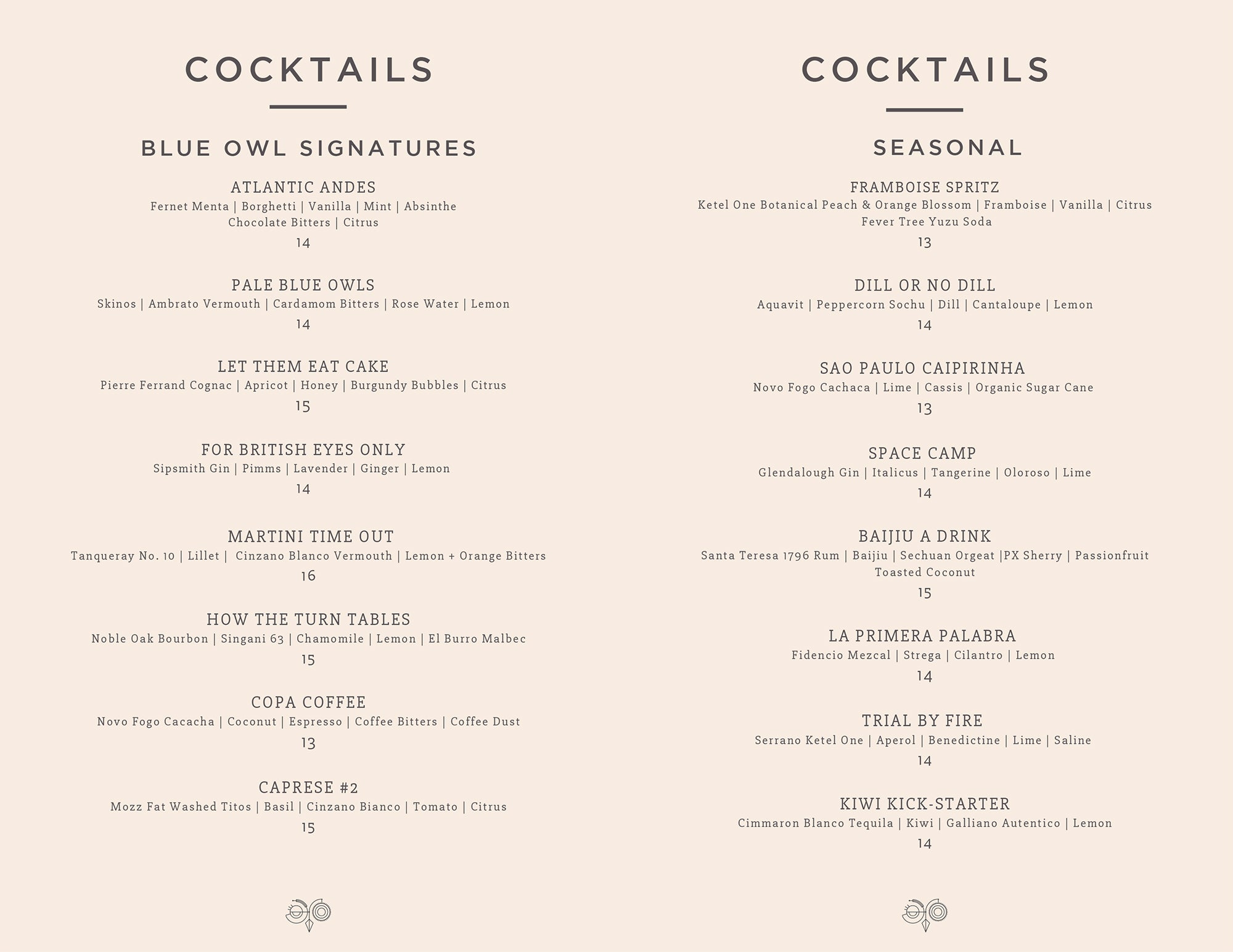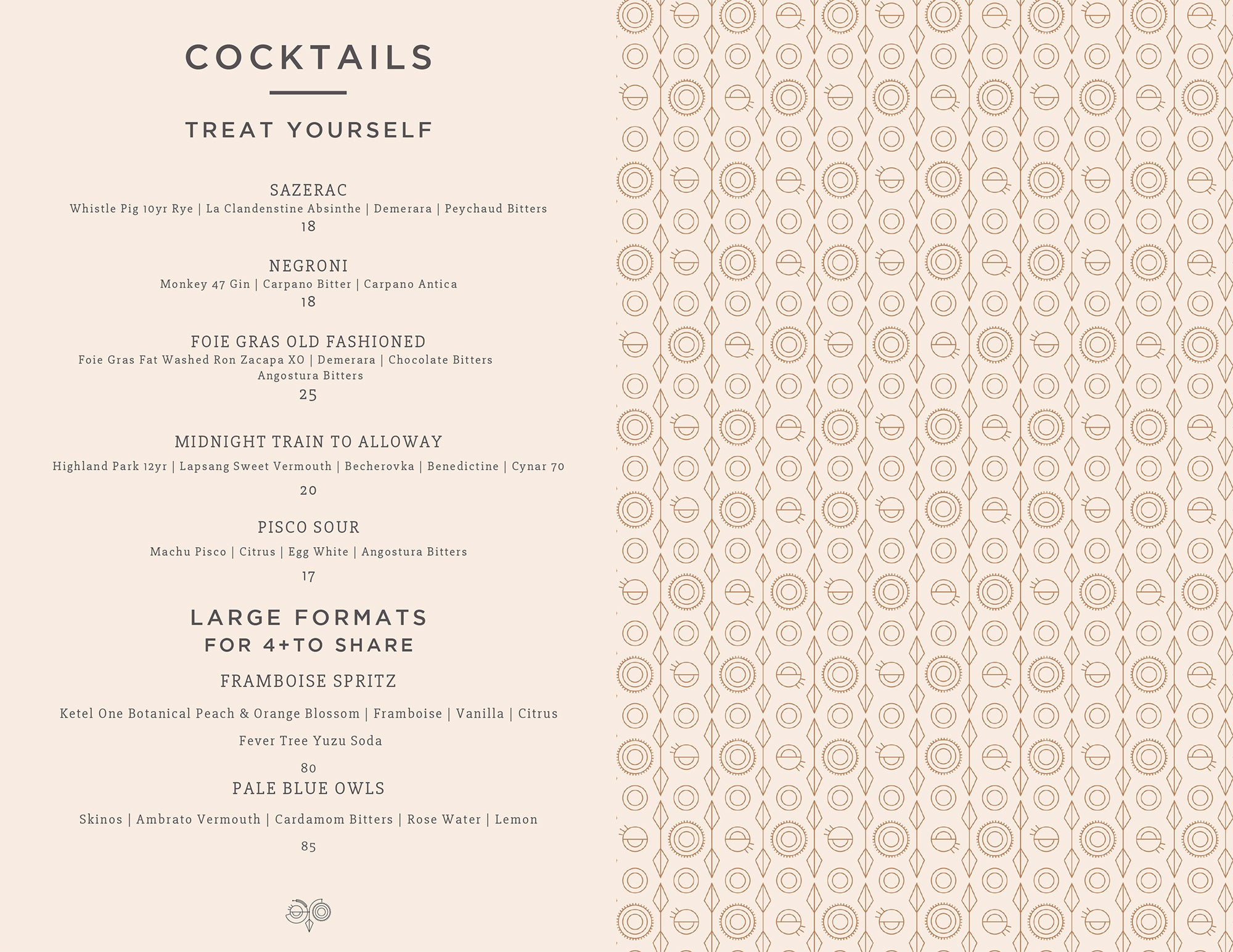 Sign up for The Dish
Stay up to date on the latest food news from Boston.com.