Restaurants
Coquette opens in the Seaport with seafood towers and gin and tonics
Just don't call it a hotel restaurant.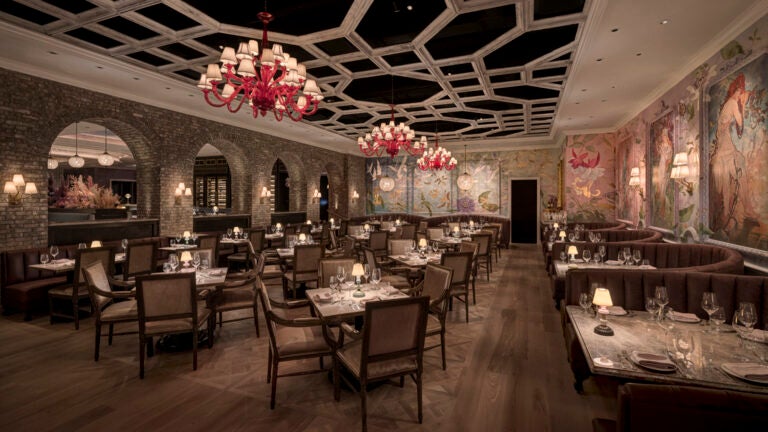 The Seaport has seen an influx of national chains, fast-casual spots, and steakhouses populate the bourgeoning neighborhood over the past few years, but its latest addition doesn't check any of those boxes. Instead, meet Coquette: a restaurant inspired by southwest France and Basque country from a local hospitality powerhouse.
"Everything we do is tongue-and-cheek," COJE founder and CEO Chris Jamison told Boston.com. "We try to have fun with it."
Like COJE's other restaurants — Lolita, Mariel, Ruka, and Yvonne's — Coquette is full of whimsy. The walls are lined with colorful street art and pastel murals recreating Alphonse Mucha's The Seasons, a banquette divider overflows with an ombre swath of flora, and sparkling red chandeliers hang from the ceiling in the cavernous main dining room. A 32-seat bar opens up into the café dining room, where guests have a clear view of the Boston Convention and Exhibition Center across the street.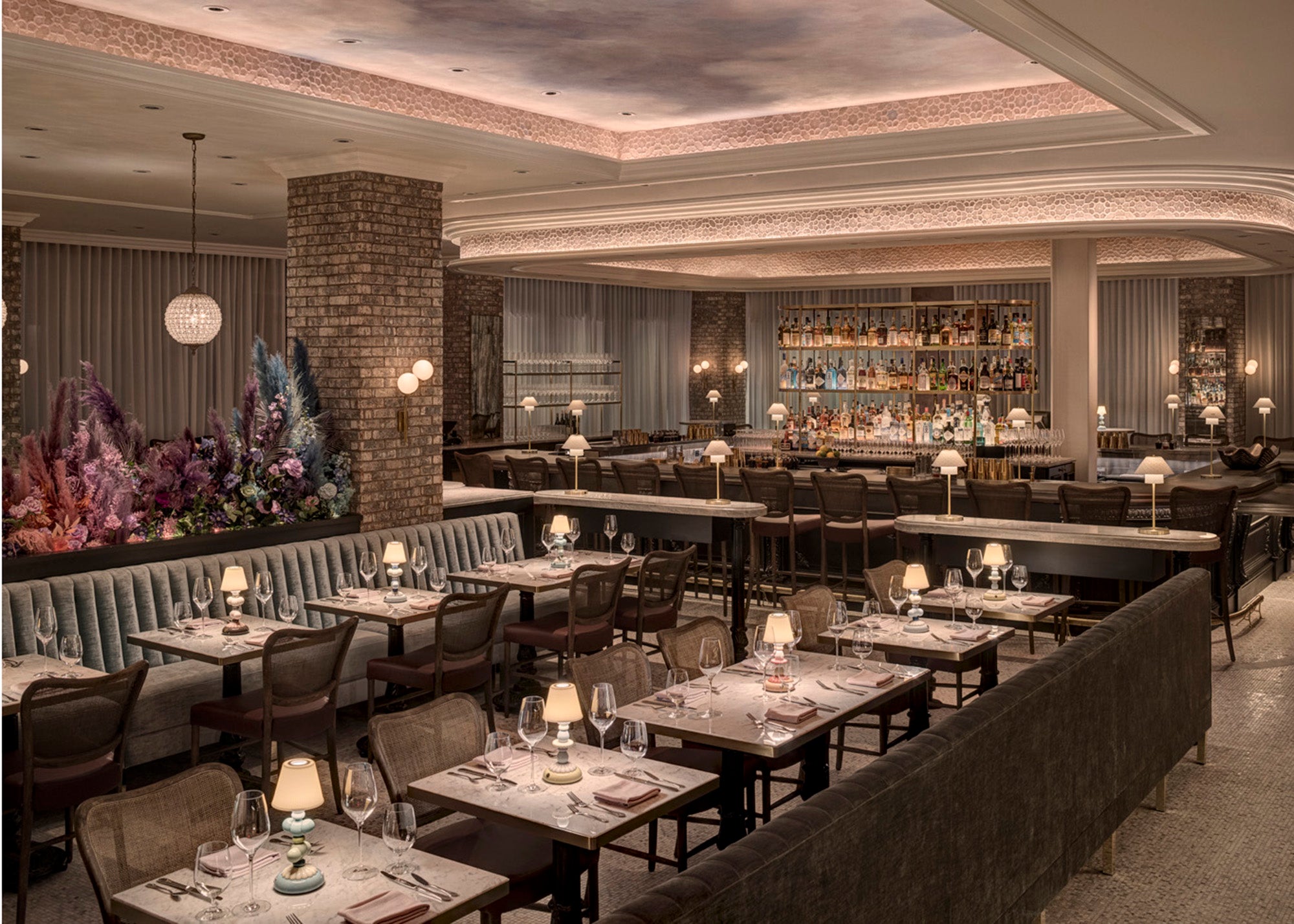 "What we tried to do here was create our version of a what a brasserie would feel like on the coast of France or the Basque region of Spain," Jamison said. "I think it's easy to end up putting a space together that feels very serious, very formal, but we always want it to be a little bit louder, a little bit more fun, a little bit more colorful."
The menu has a playful spin, too. COJE culinary director Tom Berry has curated a raw bar with dishes like a colossal shrimp cocktail, "beach dip" (surf clam, capers, herbs de Provence, and neufchâtel cheese served alongside waffle chips), and massive shellfish towers, plus snacks that include crispy monkfish, Borek spring rolls, and duck chichons. A series of flatbreads made with a saltwater and rye crust arrive topped with duck confit, Bayonne ham, chopped clams, and wild mushrooms. Shareable feasts, which have become a signature feature at COJE's restaurants, include baked stuffed lobster, steak frites, and tuna au poivre. Pastry chef Mai Nguyen rounds out the menu with rum baba beignets; phyllo dough filled with almond cream, green apples, and Armagnac; and a tres leches-style vanilla sponge cake.
The Basque region guides the cocktail list as well, most notably with a selection of gin and tonics that guests can choose from: the Biarritz, the South Coast, and the Basque. Imbibers will find an espresso martini, a rye-based Waterloo featuring salted brown sugar, and the Yellow Sun: blended scotch, coconut, Earl Grey tea, tangerine, and soda. Beer and wine is also available.
While Coquette sits at the base of the Omni Boston Hotel at the Seaport, a sky-high newcomer featuring over 1,000 rooms, Jamison said this is not a "hotel restaurant," and that it won't be offering room service.
"We always had the hotel guests in mind and want to be a great amenity for the hotel, but what we really felt is that these hotel guests, when they come to Boston, are going to want to get a feel for some of the authentic places in the city and the groups that have made Boston special over the years. … It was exciting for us to come into this jungle of steel and glass buildings and take on the challenge of trying to create a soulful, thoughtful, warm restaurant inside of all that."
Coquette will debut with dinner and bar service on September 9, with lunch and brunch to follow. Reservations are encouraged.
Coquette; 450 Summer St., Boston; Daily from 4 p.m. to 2 a.m.; frenchcoquette.com
Sign up for The Dish
Stay up to date on the latest food news from Boston.com.