Restaurants
The Dish: 5 things to eat and drink in Boston right now
Including 'Squid Game' bonbons, marathon specials, and Greek wine.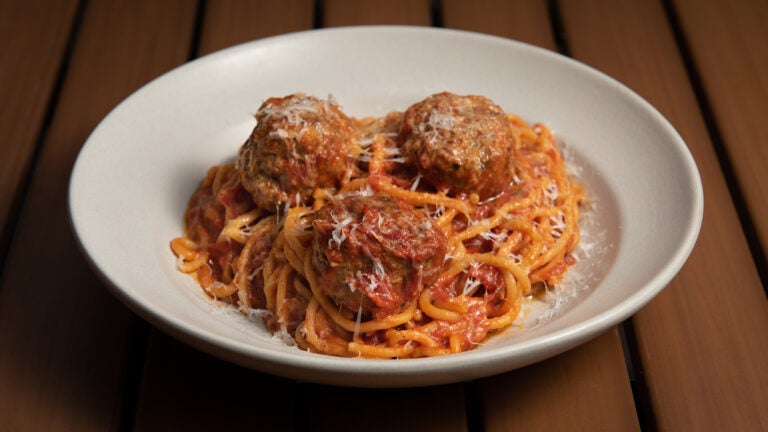 Wondering what to eat and drink in Boston this weekend? The Dish is a weekly guide to five things in the local restaurant and bar scene that are on my radar right now. Shoot me an e-mail at [email protected] to let me know what other dishes and drinks I should check out.
Ever since it opened earlier this spring, Cicada Coffee Bar has been a bastion for Cambridge residents (and visitors) looking for a quiet place to unwind in the mornings and early afternoons with Vietnamese coffee, bánh mì, and pho noodle salad. My go-to order for a quick pick-up has always been the sea salt shaker: Vietnamese drip coffee with sweetened condensed milk and Maine sea salt. But now there's a reason to visit the plant-laden cafe at night: Cicada just launched a dinner menu, with dishes like salmon passion fruit tartare and duck with black sushi rice. The restaurant serves beer and natural wine, too, including both local and Vietnamese beer. Dinner is now offered Fridays through Sundays from 6 p.m. to 11:30 p.m., with reservations available through Resy.
Calling all my fellow Squid Gamers! Along with millions of other people, I recently binged Netflix's fastest-growing series, a South Korean drama/horror that follows hundreds of debt-riddled players as they make their way through a deadly series of childhood games to win a cash prize. I loved it (though I've also been reading up on how badly the translation was botched), so I'm all about Petrova Chocolates' new Halloween bonbon collection, which features a "Squid Game"-themed bonbon. Dreamed up by local chocolatier Betty Petrova, the bonbon is an homage to Snickers, made with salted caramel, toasted peanuts, and chunky peanut butter. Other bonbons in the collection include Pumpkin Spice Liquor, Almond Joy, and Chocolate Death. Order them here, then start planning your "Squid Game" costume.
Krasi has one of the largest Greek wine lists in the country, a fact that is often overlooked by its low-key digs tucked away on Gloucester Street in the Back Bay. Since it first opened, wine director Evan Turner has curated a selection of 300 bottles — 300! — that could cause any diner to freeze in their tracks, intimidated by the lengthy list. So the Greek restaurant decided to launch their own version of Wine Wednesdays, focusing on a theme every other week in order to teach guests about the nuances of Greek wine. Stop by for tastings like Xinomavro: Tough to Say, Easy to Drink (Oct. 20); Old as Time Itself: The Most Ancient Grapes of Greece (Nov. 3); and It's Freezing Outside So Lets Drink Wine From Santorini (Dec. 1). Wine Wednesdays start at 5 p.m. at the bar, and seats are offered on a first come, first served basis.
Embrace the Marathon Monday spirit with a plate of pasta (or two)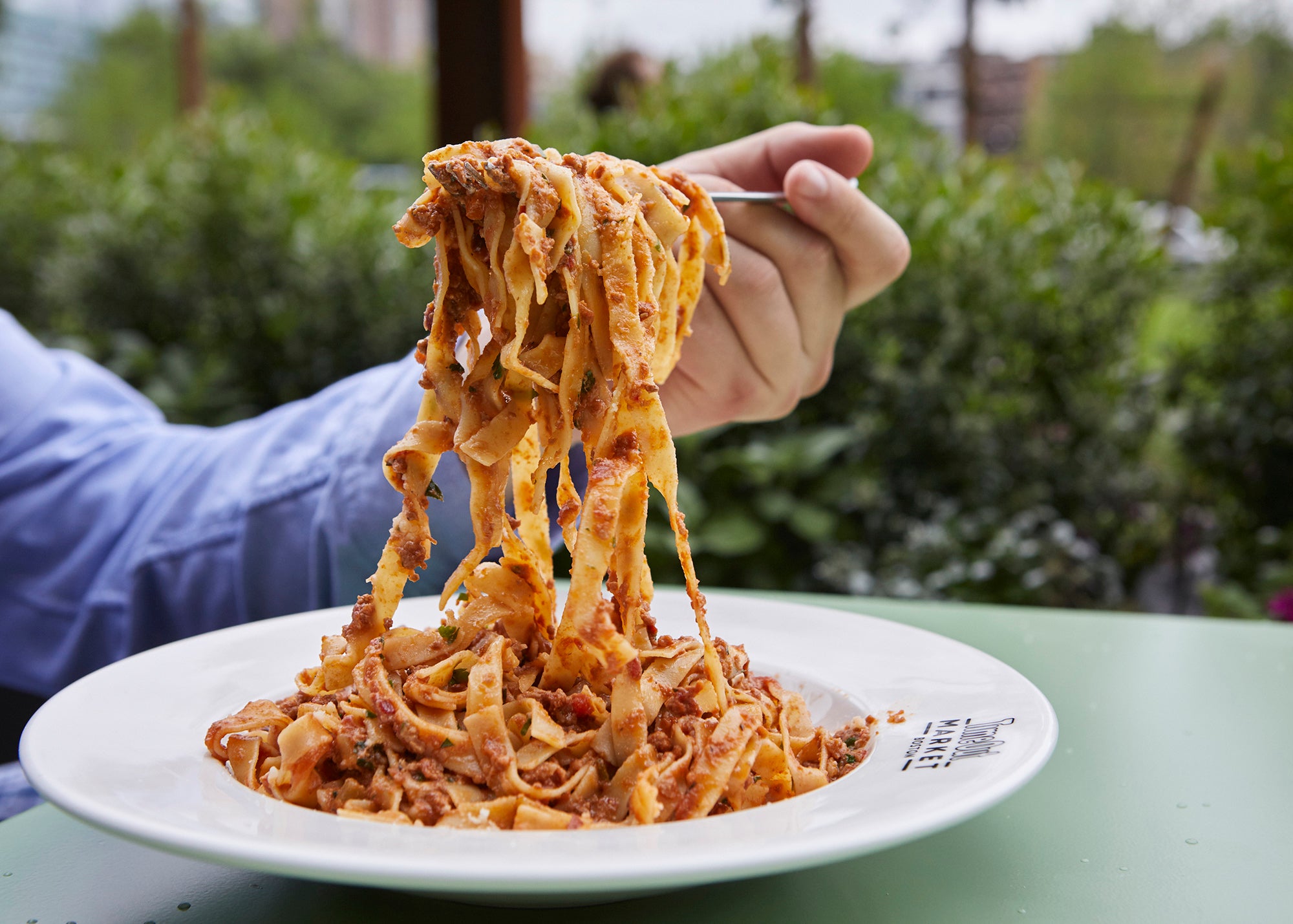 It seems like the entire city is rearing to line the route on Marathon Monday and cheer on this year's runners. And so are restaurants: Across Boston, you'll find eateries offering marathon specials before and after the race. In true carbo-loading spirit, there are a few spots focusing on plates piled high with pasta. At Bambara in Cambridge, diners can stop in on Sunday for an all-you-can-eat pasta dinner from 5 p.m. to 9 p.m., which includes options like bucatini with puttanesca sauce and fusilli with herb-infused parmesan cream. At Time Out Market in the Fenway, Michael Schlow's Italian Kitchen will offer a two-for-one deal on Sunday, with customers getting two options for the price of one on dishes like tagliatelle with wild mushrooms, truffle, and parmesan, and rigatoni with spicy sausage ragu. Closer to the finish line, OAK Long Bar + Kitchen will offer a special rigatoni bolognese on Saturday, Sunday, and Monday — just another excuse to fulfill your pasta cravings, whether you're running or not.
Brasserie opened in the South End over the summer, replacing the former Gaslight space but maintaining a decidedly French theme. If you haven't paid the newcomer a visit yet, maybe its new brunch menu might spark some interest? In addition to eggs Benedict, quiches, and a decadent cheeseburger, the brunch menu also features a croissant bread pudding with Tahitian vanilla bean ice cream and berry compote (swoon). There's a quirky cocktail called the Matcha Made in Heaven, a gin-based drink with matcha and dry curaçao — a far cry from brunch's ubiquitous Bloody Mary, but one worth trying. Peep the menu below, and pop in for a très délicieux brunch on Sunday from 10 a.m. to 3 p.m.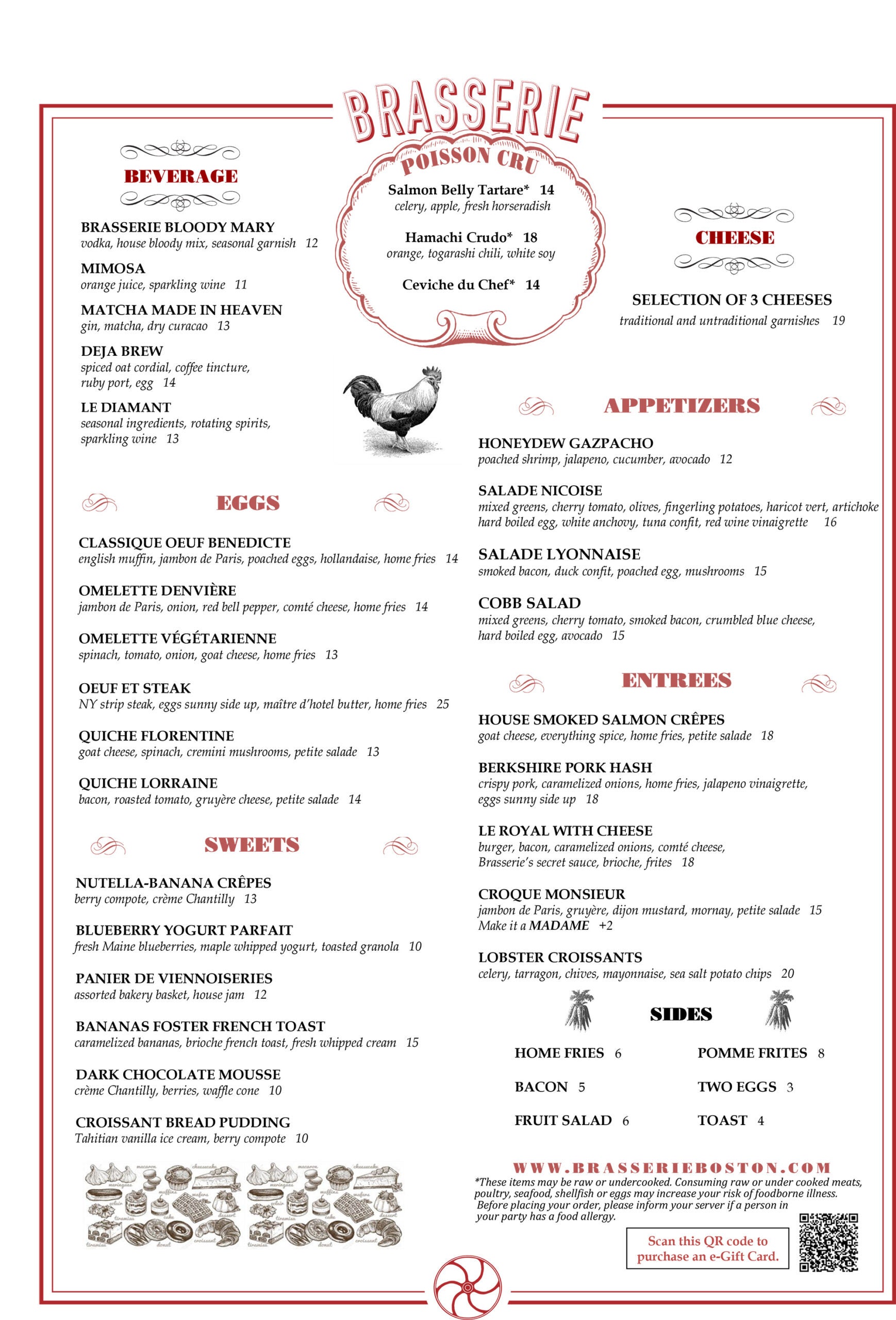 Sign up for The Dish
Stay up to date on the latest food news from Boston.com.