Restaurants
Where to eat and drink along the Boston Marathon route
Stake out a spot to fuel up while you cheer on this year's runners.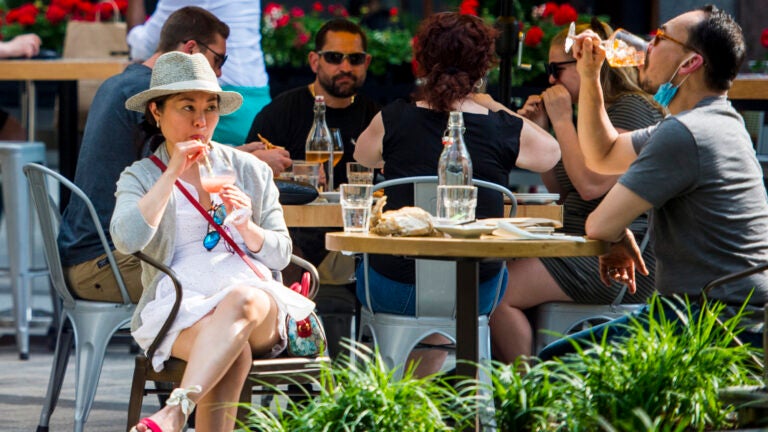 There are many spots to watch 30,000 Boston Marathon runners tackle the 26.2-mile route this year, but if your spectating plans include food and drink, the options get a little more narrow.
Still, restaurants and bars from the starting line in Hopkinton to the finish line on Boylston Street will offer prime views, marathon specials, or viewing parties — and sometimes, all of the above.
Tim Fannin is the area director for the Tavistock Restaurant Collection, which includes Abe & Louie's and Atlantic Fish Co. on Boylston Street. The two restaurants are hot spots on Marathon Monday, where diners can watch the tail end of the race on a patio after hitting up carving stations and a raw bar.
"Obviously with the weather, the windows being open, and everyone flowing out onto the patio, it's one of our favorite days of the year," Fannin said. "The city is electric during that time."
Fannin said that, for both restaurants, the marathon is traditionally one of the busiest days of the year, and that 2020's cancellation made the spring feel "incomplete."
"I think it's really special that they're getting it in this year, being the 125th anniversary," he said. "It just feels like you ought to have a big celebration."
For more places to celebrate the 2022 Boston Marathon while eating and drinking, check out our list of local bars and restaurants offering specials and viewing parties along the route.
Kick off your marathon viewing with a continental breakfast at Abe & Louie's, located just steps away from the finish line. Each $150 ticket includes breakfast, passed hors d'oeuvres, carving stations, and a raw bar, all available from 10 a.m. to 4 p.m. Throw back a few oysters, then cheer on runners from Abe & Louie's upper level or outdoor patio. (793 Boylston St., Boston)
Like it's neighbor, Atlantic Fish Co. will throw a viewing party with a continental breakfast, hors d'oeuvres, carving stations, and a raw bar from 10 a.m. to 4 p.m. The $150 ticket lands you access to the restaurant's outdoor patio, where you can yell "You're almost there!" at passing runners. (761 Boylston St., Boston)
The Brookline branch of this Mexican restaurant and tequila bar has a Marathon Monday party planned for the big day, inviting guests to come watch from its digs at mile 23. While it normally opens at 5 p.m. on Mondays, Burro Bar will throw open its doors at 11 a.m., featuring a menu rife with margaritas and tacos. It's first come, first served, so plan to race on over to the festive hangout. (1665 Beacon St., Brookline)
The Cleveland Circle tavern, which sits squarely at mile 22, will open a few hours early on Marathon Monday. Come by starting at 8 a.m. and snag a spot on the roof deck patio for a prime view of the race while sipping on a Bloody Mary and sheet tray nachos. (1960 Beacon St., Brighton)
Even if you're not actually running the marathon, you can still eat like you're trying to fuel up for a 26.2-mile jaunt. At La Pizza & La Pasta, Eataly's staple Italian restaurant, guests dining as a pair can order a Marathon Monday special: Roman-style bucatini alla carbonara for two, made with bucatini, guanciale, egg yolk, and pecorino romano. (800 Boylston St., Boston)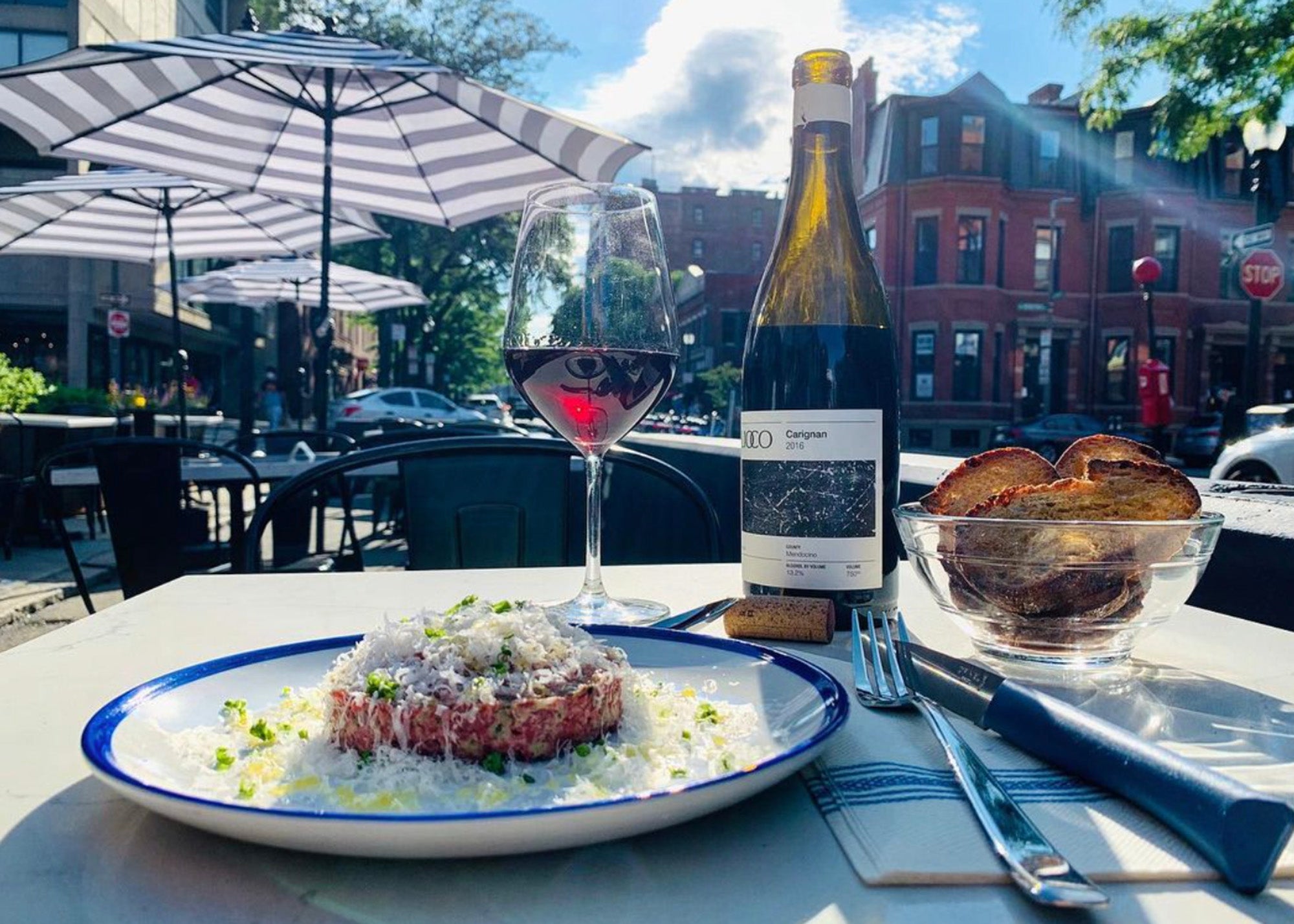 Grab a friend and head over to this Newbury Street spot for a special Marathon Monday Menu for Two ($100 per person). Chef/owner Michael Serpa's menu features two starters or vegetable dishes; bavette, mussels, or a fish entrée; and two drinks, plus a chance to be close to the marathon action. (314 Newbury St., Boston)
The restaurant and entertainment venue sits just a couple yards away from the marathon route, and will celebrate the occasion with a special Marathon Monday deal: $26.20 for unlimited bowling, gaming, pizza, and fountain drinks. You can catch a livestream of the race on any of the multiple TVs scattered throughout the venue — though you'll probably be able to hear the cheers from just outside its doors, too. (50 Dalton St., Boston)
Just steps away from the finish line, Jody Adams's Mediterranean spot Porto will celebrate the event with extended hours for the entire marathon weekend. Stop by Friday and Saturday from 5 p.m. to 10 p.m., Sunday from 5 p.m. to 9 p.m., and Monday from noon to 8 p.m., when you can fill up on octopus a la plancha and whole roasted branzino. (Ring Road, Boston)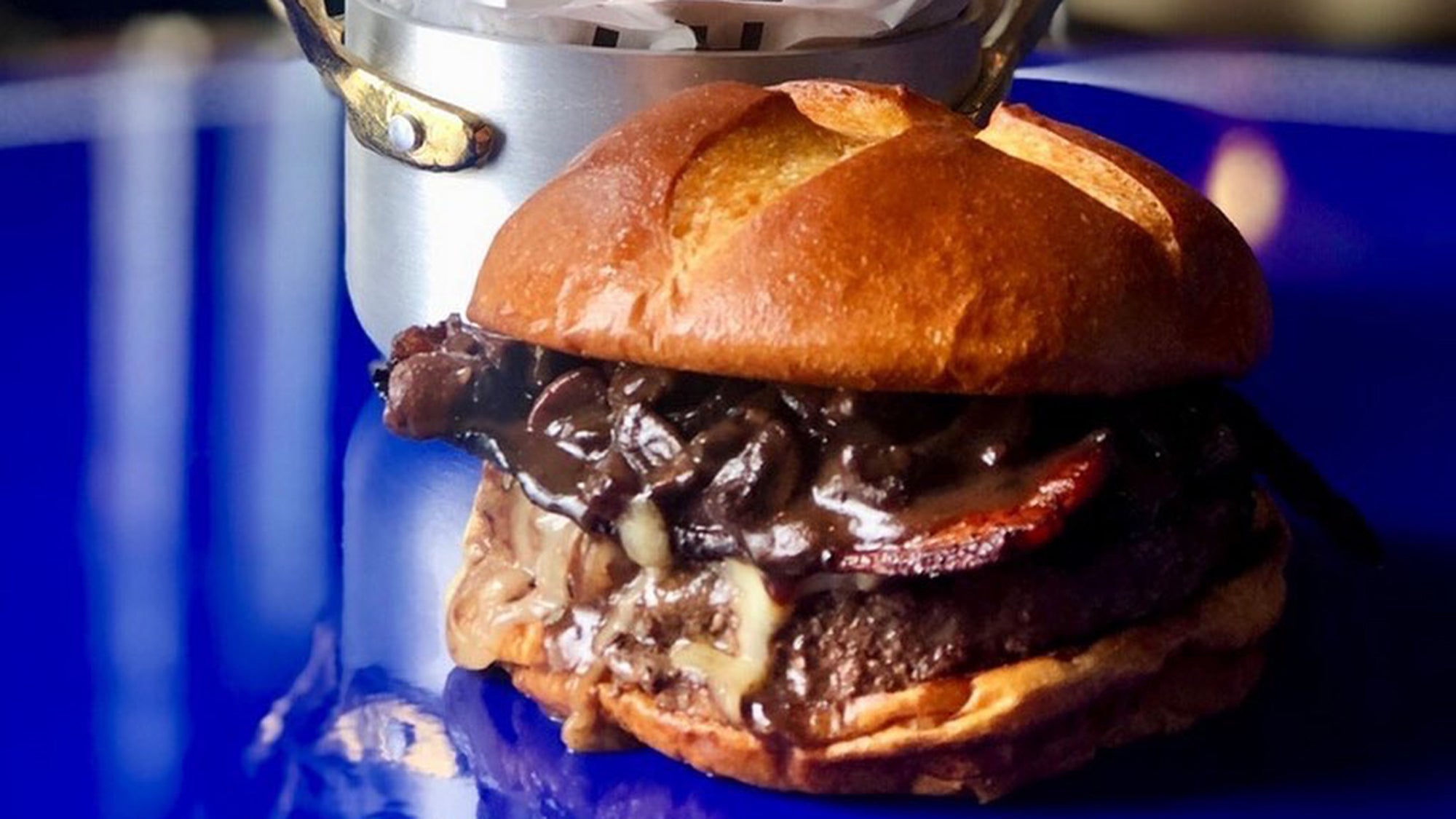 A few blocks away from the finish line, Rochambeau will open early on Marathon Monday with brunch starting at 10 a.m. Omelettes, ricotta pancakes, and bolognese are all on deck, though you'll have to get there early for a spot on the patio — seating will be first come, first served, and reservations are not accepted. (900 Boylston St., Boston)
For onlookers in search of a bite toward the starting line, TJ's Food and Spirits in Ashland will open bright and early — 6 a.m. — for its annual cookout in the parking lot. Get there in the morning for egg-and-cheese breakfast sandwiches, or roll in around lunchtime for the hot dogs and hamburgers sizzling on the grill. (355 W. Union St., Ashland)
This Brookline restaurant is bringing back its laid-back cookout on Marathon Monday, when customers will be able to order from burger and hot dog stations, grab a beer or a cocktail, and hang out on the patio while cheering on runners making their way along Beacon Street. Both the patio and the indoor bar area will be standing room only. (714 Washington St., Brookline)
Newsletter Signup
Stay up to date on all the latest news from Boston.com