Restaurants
Sofra lands on The New York Times's 2021 'Restaurant List'
The publication named "the 50 places in America we're most excited about right now."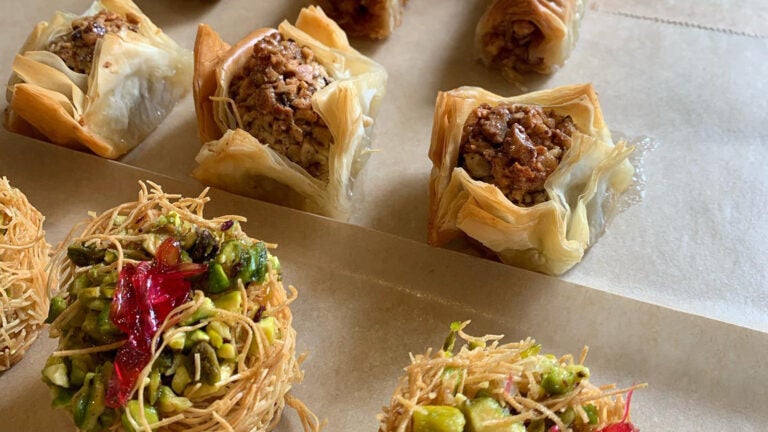 On Tuesday, The New York Times released its annual "The Restaurant List," a who's-who of restaurants across the U.S. that made the biggest impact on the publication's critics, reporters, and editors. The list highlights 50 restaurants — some classics, others brand new to the scene — including one local favorite: Sofra Bakery & Cafe in Cambridge.
Opened in 2008, the Middle Eastern joint is the brainchild of executive chef Ana Sortun and executive pastry chef Maura Kilpatrick. Sofra is known for its vibrant mezze platters and salads, savory flatbreads, and Kilpatrick's playful pastries, like sesame toffee blondies and bittersweet chocolate tahini tarts.
"Come early and order everything," New York Times reporter Priya Krishna wrote. "That's the appropriate way to experience Sofra, whose menu tours Turkey, Lebanon, and Greece, and whose flavor combinations are singular. Here you'll find excellent versions of classic meze like baba ghanouj and muhammara. But pay close attention to the pastries, overseen by Maura Kilpatrick. Doughnuts come filled with a tahini sour cream custard and brown butter; cinnamon rolls are sweetened with dates and slathered in cream cheese. Nothing is cloying, and the chef Ana Sortun and her team put the utmost care into perfecting each element, down to the freshly milled grains."
In an e-mail to Boston.com, Sortun said she was "thrilled" to hear that Sofra was included.
"It's been a wild run this past year and a half, and the place is so tiny and so casual, so it's even more of a surprise to see us on a list," she said. "We have had a tough time with staff this past few months, as everyone across the globe is experiencing. I hope the staff holds their heads up high today! This is no small thing. We are the little engine that could!"
Another New England restaurant to make the cut: Portland's Cong Tu Bot. Krishna called a meal at this daytime cafe "an extremely compelling argument for the superiority of Vietnamese breakfast food," and wrote that "Happiness is a bowl of Cong Tu Bot's chao chay on a chilly Maine morning." If that makes you want to secure a table at this cozy spot, take note: Reservations are not accepted. You'll just have to get there early.
Check out all 50 restaurants included on the 2021 "The Restaurant List."
Sign up for The Dish
Stay up to date on the latest food news from Boston.com.