Restaurants
High Street Place will open in March
Here's the latest on Boston's upcoming food hall.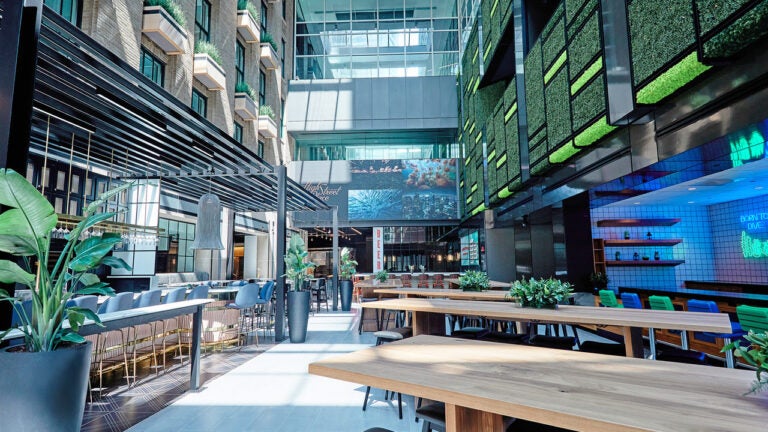 After multiple years of pandemic-related delays, High Street Place will officially open March 2 at 100 High St. in downtown Boston.
The Financial District food hall, which was originally scheduled to open in fall 2019, and later pushed to March 2020, will open next week with 20 food and drink vendors.
"After a trying two years, we are so thrilled to finally open the doors to High Street Place," manager Lauren Johnson said in a press release. "We understand how much downtown Boston and our beloved restaurant community are in need of support. We also feel strongly that this neighborhood and the chefs who make Boston so special are more deserving than ever of celebration, so we could not be more proud to give people a reason to come downtown and discover the newest foods and drinks from our 20 incredible vendors."
The centerpiece of the 20,000 square-foot food hall is its five-story atrium, where a green wall and retractable window wall system that opens during warmer months for outdoor dining herald the impending arrival of spring.
In addition to announcing an opening date, the food hall also revealed that Blackbird Doughnuts will join the High Street Place line-up. The High Street Place location will be the doughnut-maker's seventh in the area, along with spots in Brighton, Newton Centre, Cambridge's Harvard Square, and the South End, West End, and Fenway neighborhoods.
Other highlights at High Street Place include four vendors that were previously announced in 2021: Bubble Bath, Kutzu, and Mamaleh's Delicatessen.
Bubble Bath is a Champagne and wine bar from chef Tiffani Faison, who will also open two other vendors at High Street Place: Tenderoni's and Dive Bar.
Kutzu will feature Pho-Men — a mashup of pho and ramen — as well as bánh mì, salads, and fresh lemonade.
And Mamaleh's Delicatessen will open its third outpost at High Street Place, following its recent expansion to Brookline. Guests will be able to order Mamaleh's signature pastrami, bagels, and sandwiches.
Here's the full list of vendors that will debut at High Street Place next Wednesday:
Blackbird Doughnuts
Bubble Bath
Daiquiris & Daisies
Dive Bar
EGO Convenience
The Farmacy Cafe
Fuji at High Street Place
Gorgeous Gelato
Gracenote Coffee
Haley Jane's
Hum'Oveh
Kutzu
Mamaleh's Delicatesan
Mike & Patty's
Mother Juice
Newburyport Brewing
North East of the Border
Pennypacker's
Tenderoni's
Wheelhouse
High Street Place; 100 High Street Place, Boston; opening March 2, 2022
Sign up for The Dish
Stay up to date on the latest food news from Boston.com.