Restaurants
A ping pong club just opened in the Seaport, and it serves Boston cream pie
SPIN offers 14 ping pong tables, plus a restaurant and bar.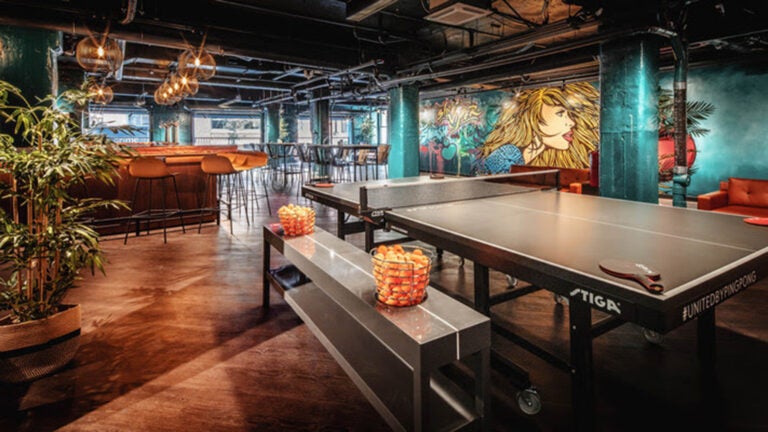 Since first opening in New York City in 2009, SPIN, a ping pong social club, has expanded to Chicago, Seattle, San Francisco, Philadelphia, Toronto, and Washington D.C. Its latest stop? Boston's Seaport.
SPIN opened at 30 Melcher St. on Tuesday afternoon, offering 14 Olympic-grade ping pong tables, private rooms, and a Boston-centric food and drink menu. Guests can reserve tables for $39 per table, which comes with SPIN's promise that players will never have to chase after stray balls. Instead, "ballers" patrol the area and scoop them up off the floor.
A food and drink menu pays homage to Boston with Boston cream pie and Fluffernutter wontons, plus "The 617" burger made with a double-smash patty, sour pickles, iceberg lettuce, red onion, American cheese, and gizmo sauce. Pizza, beer-brined wings, and chicken tinga tacos are also available. To drink, players can take a quick game break for The T (Knob Creek rye, Aperol, lemon, cinnamon, apple cider), Killin the Dunks (coffee, Jameson whiskey, Vermont maple syrup, nutmeg whipped cream, biscotti crumble), or 342 Chests (Sailor Jerry and Mt Gay Black Barrel rum, Peach Schnapps, Cointreau, English breakfast tea).
SPIN has begun working with a few local organizations and artists in Boston. According to a news release, the ping pong club partnered with Artists For Humanity, a non-profit that provides teens with paid employment in art and design, for creative services at the Seaport location, and hired local artist Blind Fox to work their pop art and graffiti magic on SPIN's walls. On Fridays at 9 p.m., SPIN will host local DJs and ping pong professionals for a night of communal games.
Itching to try a game or two? Reservations can be made here.
SPIN; 30 Melcher St., Boston; Tuesdays—Thursdays from 4 p.m. to 10 p.m., Fridays and Saturdays from 4 p.m. to midnight; wearespin.com/location/boston
Sign up for The Dish
Stay up to date on the latest food news from Boston.com.