Restaurants
Where to order Thanksgiving dinner to go
Give your oven a break: These Boston-area restaurants are offering turkey and all the fixings to go.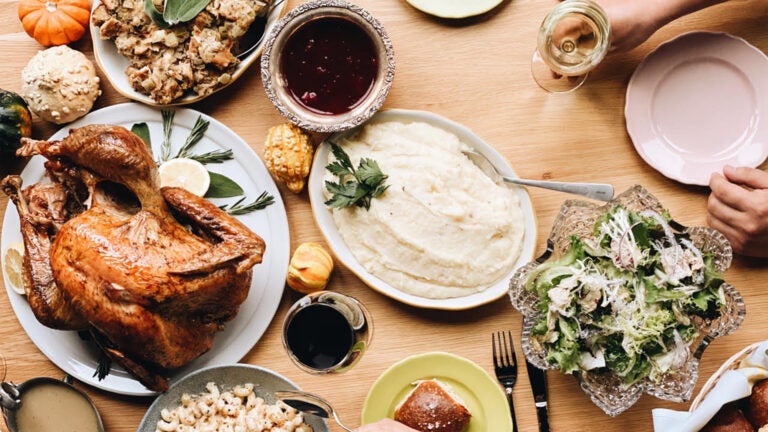 For anyone who enjoys the social aspect of Thanksgiving but isn't thrilled about spending an entire day around the oven, the holiday can prompt a series of panicked questions: Did I burn the bird? Are the mashed potatoes dry? Which kind of wine am I supposed to bring?
As always, restaurants have our backs. While some are hosting their own dine-in Thanksgiving experience this year, others are offering Thanksgiving to go options, from a full turkey dinner package to à la carte appetizers and sides. Bakeries have also come through, selling a range of pies so that you don't have to fight family members to include pumpkin instead of pecan — you can simply order both.
We've put together a running list of restaurants and bakeries making it easy to order Thanksgiving to go. Just remember to place your orders soon; some are cutting off orders a full week before the holiday.
Turkey, appetizers, and sides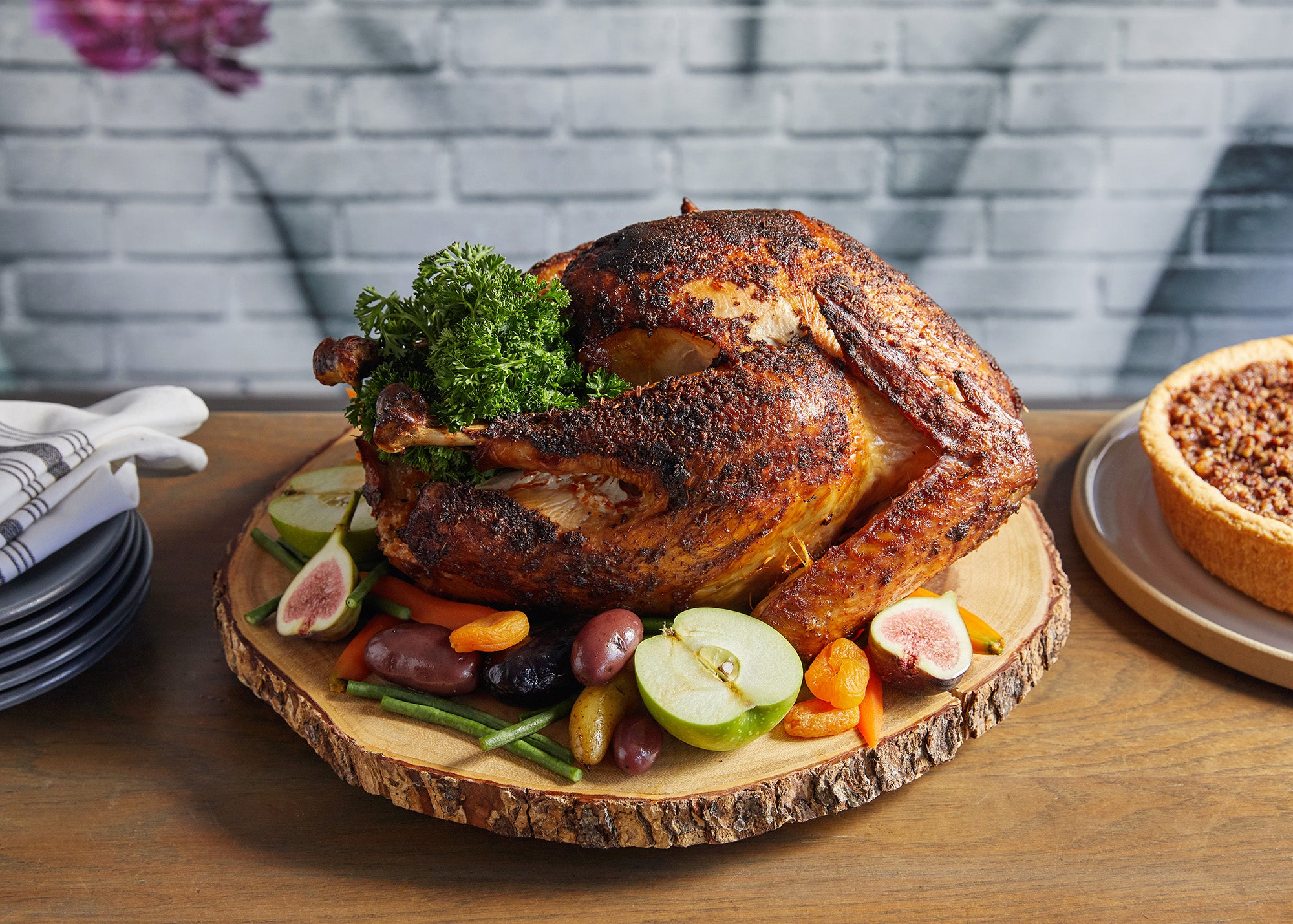 Bambara Kitchen & Bar
Pick up a turkey dinner kit to go, which includes a sous vide breast and confit turkey leg, mashed potatoes, fresh cranberry sauce, roasted Brussels sprouts, gravy, roasted mushroom stuffing, and a slice of apple or pumpkin pie. (minimum two kits per order). À la carte additions are also available, and a portion of the proceeds from each kit will benefit No Kid Hungry.
Order by: Nov. 19
Pick up: Nov. 24 from noon to 8 p.m.
Bianca
Want someone to take care of the whole meal? The Chestnut Hill restaurant is offering a complete Thanksgiving dinner to go for six people, including a roasted turkey or brined turkey, plus sides and dessert. For à la carte options, choose from dishes like fennel sausage stuffing, macaroni and cheese, and little leaf salad.
Order by: Nov. 21
Pick up: Nov. 23 from 2 p.m. to 6 p.m., Nov. 24 from 10 a.m. to noon and 2 p.m. to 6 p.m.
Catalyst
At Catalyst in Cambridge, chef William Kovel has all the classics on deck: a whole roasted turkey, candied yams, herb stuffing, the works. But there are more out-of-the-box dishes to choose from as well, like truffle arancini, chicken liver mousse, and duck breast with fig gastrique, plus pies, cookies, and brownies from pastry chef Nicole Harrington.
Order by: Nov. 22
Pick up: Nov. 24
Citizen Public House & Oyster Bar
Forget the turkey and opt for a whole roasted pig, heritage holiday ham, or smoked barbecue brisket from Citizen Pub. Each star entrée comes with a slew of sides that feeds six to ten people — think sweet potatoes with marshmallows, Brussels sprouts with bacon, and stuffing with mini pork meatballs.
Order by: Nov. 23
Pick up: Nov. 25 from 11 a.m. to 1 p.m.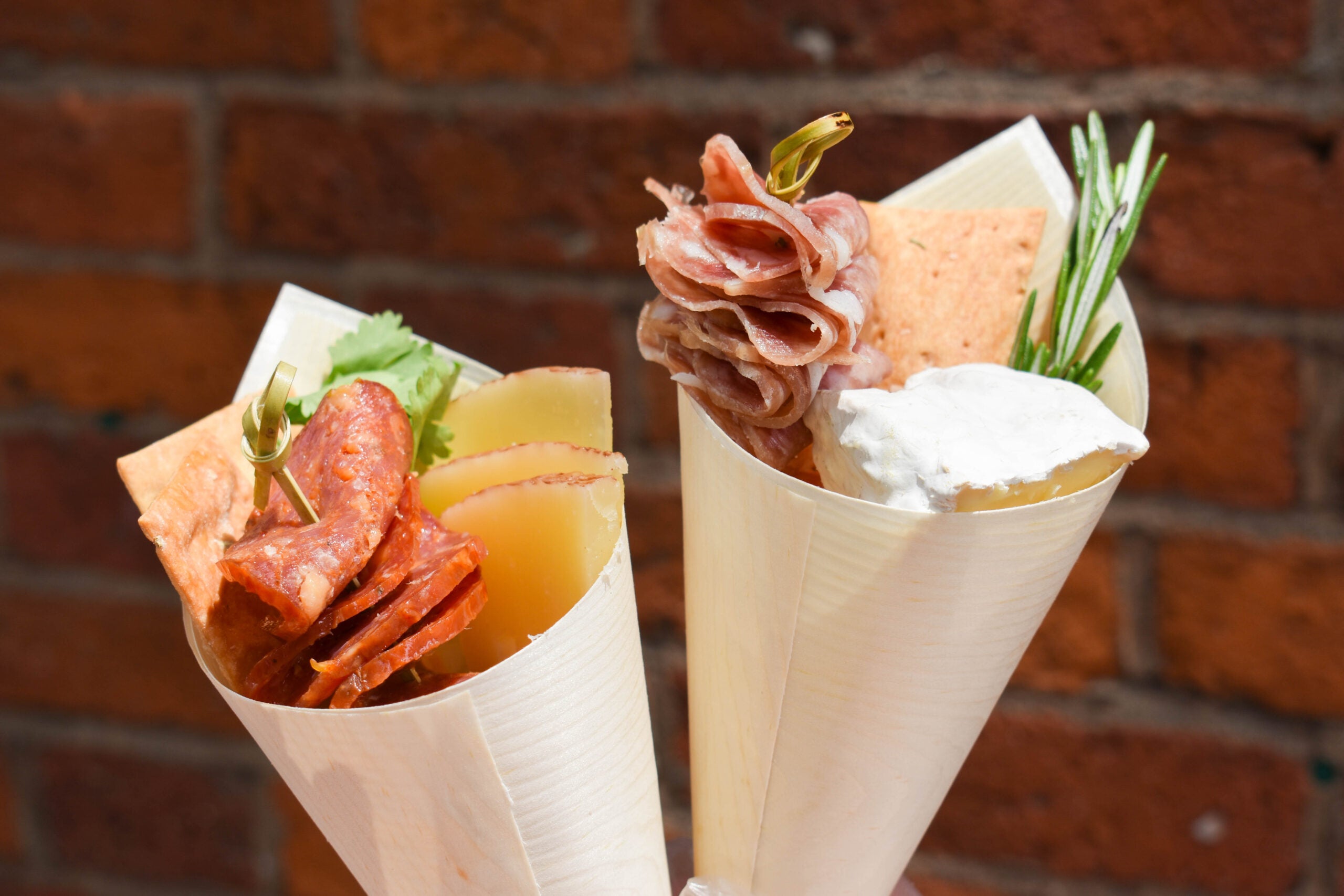 Kured
If you're in charge of this year's cheese and charcuterie board, save yourself some time by ordering a pre-made box from newcomer Kured, like the "Banksy" or the "Pizza Party Artist Box." Customized boxes are also available.
Order by: Until Nov. 24
Pick up: Until Nov. 24
LUCIE Drink + Dine
LUCIE, located on the ground floor of The Colonnade Hotel, is offering a dine-in Thanksgiving meal this year, but if it's takeout you're after, the restaurant has that covered, too. In addition to roast turkey, the menu features quarts of butternut squash bisque, wild mushroom brioche stuffing, haricot verts, cranberry chutney, and pecan, apple, and pumpkin pies.
Order by: Nov. 18
Pick up: Nov. 24 from 2 p.m. to 6 p.m., Nov. 25 from 8 a.m. to 4 p.m.
Mamaleh's
The delicatessen is offering Thanksgiving spreads available for pickup and delivery at both its Cambridge and Brookline locations. Go classic with a confit turkey or switch it up with braised brisket as the main entrée, then add on sides like challah stuffing, roasted cranberry sauce, and matzah ball soup. There are whole pies and slices, too, from sweet potato to chocolate tahini swirl.
Order by: Nov. 22
Pick up: Nov. 23 and Nov. 24 from 10 a.m. to 8 p.m.
Row 34
Chef Jeremy Sewall has crafted a traditional Thanksgiving menu for takeout — and, naturally, there are a few seafood-centric add-ons. Choose from sliced roast turkey, cornbread or oyster stuffing, candied yams, cranberry jam, and more, plus unshucked oysters by the dozen, clam chowder, and cocktail shrimp.
Order by: Nov. 22
Pick up: Nov. 24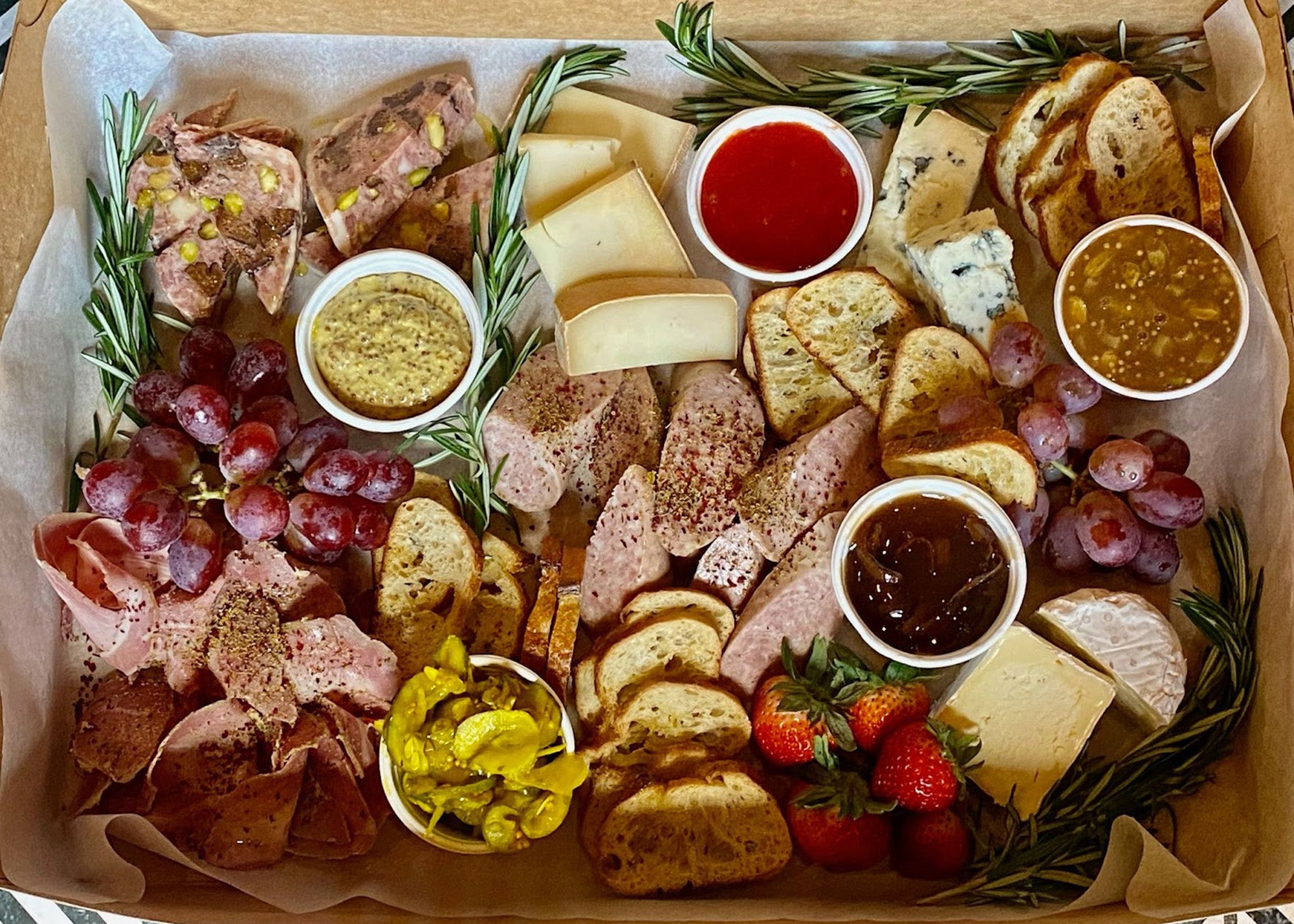 The Salty Pig
Place an order with The Salty Pig for all your charcuterie needs. ​​Executive chef Andrew Hebert has designed two charcuterie boxes and cheese boards to-go: a classics board and a TSP board, each with an impeccable selection of meats, cheeses, and accompaniments like jams, nuts, marinated olives, mustard, and crostini.
Order by: Nov. 21
Pick up: Nov. 24
Season to Taste
Chef Robert Harris's Thanksgiving meal for four people features turkey, mashed potatoes, sourdough stuffing, green bean casserole, plus à la carte sides for those who are looking to round out their dinner.
Order by: Nov. 18
Pick up: Nov. 24 from noon to 6 p.m.
Serafina
If an Italian Thanksgiving is more of your speed, Serafina is offering beef and vegetable lasagna, rigatoni bolognese, penne all vodka, and sides that include meatballs, sautéed broccolini, and harvest pear salad.
Order by: Nov. 21
Pick up: Nov. 24 from 4 p.m. to 8 p.m.
Shirley
In addition to individual veggie pot pies, the newly opened Shirley at Bow Market offers bites that are perfect for a pre-dinner snack, like loaves of bread with Meyer lemon butter, brioche buns flavored with wild trumpet mushroom powder, and wheels of Camembert cheese paired with jam made from Sweet Autumn Farm's quince fruit grown.
Order by: ASAP
Pick up: Nov. 24
Stillwater
You won't find turkey at this Chinatown/Leather District restaurant, but you will find pretty much everything else. Chef Sarah Wade has cooked up a menu of sides — sold individually or in packages that feed two to four or six to eight people — which include sour cream and chive mashed potatoes, turkey gravy, wild mushroom and thyme stuffing, apple crumble pie, and more.
Order by: Nov. 23
Pick up: Nov. 24 starting at 11 a.m.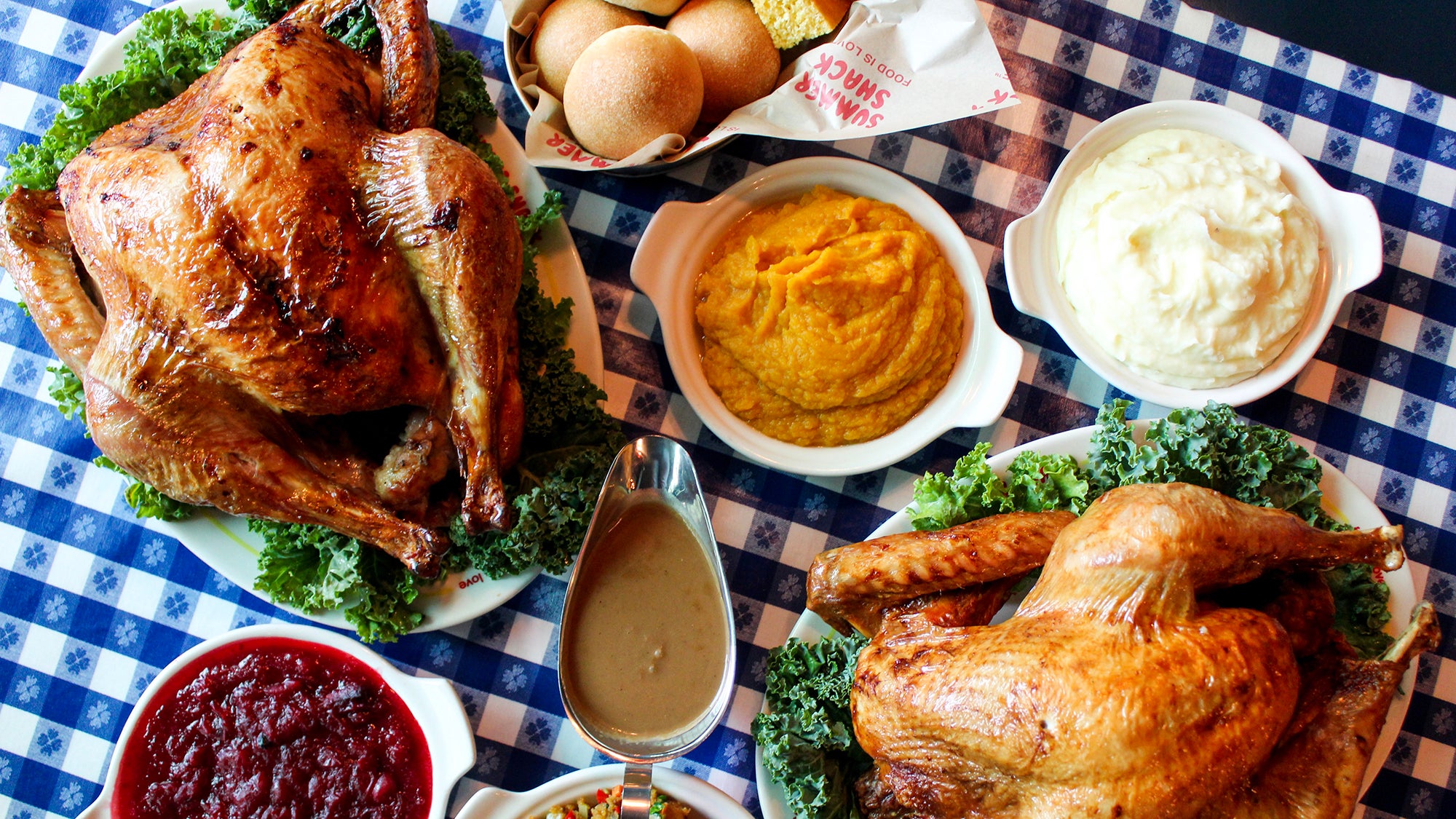 Summer Shack
Now in its 16th year, Summer Shack's annual Thanksgiving meal to-go allows diners to order just the turkey — either oven roasted or Southern fried — or a complete meal, featuring turkey, mashed potatoes, cornbread stuffing, butternut squash, gravy, and cranberry sauce. Sides, as well as Thanksgiving pies, may also be purchased separately.
Order by: ASAP
Pick up: Nov. 24 from noon to 6 p.m.
Sweet Cheeks Q
The Fenway barbecue spot is offering a range of holiday packages and à la carte items, including a comprehensive Thanksgiving package that features turkey, two types of cranberry sauce, buttery mashed potatoes, broccoli cheese casserole, and the restaurant's famed buttermilk biscuits. Don't forget the pies: pumpkin pie, maple buttermilk pie, and malted chocolate cream pie are all on the menu.
Order by: Nov. 17
Pick up: Nov. 24 from noon to 6 p.m.
Sycamore
You won't find turkey on the takeout menu at Sycamore in Newton. What will you find? Chicken liver mousse with cranberry-pumpkin seed crackers, squash soup, cranberry and port wine chutney, duck leg confit, chicken pot pie, banoffee pie, and more decadent snacks and sides to round out your meal.
Order by: Nov. 18
Pick up: Nov. 24 between 1 p.m. and 5 p.m.
Thistle & Leek
Newton's Thistle & Leek is making it easy to customize your ideal Thanksgiving dinner. Order a Green Circle turkey (which feeds five to six people) to cook at home, or scoop up the sides as well, which range from twice baked potatoes and roasted Brussels sprouts to spiced orange cranberry sauce and chips with clam dip.
Order by: Nov. 20
Pick up: Nov. 24 from noon to 6 p.m.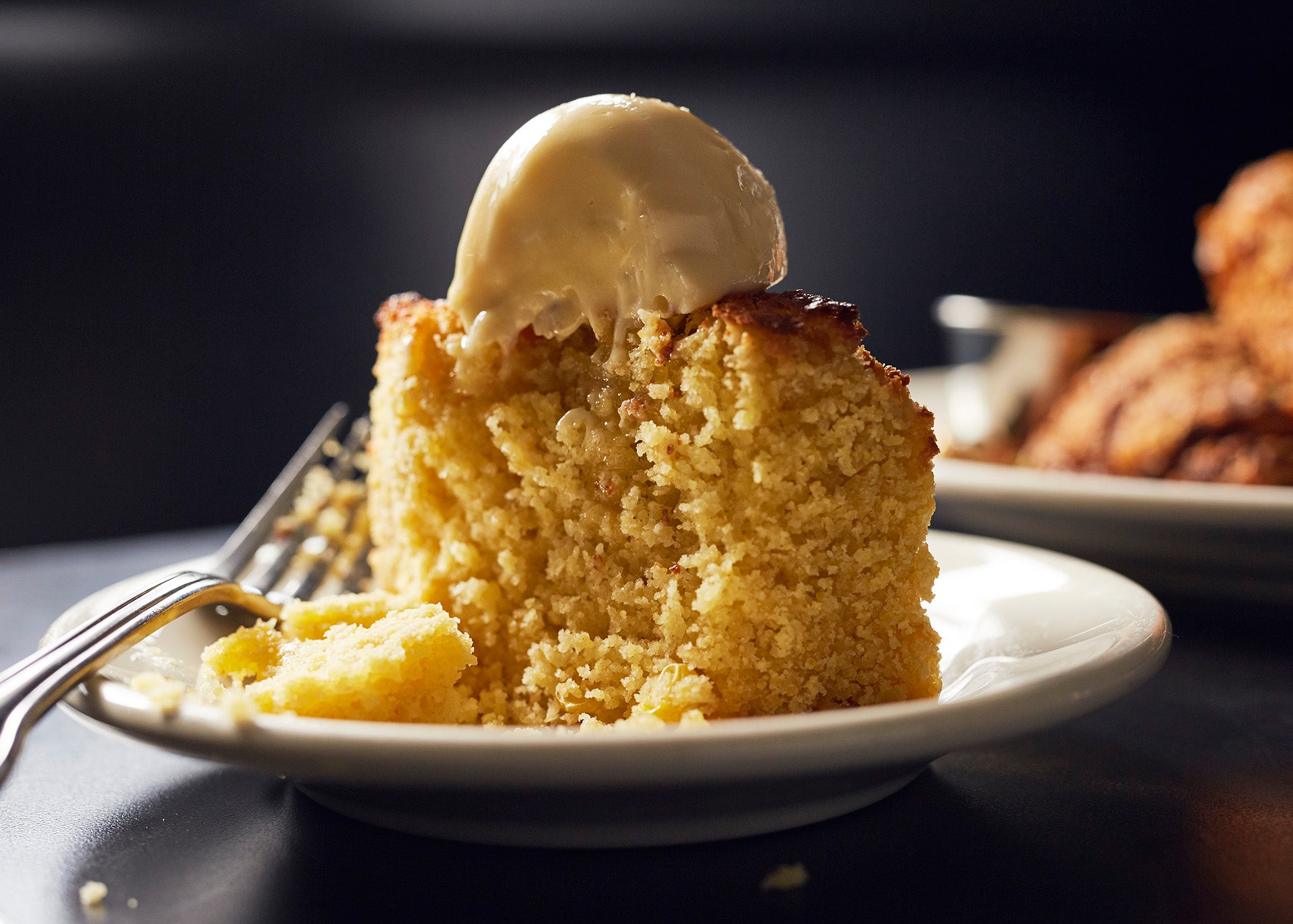 Trina's Starlite Lounge
Stock up on sides at this Somerville hangout, where diners can order Q's famous corn bread, macaroni and cheese, biscuits, a selection of casseroles, and traditional or cornbread stuffing. For dessert, choose from pumpkin pie, bourbon pecan pie, and apple cobbler.
Order by: Nov. 21
Pick up: Nov. 23 & Nov. 24 from 2 p.m. to 7 p.m.
Urban Hearth
Chef Erin Miller is cooking up a full, ready-to-reheat Thanksgiving dinner, complete with sage- and cider-brined turkey breast, mulled wine cranberry conserve, stuffing, roasted broccoli and wild mushrooms, and more. A pie sampler and alcohol pairings are available for extra.
Order by: ASAP
Pick up: Nov. 24 from 4 p.m. to 7 p.m., Nov. 25 from 9 a.m. to noon
Desserts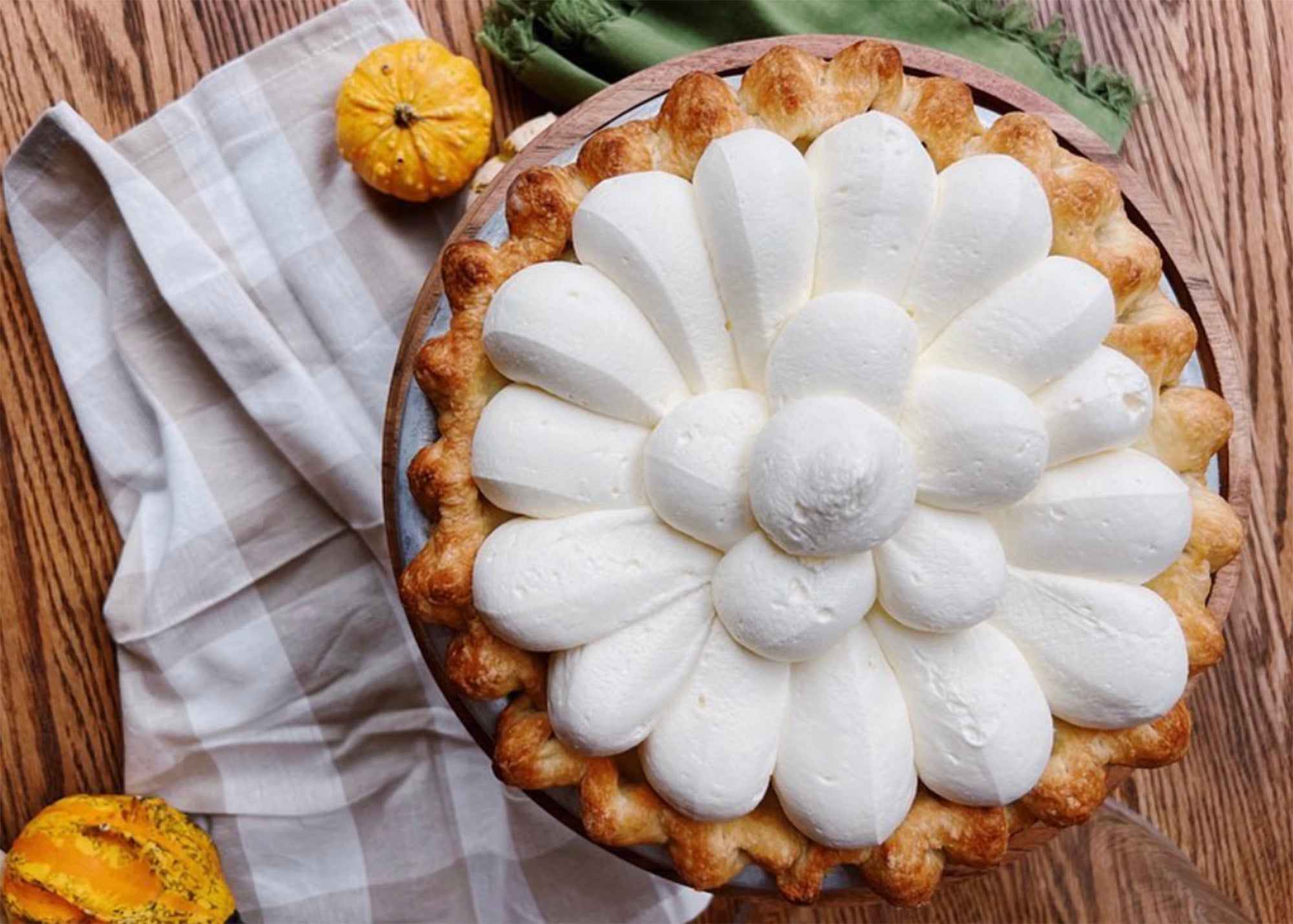 The Banks Fish House
This relatively new Back Bay seafood destination has nine-inch pies on hand for Thanksgiving, including Himmel Hospitality's famed banana cream pie. Other options include apple, pumpkin, and bourbon pecan pie. Call 617-399-0015 to order.
Order by: Nov. 20
Pick up: Nov. 24
Blackbird Doughnuts
In addition to a turkey dinner, Blackbird Doughnuts will offer two Thanksgiving pies for pickup and delivery: sweet potato doughnut pie made with a graham cracker crust, sweet potato cake doughnuts, brown butter filling, and toasted marshmallows; as well as a classic Thanksgiving doughnut pie featuring spiced doughnuts baked in a graham cracker crust, brown sugar filling, and topped with a spice glaze and sprinkles.
Order by: ASAP
Pick up: Nov. 24
Clear Flour Bread
Pre-orders for Clear Flour Bread's Thanksgiving specials launch on Nov. 12, when you can choose from items like apple crumb pie, pear cranberry rustic tart, chocolate whiskey cake, and Boston brown bread.
Order by: Orders open Nov. 12
Pick up: Nov. 22–Nov. 24
Flour Bakery & Cafe
Sure, Flour has a bevy of sides available for Thanksgiving, from cranberry chutney to whipped butternut squash to pull-apart rolls. But the bakery's pies are its true stars, and include holiday picks like chocolate cream pie, double-crust apple pie, Southern pecan pie, and pumpkin pie, many of which are available gluten-free as well.
Order by: Nov. 21
Pick up: Nov. 23 & Nov. 24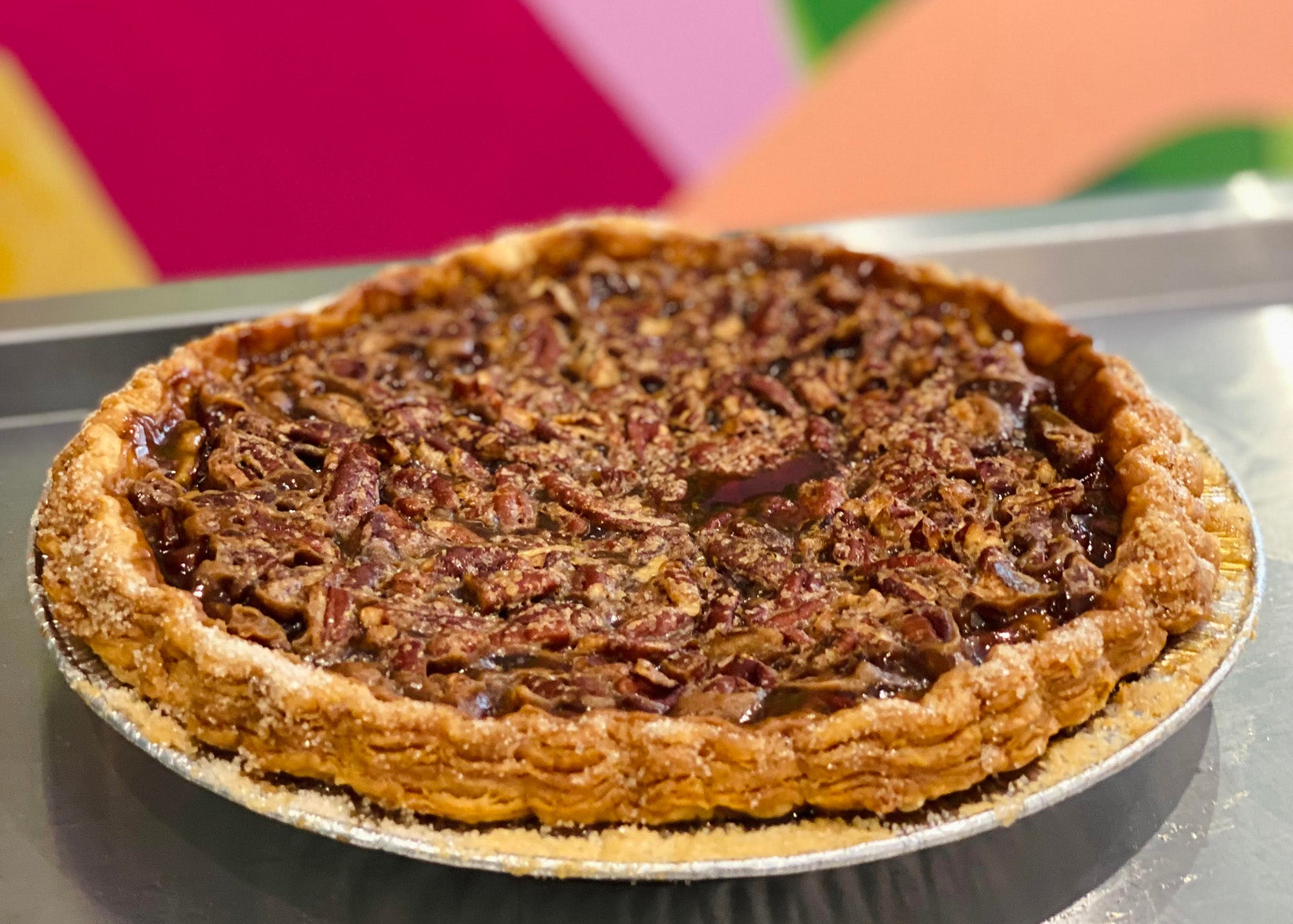 Lulu Green
Looking for vegan pies? This Southie plant-based eatery is offering three organic, vegan pies for the holiday: apple pie, maple pecan pie, and pumpkin pie. Each pie serves six to eight people.
Order by: Nov. 19
Pick up: Nov. 23 & Nov. 24
Monumental Market
This small-but-mighty Jamaica Plain bakery is taking orders for nine-inch pies of two kinds: a vegan apple cranberry crumb, and a gluten-free chocolate torte. Need something for the morning after Thanksgiving? Monumental is also selling cranberry orange loaves and Thanksgiving strata, a savory bread pudding with turkey sausage.
Order by: Nov. 21
Pick up: Nov. 23 & Nov. 24
Petsi Pies
Pie royalty Petsi Pies has almost a dozen varieties of 10-inch pies available this year, including apple crumb, brown butter pecan, chocolate bourbon pecan, pumpkin, mixed berry, and sweet potato pecan.
Order by: ASAP
Pick up: Nov. 23 & Nov. 24
Sweet Teez Bakery
Self-taught home baker Teresa Maynard has gained a steadfast following for her impeccable desserts. This year, you can order her pies for delivery, including pumpkin, Dutch apple, blueberry, cherry, and sweet potato.
Order by: ASAP
Delivery: Sweet Teez is offering delivery only
Sign up for The Dish
Stay up to date on the latest food news from Boston.com.