Restaurants
Pizzaiolo Mario LaPosta opens da LaPosta in Newton
"I've always been pizza-obsessed," LaPosta said.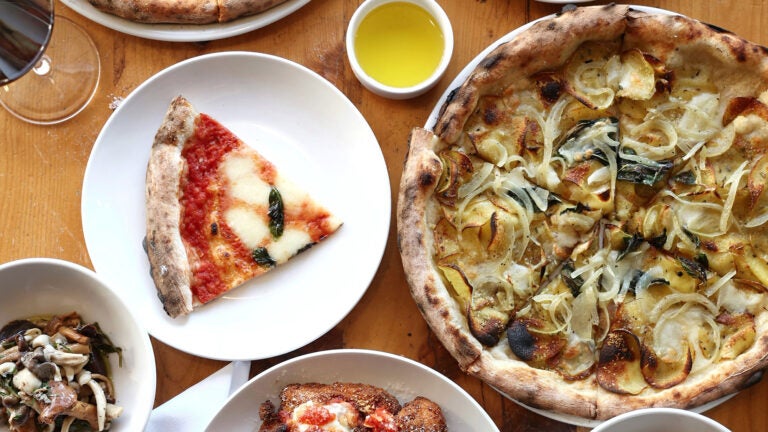 Mario LaPosta has spent decades perfecting his pizza.
The Connecticut-raised pizzaiolo started working at a pizzeria when he was 15, moving to Italy after college and apprenticing in Naples and Rome. He went on to become the executive chef at B&B Hospitality Group, which included the now-shuttered Babbo Pizzeria e Enoteca in the Seaport. After more than 20 years refining his pizza game, the chef has opened his first restaurant: da LaPosta, which made its Newton debut on Nov. 19.
"My background is in Neapolitan-style pizza," LaPosta told Boston.com. "I've been cooking wood-fired pizza for a long time, but with that style of pizza, a lot of pizza makers are importing products from Italy. We are too, but what I've changed over the last few years is — well, it's always, how do we get better? Developing and sourcing my own organic flour from the States has been a really important part in making a better pizza, and then sourcing better tomatoes and better mozzarella, things that you can buy here in the States."
To that end, LaPosta uses Bianco di Napoli California tomatoes, housemade mozzarella made with naturally fermented cheese curds from Pennsylvania, and an organic, whole wheat flour blend from Utah's Central Milling. LaPosta said it took him eight months to find the right blend of flour.
"I thought I knew what flour was until I started working with [Central Milling]," he said. "All the flour we're getting in the restaurant is milled 30 to 60 days from being wheat on the farm, so that freshness makes a huge difference. The flour is something I'm really proud of."
The pizza at da LaPosta is made using naturally leavened sourdough, which LaPosta created four years ago and feeds every day with flour and water. At the restaurant, diners can choose from around 15 pizzas, ranging from Margherita and pepperoni to cacio e pepe and New Haven clam. The bagna cauda features house-made sausage, escarole, bufala mozzarella, and anchovies, while a Toscana pizza highlights broccoli rabe, fennel salami, tomato conserva, cacio Vesuviano, and Pecorino Fossa.
Despite being focused on pizza, da LaPosta also pays tribute to Southern Italian street food, including fritto misto with fried calamari and fresh shrimp, and razor clams casino stuffed with homemade focaccia bread crumbs, pancetta, and garlic. Meatballs inspired by LaPosta's mother are also on the menu.
"Growing up, my mom used to fry the meatballs, and when they came out we'd eat them and maybe they'd make it to the dinner table," he recalled. "Here, we roast the meatballs in our wood-fired oven, and that's how we serve them to the guests, with a little bit of sauce on top."
A small selection of pastas are also available, including bucatini all'Amatriciana and spinach and ricotta ravioli, as well as bone-in ribeye, local tuna, and chicken parm served with broccoli rabe.
As for beverages, the wine list reflects the LaPosta family's background, originating in the Campania region of Southern Italy.
"We made it a point to devote more than half of our wine list to the Campania region," he shared. "There's a lot of great wine being produced there right now, specifically Aglianico and Falanghina and things like that. The wine is fantastic and really earthy and just delicious."
In addition to wine, diners can sip on Italian-inspired cocktails — think negronis and spritzes, as well as an espresso martini.
Da LaPosta opened with dinner to start, but LaPosta hopes to expand soon with lunch and dinner, seven days a week. Just don't get too attached to the pizza he's serving now.
"I've always been pizza-obsessed," LaPosta said. "I consider myself a student of pizza, so I'm always trying a new pizzeria or learning about a different dough technique or a new vendor. I love where my pizza is at right now, but I don't think in a year or two I'll be making that same style of pizza. I want it to keep getting better."
Da LaPosta; 825 Washington St., Newton; Tuesdays—Thursdays from 5 p.m. to 10 p.m., Fridays and Saturdays from 5 p.m. to 11 p.m.; dalaposta.com
Sign up for The Dish
Stay up to date on the latest food news from Boston.com.