Restaurants
Eva will take over the Cafeteria space on Newbury Street
A new concept, a colorful vibe, and that massive patio will open just in time for spring.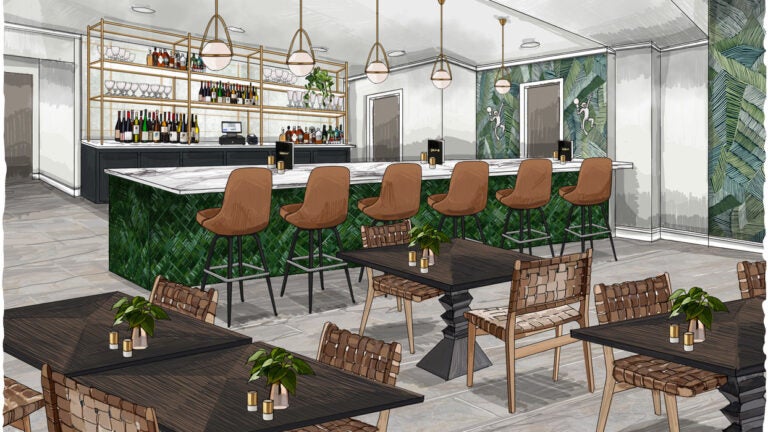 Eva means "full of life," and that's what restaurateur George Aboujaoude hopes for his new Newbury Street restaurant bearing that name.
Aboujaoude said he plans to open Eva in late February or early March in the space formerly occupied by Cafeteria, the popular restaurant Aboujaoude opened in 2007 and closed in 2020.
COVID-19-related shutdowns gave Aboujaoude pause for thought, and he envisaged a new image for the two-level restaurant and patio situated on the corner of Newbury and Gloucester streets.
"I wanted to bring in some lively, fresh colors," said Aboujaoude, who also owns Seaport hotspot Committee Ouzeri & Bar and Bijou Nightclub & Lounge in the Theater District.

"Cafeteria was more monotone and had that terrazzo floor. Eva will be more rich with colorful greenery, too," he said.

Blues, greens, natural wood tones, hand-woven raffia chandeliers, and accent panels decorated in a voluptuous leafy pattern lend Eva a playful look, which was created by Newton-based Tiffany Barqawi Design.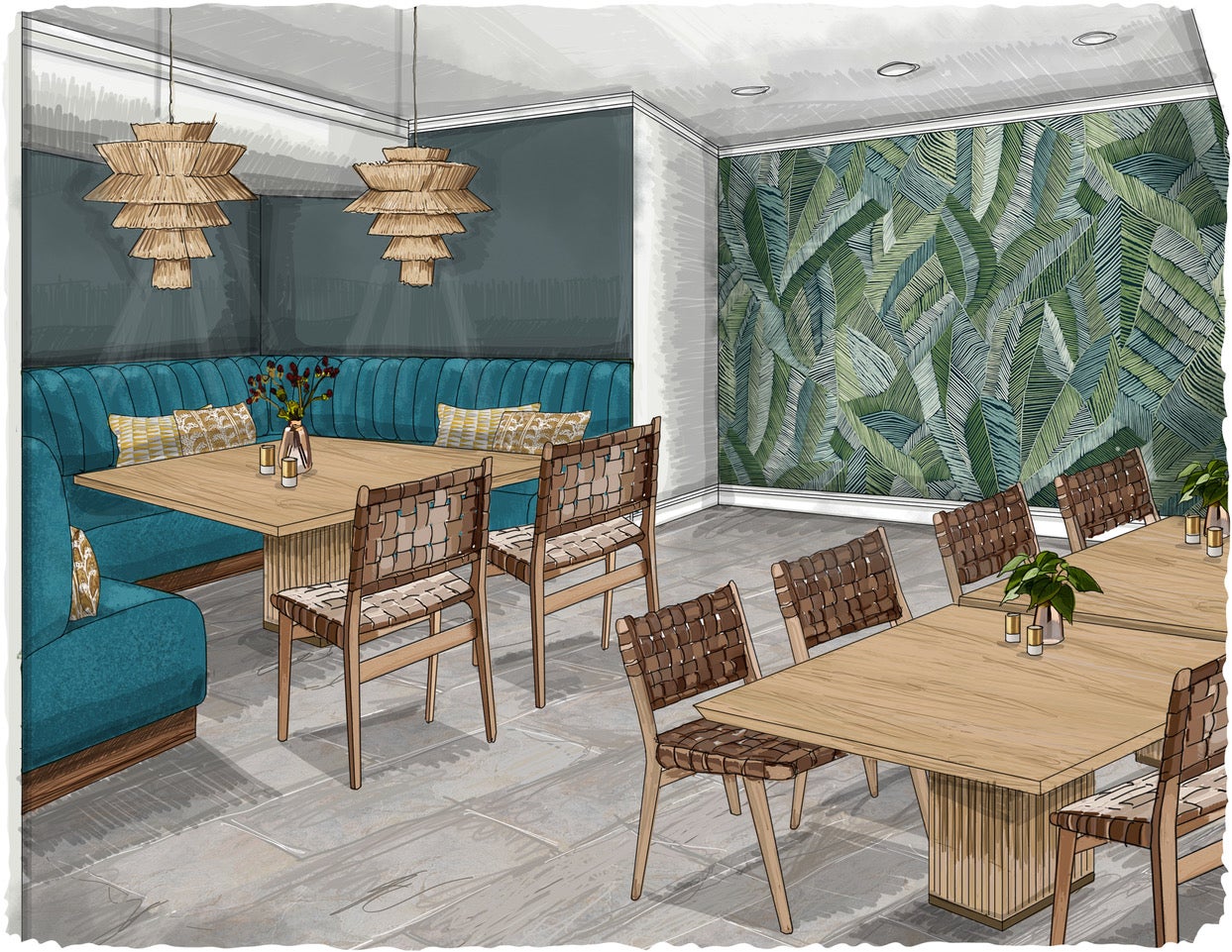 "Tiffany brought up a good point," Aboujaoude said. "She pointed out Cafeteria had difficulty transitioning into a nighttime spot. So she went for a lively design with those warmer colors that transition easily from the afternoon scene into the dinner scene."

Eva's menu will have pan-Mediterranean influences, but keep Cafeteria favorites like the burger menu, which included tuna, black bean, and the ubiquitous cheeseburger. Menu details, along with who will head up the kitchen, are still being determined. Drinks will include local beers and cocktails intended for sipping on the patio.

"That's the beauty of a modern American menu," said the Boston native, who grew up watching his Lebanese father cook at the family's Cedars restaurant on Shawmut Avenue. "Dishes come from everywhere. Eva's menu will have inspiration from South America, Greece, Italy, and maybe even Lebanon."

There's one Cafeteria dish Aboujaoude really hopes will return, however:
"The hummus smoked salmon panini was so good. That's one of the dishes I miss the most. I would really love to see it back."
Eva, 279a Newbury St., Boston
Correction (March 28, 2022): This story has been updated to clarify the Boston restaurants owned by George Aboujaoude. He is an investor of GreCo, not an owner. Boston.com regrets the error.
Sign up for The Dish
Stay up to date on the latest food news from Boston.com.