Restaurants
Here are the 2023 restaurant openings we're excited about
Seafood, dumplings, and a new micro food hall.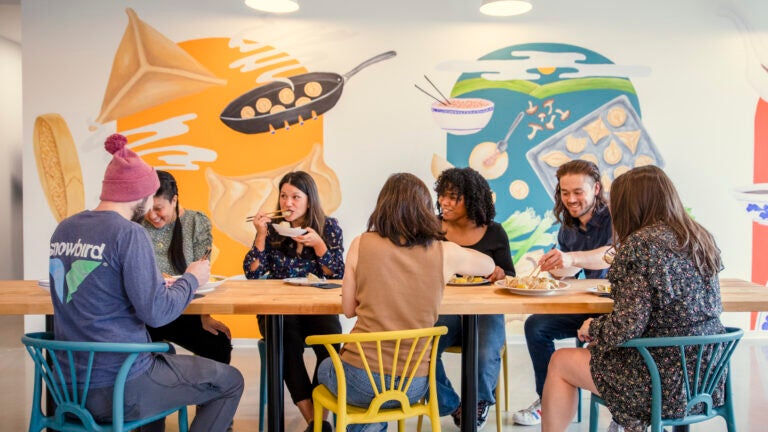 The start of the new year is bringing a wide variety of restaurants arriving on the Boston dining and beverage scene, and we couldn't be more excited. While we can't ignore the challenges establishments have faced while emerging from the pandemic, we're hopeful about the way the industry could expand in 2023. From modern-day supper clubs serving soul food to a Japanese udon shop, we can expect diverse cuisines and creative concepts.
We've put together a guide to the restaurants that we're most eager to see open this year. Boston will experience the return of popular spots that closed in recent years, the launch of creative new concepts, the introduction of exciting new restaurants in the Seaport, and more. Look below for the Boston area restaurants we can't wait to explore.
Reopenings
There's nothing like a strong return, and for some establishments that closed years ago, we'll be seeing rebirths. A Cambridge pool hall that closed after a 27 year run in 2020, Flat Top Johnny's will emerge in Kendall Square again, with an anticipated spring opening. Craft beer, cocktails, and bar food are on the menu, and there will also be pinball and pool in the space. The watering hole will emphasize local brewers, serving favorites like Narragansett.
We're also thinking of Umbria, which began as Umbria Prime, a Financial District nightlife destination that closed in 2016. The spot will be re-appearing in the North End, set to open late spring. Owned by Frank DePasquale of DePasquale Ventures, the Italian dining concept will have the feel of a Tuscan villa, with two floors of dining and a Miami-style roof deck. It will occupy the former Ristorante Fiore space.
Restaurateur Garrett Harker was the force behind Eastern Standard, a cult-favorite spot in the Fenway that closed in 2021. This summer, the brasserie will come back to the neighborhood, offering guests steak frites, bread pudding and burgers, according to a spokesperson. In addition, Harker plans to open a cocktail bar called Equal Measure, along with two other concepts that have not yet been announced. The four new businesses will be located at 771 and 775 Beacon Street in the Bower real estate development.
Creative concepts
Some restaurants will be offering an experience that's a bit more than a typical sit down dinner. Mei Mei, a renowned Asian eatery known for its eclectic dumplings, will open its new location in South Boston later this month, but the space will bring guests something unique. Their cafe will double as a classroom, where customers can learn how to prepare dumplings, while a large window will allow them to view a factory where the product gets made.
Foundation Kitchen, which originated in Somerville, will be officially opening its Charlestown location on Feb. 3. The new spot will feature a micro food hall with a cafe, food stalls, and a wine and craft beer bar, as well as a shared kitchen space downstairs. Vendors include Rita's Fresh Pasta, Tchacoberry Pastel & Açai, Delectable Eats, and Render Coffee. Foundation Kitchen originated in 2015 with the intention of offering businesses commercial kitchen infrastructure and a low-barrier entry point into the food industry.
Grace by Nia will be a modern-day supper club serving soul food, while also featuring a speakeasy lounge with a stage for live jazz music. Expected to open in April, the joint is a collaboration between Big Night and Nia Grace, owner of Darryl's Corner Bar and Kitchen and The Underground Cafe and Lounge.
Long-awaited openings
There are openings that we've been eagerly anticipating for a while, and they may be well worth the wait. Hue, a restaurant, cocktail, and entertainment venue in the Copley Square Hotel is slated to debut this month. Visitors will be able to feast on crispy chicken wings with sweet chili sauce, kofta meatballs in Indian spiced tomato sauce, and a vegetarian Impossible burger.
Comfort Kitchen in Dorchester will be a cafe by day, transforming into a restaurant by night. Inspired by flavors of the African diaspora, connected from Asia to the Americas, it will feature "global comfort food." They will serve dishes like the jerk roasted duck leg and za'atar brown butter trout. Comfort Kitchen is hoping to open by the end of January, according to branding partner Rita Ferreira.
Puritan Oyster Bar is set to open in early February, and will serve up dishes like buttered lobster toast, smoked bluefish melts, and, of course, lots of oysters. The restaurant from chef and restaurateur Will Gilson will be adjacent to Puritan & Company in Inman Square, and will also feature raw bar favorites and cocktails that pair well with seafood.
Seafood restaurant Row 34, which already has locations in Boston, Burlington, and Portsmouth, will be coming to Kendall Square in March. On the menu, you'll find classic dishes like the warm buttered lobster roll, New England clam chowder, and lettuce cups with crispy oysters and pickled vegetables.
The Seaport restaurant boom
The Seaport District is one of Boston's booming neighborhoods, and this year, it will see the introduction of some new and exciting restaurants. Borrachito will put a playful spin on the traditional Mexico City-style taqueria. Located at The Superette, the spot will bring "a fresh and fun take on the classic taco," according to a spokesperson, which you can enjoy with cerveza and frozen cocktails. Borrachito is slated to open this winter.
Bar Toscana will plan to open in early spring, bringing the Italian cocktailing experience, reminiscent of Rome or Milan, to Boston. Signature drinks like the Toscana-tini and spritzes will be served, as will smaller bites, such as bruschetta, arancini, and truffle-whipped ricotta with crostini.
Also in the spring, Stubbys, an import from Nantucket, will be arriving on the scene. The eatery will be serving its full menu from morning until late at night, doling out breakfast sandwiches, chicken tenders, burgers, steak and cheese subs, and more. According to managing partner Saugat Mali, the Nantucket location is known for its friendly atmosphere, and the Seaport restaurant will be the same.
Yume Ga Arukara, the beloved Porter Square udon spot, will open a location at The Superette this spring. While it will focus on the traditional Japanese noodle bowl, toppings like tempuras, organic vegetables, and proteins will also be introduced to dishes.
Fast-casual and takeout dining
The fast-casual trend has given Boston diners a way of eating quality food quickly, while on the go. Last week, we saw the opening of Johnny Pomodoro, a counter service Italian-inspired spot in Charlestown. They offer dishes like chicken parmesan, Caesar salad, family style pasta, and garlic knots, as well as other grab and go, takeout, and delivery items, such as subs and Detroit-style pizza.
Diners can also look forward to the debut of ButterBird in Watertown by celebrity chef Jason Santos, with an anticipated opening in May. Open for breakfast, lunch, and dinner, the spot will offer breakfast sandwiches served on biscuits, fried chicken sandwiches, beignets, and more.
Sign up for The Dish
Stay up to date on the latest food news from Boston.com.