Restaurants
'It was too much to bear': Somerville restaurant Tanám has permanently closed
The Filipino spot was a place that invited guests into conversation.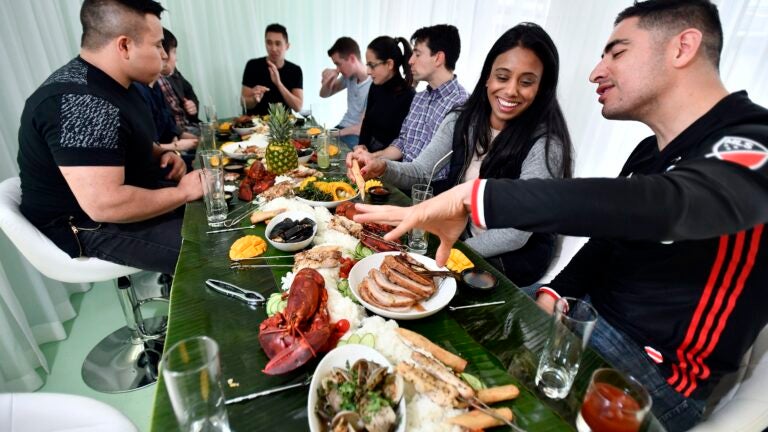 A Filipino restaurant laid out the banana leaves that covered its communal table for one final time this past weekend.
Tanám, a unique eatery nestled in Bow Market, closed on Jan. 14. The restaurant, which centered around narrative cuisine, transported visitors through food and storytelling. The spot was a worker cooperative, known for its advocacy in raising standards within the restaurant industry. Worker-owner and chef Ellie Tiglao said that she had to shutter Tanám because of the impact of the pandemic and a loss of staff, while she foresaw that the business would not meet its goals this season.
"We were bracing ourselves for a hard winter," Tiglao said, citing stress and reckoning with not having the staff to fill needed roles, which led to the closure. She added, "it felt like it was too much to bear, the sacrifice that would be needed to get through the winter."
The restaurant had to pivot during the pandemic and change its business model, which left its structure "basically fractured," Tiglao said. They expanded their takeout services, began offering platters on the outdoor patio, and also served guests in the Bow Market courtyard and full-service indoor dining program. Kamayan, an elaborate "eat with your hands" feast that would have been enjoyed by strangers sitting around Tanám's one communal indoor table, was only reserved for groups who knew each other and would book the whole table.
Tanám was launched in 2019, originating from a pop-up called Pamangan that had been the idea of Tiglao and her brother. The concept was to offer storytelling through food and beverage, inviting guests into a conversation about the historical, cultural, and political narrative behind each course. Kamayan's most recent menu consisted of dishes like the duck adobo, pork lumpia, paksiw, or monkfish marinated in ginger and sugarcane vinegar, and chopped pineapple and tamarind fruit.
"The act of eating with your hands in the Philippines is very much [part] of the working class. People who might be considered more upper class, more urban, would call it a provincial habit," Tiglao said. "It was really great to be able to serve this food in a way that was obviously a spectacle, but that people felt really proud of."
A worker cooperative, Tanám endeavored to treat restaurant employees better by having a democratic structure. Any staff member could become an owner with decision making powers if they underwent training, bought into the business financially, and had worked there for at least six months. By using this format, Tanám could justify paying employees better wages, because all staff—not just owners—were expected to oversee some aspect of the restaurant operationally.
Tiglao said that she does not have plans for what she will do next but that she hopes people will remember what Tanám strived to do for the restaurant scene.
"I'm hoping that people can take this opportunity to think about the spaces that matter to them and make a reservation today," she said. She added, "I'm down about this, but I'm determined to see this story continue … I'm not certain what the form is, but I want to think about how the heart of Tanám continues."
---
Tell us: Do you have a special memory of Tanám? Let us know about what the restaurant meant to you and what you enjoyed about it. Fill out the survey below or e-mail us at [email protected]. Your response may be used in an upcoming Boston.com article and/or its social media channels.
Tell us: Do you have a favorite memory of Tanám?
Sign up for The Dish
Stay up to date on the latest food news from Boston.com.