Restaurants
Where to dine on Valentine's Day in and around Boston
Whether you're looking for a simple meal to-go or a wine and caviar-filled dinner, these restaurants have you and your special someone covered.
The spots below have put together some dazzling specials for Valentine's Day this year, many pulling out all the stops with multi-course prix fixe menus and wine pairings. Some offerings are classically romantic, with caviar, champagne, foie gras, and chocolate. Some are heavy on New England favorites, like root vegetables and scallops. And some are downright original — keep your eyes peeled for the grilled oysters with champagne butter, the heart-shaped pizzas, and the floating island dessert with blackberry anglaise.
Because Valentine's Day falls on a Tuesday this year, many of the below eateries will serve their specials all weekend leading up to the holiday. Read on for our recommendations on where to grab dinner on Feb. 14.
50 Lovejoy Wharf, Boston
Backed by dramatic views of sunsets behind the Zakim bridge, Alcove has prepped a Valentine's Day menu even more romantic than its setting. Guests can expect decadent specials like tater tots with caviar, bay scallop tagliolini with uni, a braised beef short rib with foie gras butter, and Alcove chocolate truffles for dessert.
40 Brattle St., Cambridge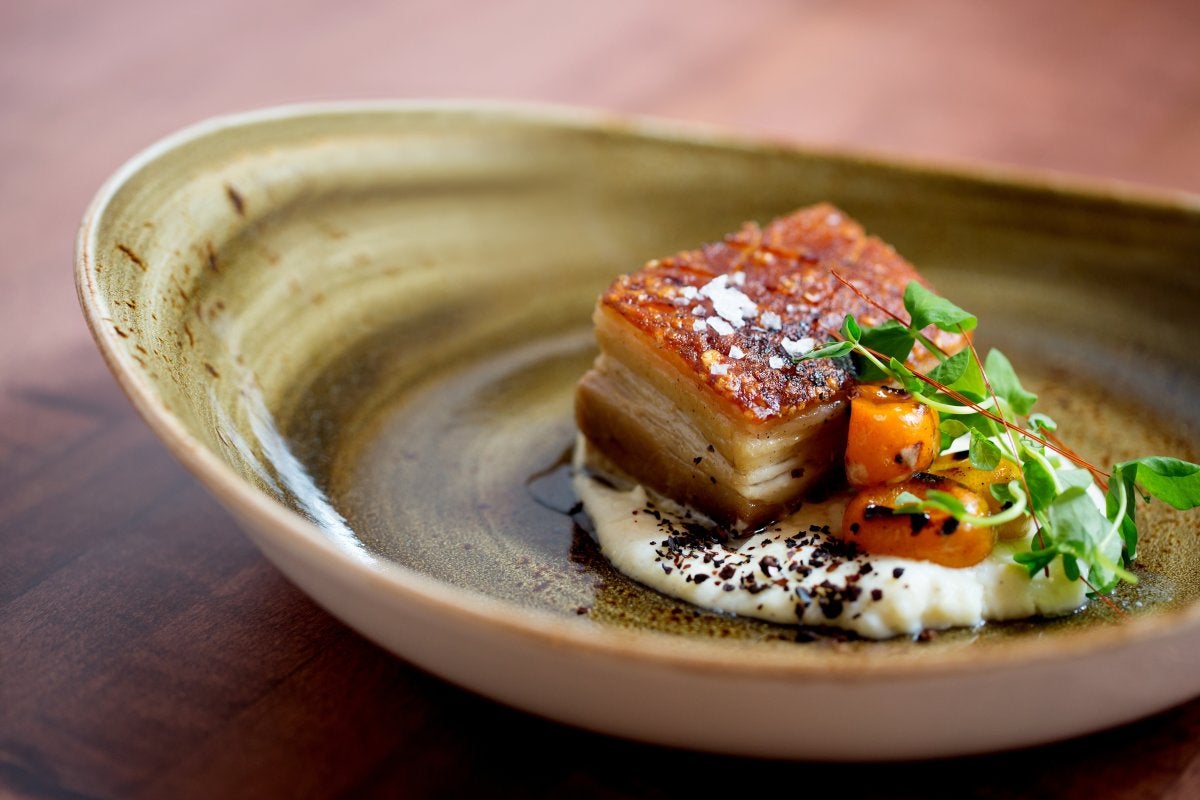 The Harvard Square spot serves thoughtfully sourced, elevated food in a cozy, down-to-earth setting. This Valentine's Day, they'll offer a five-course dinner menu with wine pairings along with their regular a la carte menu. Specials include lobster and black truffle raviolo and a dark chocolate lava cake.
600 Harrison Ave., Boston
The South End spot showcasing Iberian-inspired seafood hosts a paella date night on Monday, Feb. 13. For $85 per person, guests get four shareable dishes plus Atlántico's seafood paella for two. A half bottle of champagne and half a dozen oysters are on offer for a $95 add-on, and the regular menu will also be available that night. On Feb. 14, the restaurant will exclusively serve a chef's seafood tasting menu for two for $85 per person, along with the oyster and champagne add-on option.
406 Stewart St., Boston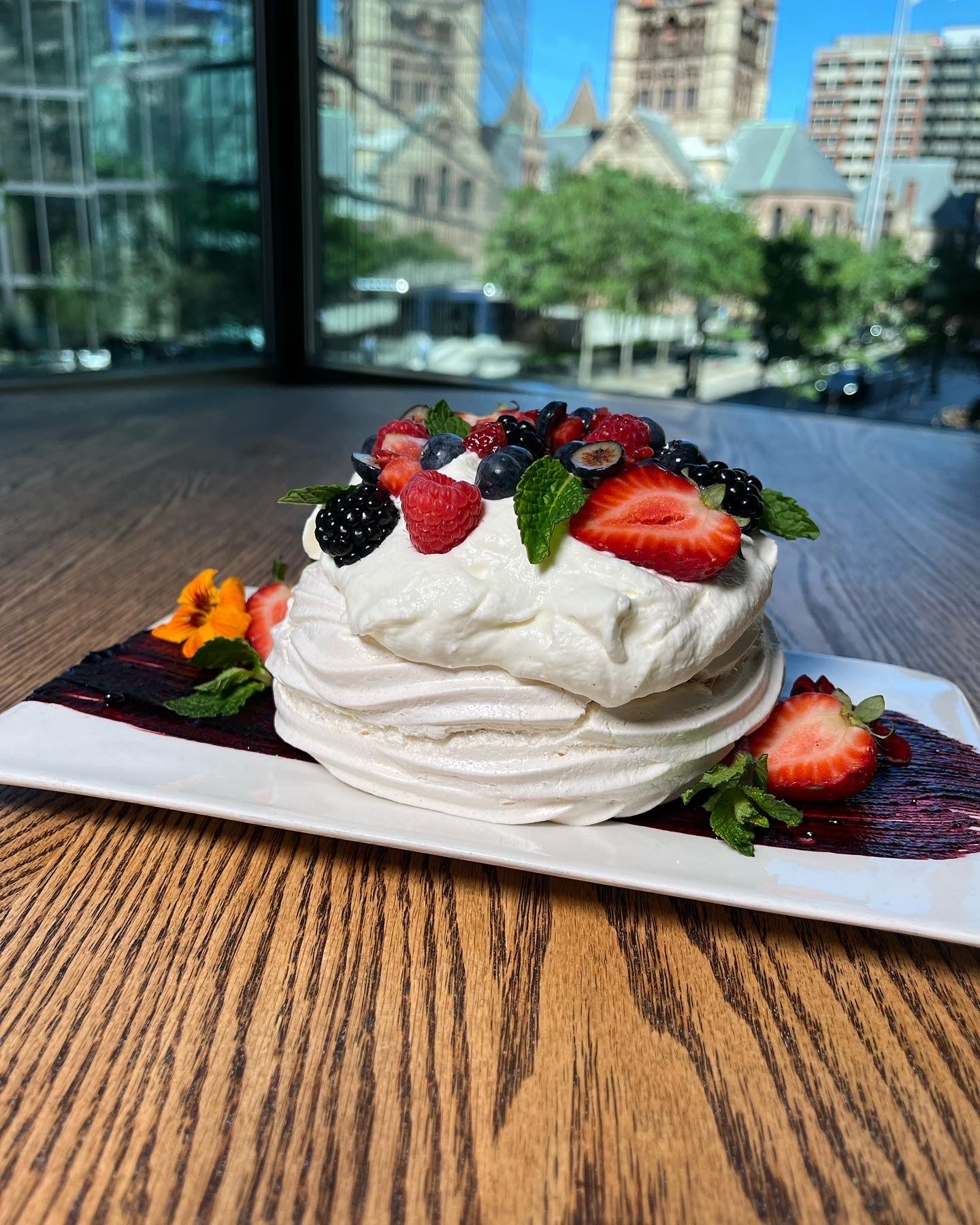 Alongside their regular menu of New England seafood, Chef Robert Sisca's Banks Fish House in Back Bay will serve up V-Day specials like surf 'n' turf with a 32 oz. Tomahawk, Tyee Ora King salmon crudo, and a Pink Lady cocktail special with gin, house-made grenadine, lemon, and egg white.
272 Boylston St., Boston
Chef Sisca's other spot, an elegant French restaurant across from the Public Garden, serves a luxe five-course Valentine's Day prix fixe on Feb. 14, with delicacies like black truffle tagliatelle, filet mignon, and chocolate moelleux, for $150 per person plus an optional $90 wine pairing.
867 Boylston St., Boston
The charming bistro on Boylston serves a prix fixe menu along with its regular New American offerings on Valentine's Day, with highlights like a balsamic strawberry and ricotta crostini, a roasted half chicken with corn succotash, a ribeye with truffle mashed potatoes, and a chocolate covered strawberry brownie.
Boston Harbor Hotel, 70 Rowes Wharf, Boston
On Sunday, Feb. 12, the Boston Wine & Food Festival puts on a Valentine's champagne brunch with live jazz music at 11:30 a.m. For $145 per person, the walk-around brunch features different stations where patrons can indulge in fresh omelets, waffles, and even whiskey smashes.
100 N. First St., Cambridge
The Cambridge Crossing cafe offers a "Bring V-Day Home With You" package from Feb. 10 through Feb. 14. The package, available in-person or for preorder, includes a bottle of wine, a charcuterie box, and house-made truffles from pastry chef Brian Mercury.
Liberty Hotel, 215 Charles St., Boston
Featuring local, seasonal ingredients, the Liberty Hotel's CLINK will serve a four-course Valentine's dinner on Feb. 14 with specials like Wellfleet oysters, seared yellowfin tuna "adobo," Maine salmon, and a dark chocolate tart for $95 per person. With optional wine pairings, the dinner goes for $150 per person.
3 Newbury St., Boston
The new, lavish, Italian-inspired rooftop restaurant atop the Newbury offers a four-course prix-fixe this V-Day. For $195 per person, guests can expect a spicy lobster rigatoni, a filet with black truffle, and hand-spun coffee gelato.
289 Causeway St., Boston
North End Roman-style pizzeria Ducali brings back their heart-shaped pizzas this year. For the whole month of February, any pizza for two can be made heart-shaped, an offer available for both takeout and dine-in guests.
100 N. First St., Cambridge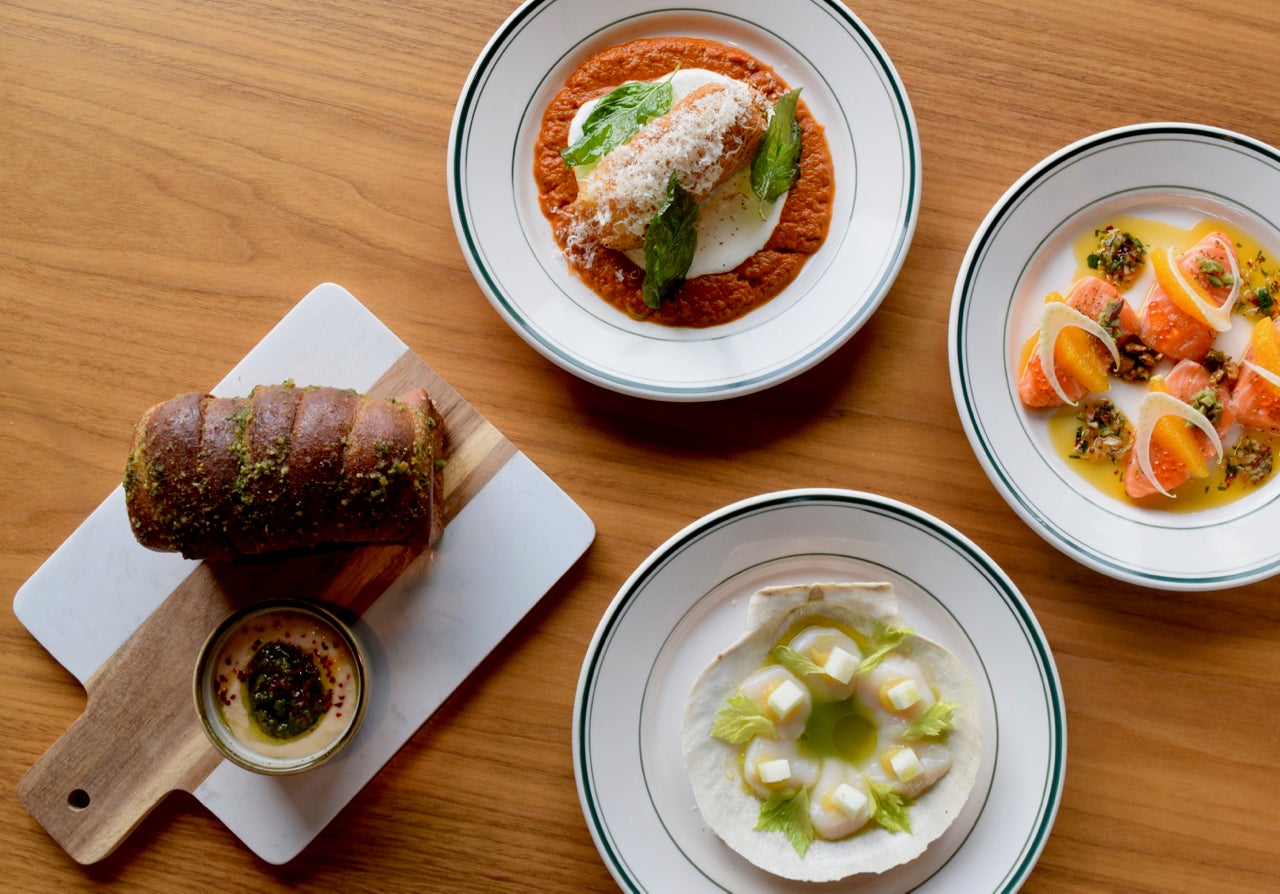 The northern Italian spot in Cambridge Crossing is serving up a five-course Valentine's menu with items like burrata caponata, gnocchi with wild mushrooms, and a balsamic-glazed short rib for $85 per person. While the prix fixe is the only menu available on Feb. 14, it's on offer in addition to the regular menu on Feb. 10 and 11.
314 Newbury St., Boston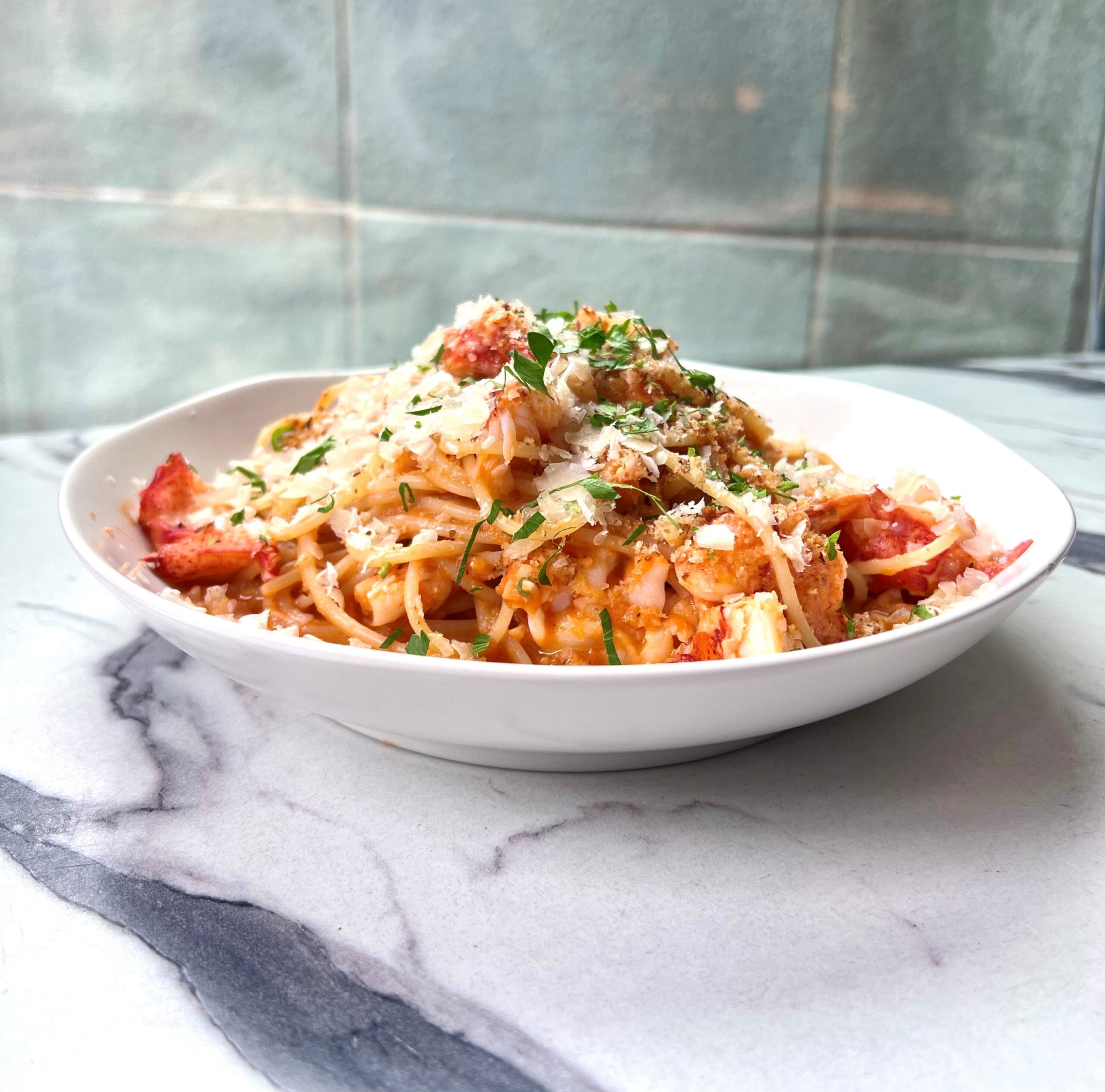 Chef Michael Serpa's most recent seafood concept serves classic New England seafood in a charming Back Bay brownstone. From Friday, Feb. 10 through Tuesday, Feb. 14, the oyster bar offers a three-course prix fixe menu for $85 per person along with an optional half bottle of champagne and half a dozen oysters for a $95 add-on.
40 Brattle St., Cambridge
Located in the same building as Alden & Harlow, the sleek bar celebrates singles this Feb. 14 with an Anti-Valentine's Day Soiree from 5 p.m. to midnight. Specials include a 'Take Me Home Tonight' mezcal cocktail and smoked lamb lollipops.
120 Huntington Ave., Boston
The Colonnade Hotel's onsite restaurant LUCIE serves a special Valentine's menu this year, including decadent highlights like grilled oysters with caviar and champagne butter, baked stuffed lobster, and red velvet cheesecake.
MIDA
782 Tremont St., Boston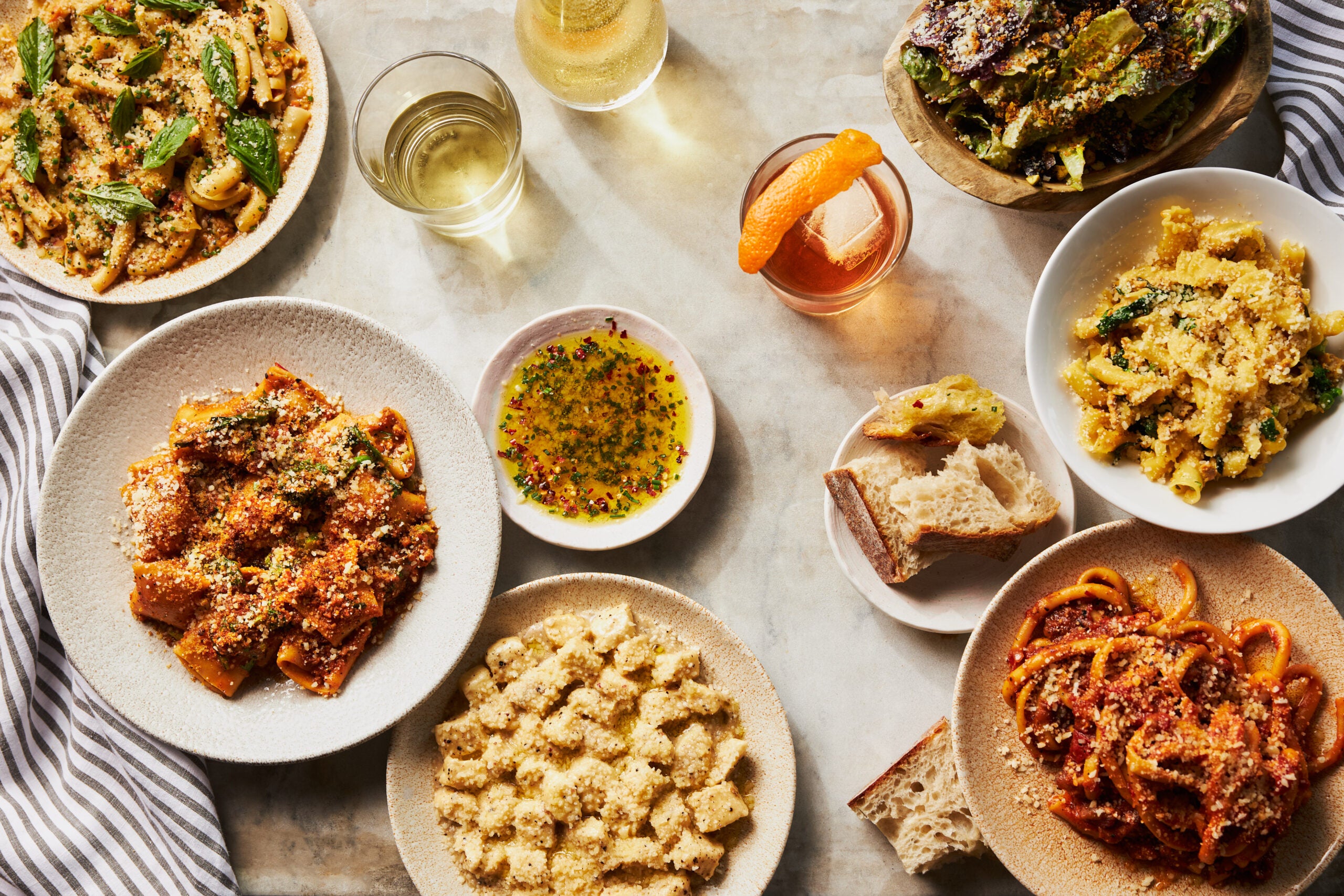 MIDA, an Italian neighborhood spot with locations in the South End and Newton, will serve exclusively a Valentine's Night Menu on Feb. 14, including burrata with blood orange and roasted beets, oysters al forno, braised beef short ribs, and a raspberry ricotta cake. Guests can also order specials from the Valentine's menu on Feb. 10 through 13 alongside the regular menu.
138 St. James Ave., Boston
The cozy, sumptuous eatery inside the Copley Plaza Hotel adds a few Valentine's weekend specials to their menu Feb. 11 through 14, like a salad of heart-shaped beets, a crusted rack of lamb, and a dessert pizza. And, for the first time, guests can reserve one of two loveseat benches on either end of the 83-foot-long copper bar — each $25 loveseat reservation includes a complimentary dessert plate.
11 Dorchester St., Boston
On Feb. 14 and 15, neighborhood bistro Publico in Southie is offering a three-course Valentine's prix fixe menu for $38 per person, featuring baked oysters, crispy pork belly, tuna steak bruschetta, and pistachio crème bruleé.
1166 Cambridge St., Cambridge
In Cambridge's Inman Square, Puritan & Company is serving up an elegant four-course menu in its traditional style of locally sourced, traditionally New England cuisine. The $85 prix fixe menu features dishes like wild mushroom risotto, seared scallops, and duck confit.
900 Boylston St., Boston
Back Bay's lively French-inspired brasserie, located in Hynes Convention Center, will serve a four-course menu on Valentine's Day for $105 per person. Options include a spinach mascarpone ravioli, a duet of beef, and a floating island with blackberry anglaise for dessert.
383 Congress St., Boston
The chic, seafood-forward bistro in an old Fort Point textile warehouse offers a few romantic add-ons to celebrate Valentine's Day, like a frothy pink Rose Parade cocktail and a raw bar platter for two with oysters, shrimp cocktail, littleneck clams, crab claws, lobster tail, and spicy tuna tartare—these specials can also be found at their Burlington location.
70 Rowes Wharf, Boston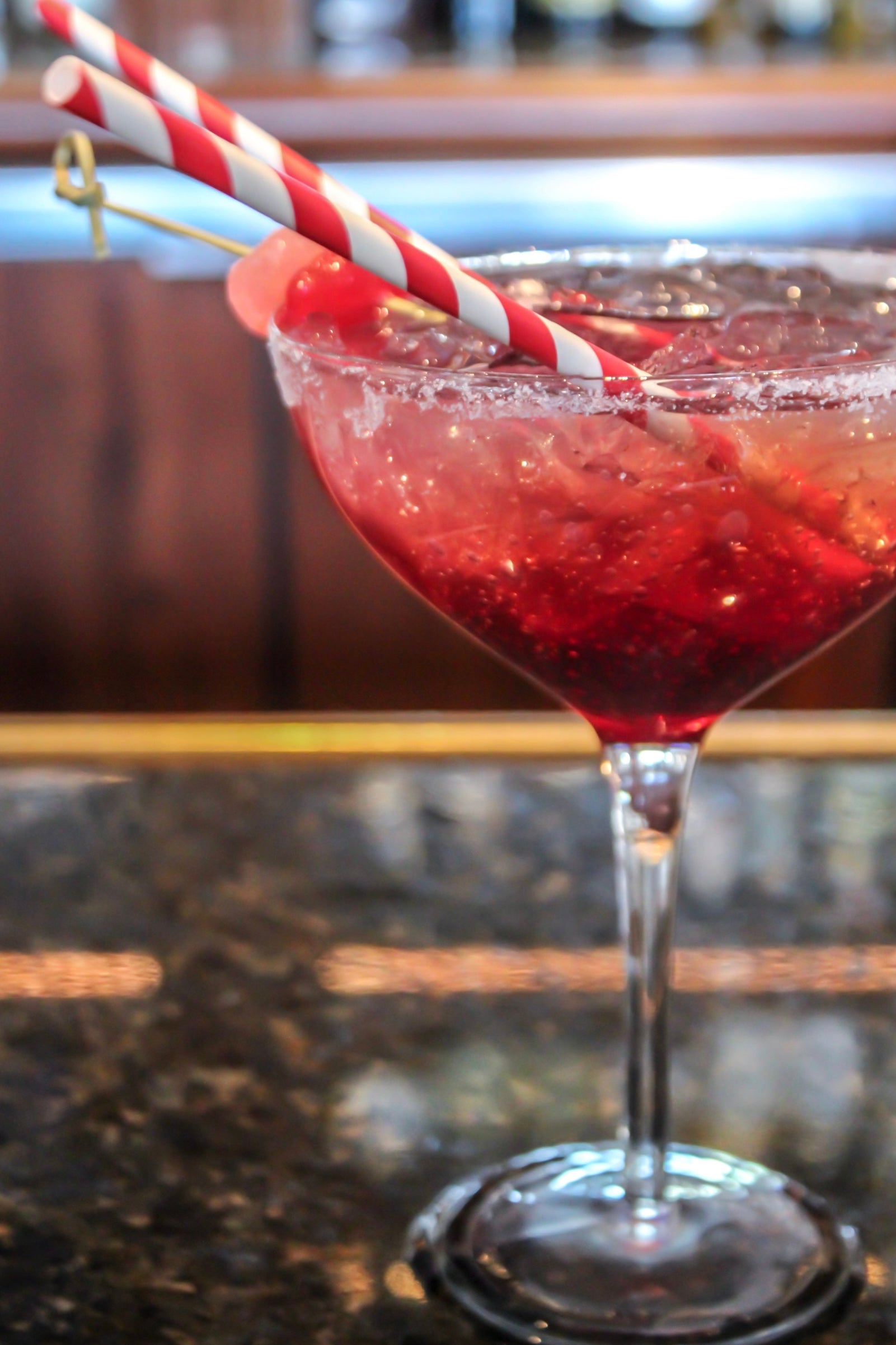 This upscale, traditional spot in the Boston Harbor Hotel serves a dinner menu heavy on fresh seafood year-round, complete with seafood towers and raw bar offerings. For Valentine's Day, the restaurant is offering a special Carolina Margarita, bright pink from the red wine floated on top.
14 John F. Kennedy St., Cambridge
On Saturday, Feb. 11, and Tuesday, Feb. 14, the Harvard Square gastropub will run a list of V-Day specials along with their regular menu, featuring a scallop and lobster saffron arancini, a grilled ribeye, and a chocolate hazelnut tart for dessert. They'll also offer optional wine pairings for each course and a specialty Valentine's cocktail.
215 Charles St., Boston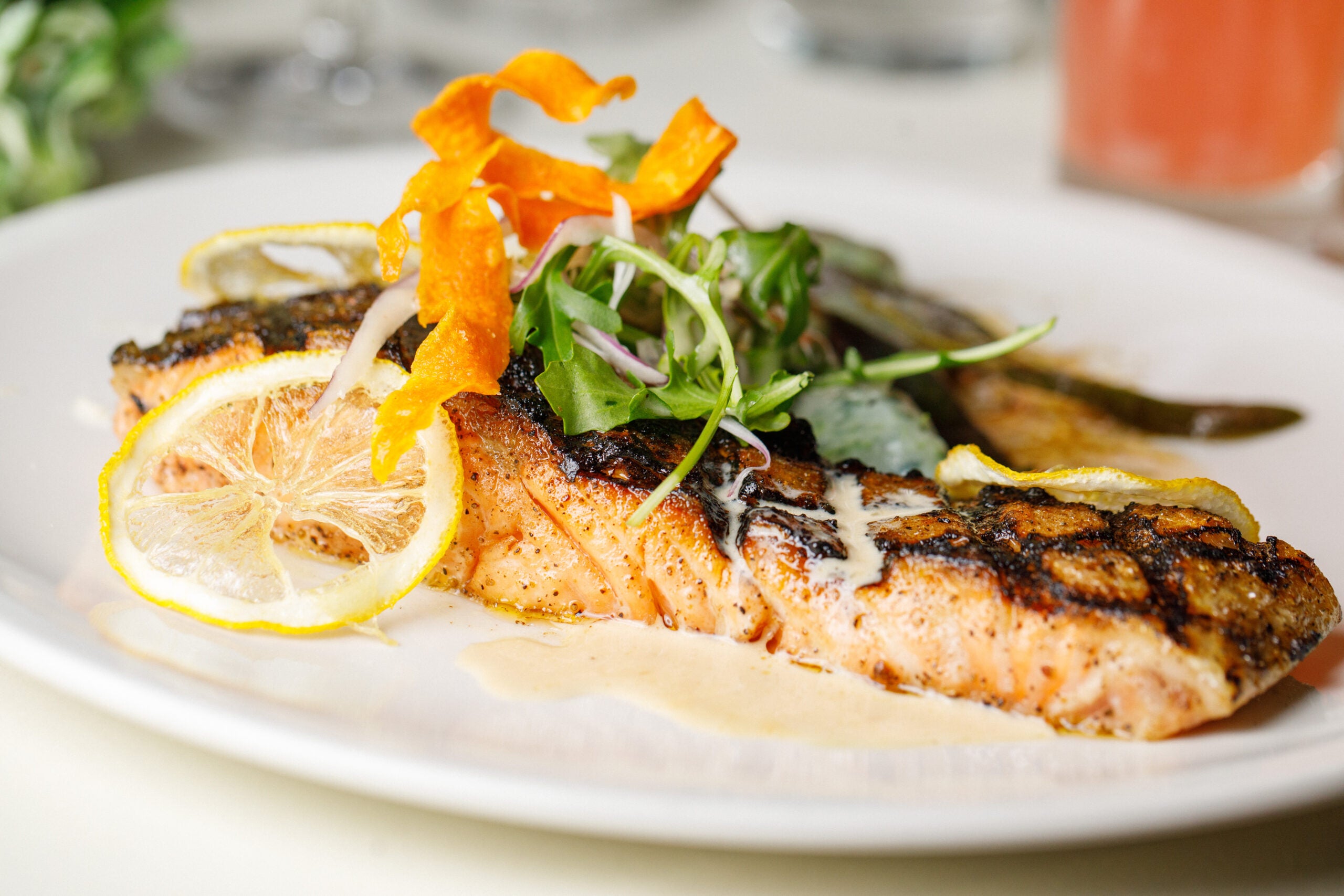 The Liberty Hotel's vibrant Italian restaurant, helmed by Lydia Shire, will cook up a four-course prix fixe menu on Valentine's Day only. For $125 per person, guests can expect choices like lobster stew, tuna sashimi, Campari sorbetto, and Scampo Duck — plus Shire's tiramisu or "chocolate extravaganza" for dessert.
256 Marginal St., East Boston
The Eastie bakery took over the former KO Pies space and keeps its legacy alive by serving sweet and savory pies and a weekend brunch menu. All Valentine's week-long, Seabiscuit will serve a $75 takeout Valentine's Day package for two, including two pies of your choice (savory or sweet), one sausage roll, one beet salad, one spicy green bean salad, and one pack of heart-shaped black treacle biscuits for dessert.
50 Gloucester St., Boston
From Feb. 10 through 14, the Back Bay neo-bistro and oyster bar will offer a three-course prix fixe menu for $85 per guest alongside their regular menu. Guests can also opt for a half bottle of champagne and half a dozen oysters as a $95 supplement.
126 State St., Boston
The Mediterranean spot near Faneuil Hall offers fondue for two as part of their regular menu, with both cheese and chocolate options. They'll have a few Valentine's Day specials, too, like duck prosciutto with pears, jumbo shrimp, saffron lobster risotto, and two special cocktails—Campfire Whisper and Love Potion.
327 Newbury St., Boston
Currently closed for renovations, the internationally influenced Sonsie with Newbury Street views and a mahogany bar will reopen in time for Valentine's Day. This year, they're celebrating the holiday with menu specials like herbed gnocchi, beef tenderloin, and strawberry clafoutis with a dark chocolate sponge.
569 Columbus Ave., Boston
The South End's Serene Republic of Venice (SRV) has put together a tasting menu for Valentine's Day only that shows off their menu of fresh pasta and cicchetti, authentic Venetian small bites. The multi-course menu goes for $100 per person, or $75 for the vegetarian option, and includes course options like cod croquettes, foie gras mousse, and gnocchi with rabbit. Their standard a la carte menu will only be available at the bar on Feb. 14.
120 Kingston St., Boston
The lively downtown comfort food spot is serving a Valentine's prix fixe for $130 per couple, with options like a cheese board, cold-smoked filet mignon, pan seared scallops, and a devil's food cake and two espresso martinis to finish it off.
105 Union St., Newton
The intimate spot in Newton's Piccadilly Square, run by husband and wife team Kate and Trevor Smith, is running V-Day specials like braised halibut, ribeye, and a chocolate caramel pot de crème. For guests who prefer to stay in on the 14th, they're offering a Valentine's Day kit to-go, which must be ordered by Feb. 11, featuring truffled hummus, braised short ribs, and fontina risotto.
64 Seaport Blvd., Boston
Available at all Tuscan Kitchen locations, specials this Valentine's Day include a beet salad, seared scallops with gnocchi and lobster, and a fragola di pazza with strawberry sponge and cabernet sauvignon sorbet for dessert.
1030 Massachusetts Ave., Cambridge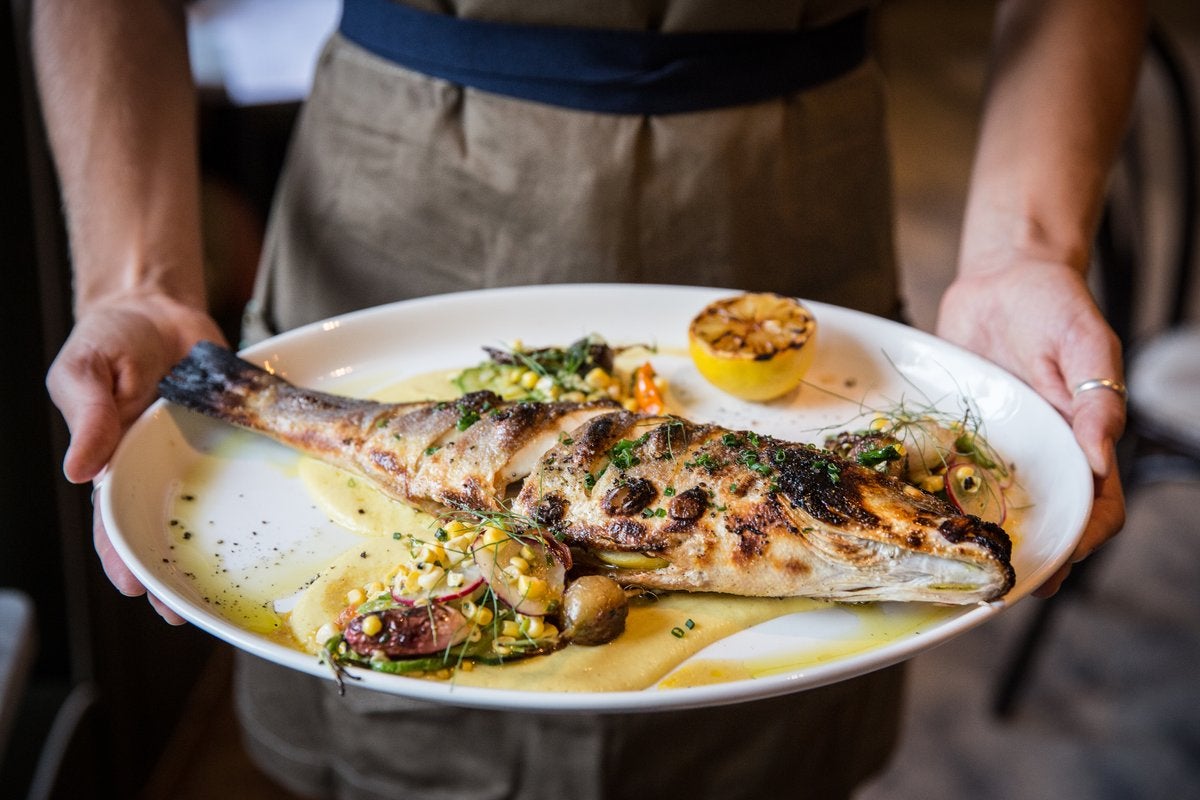 The stylish Harvard Square seafood restaurant offers V-Day specials like wood-grilled A5 wagyu, saffron and vinegar roasted mussels, and a strawberry truffle bar. They'll also have a couple specialty cocktails for the night: Fly Me to the Moon and I Love You in French.
Newsletter Signup
Stay up to date on all the latest news from Boston.com