Restaurants
'A long and painful decision': Christopher's and Toad in Porter Square are both for sale
"There is no opening your doors and bouncing back to pre-COVID levels."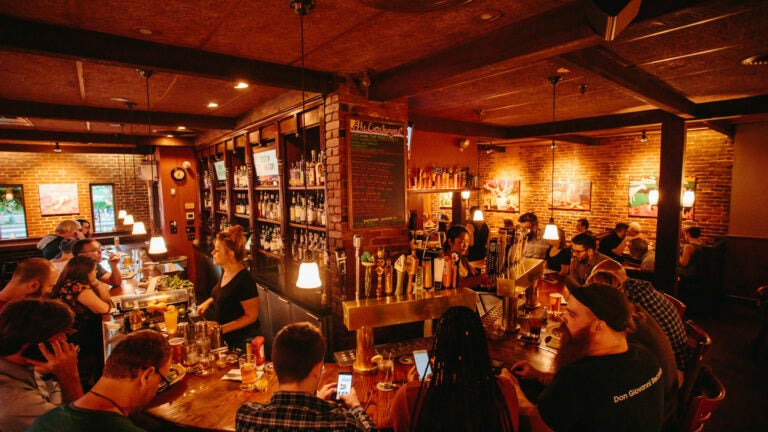 Those looking to grab a drink or see a live music show in Porter Square will be disappointed to learn that two mainstays in the neighborhood are up for sale.
Christopher's Restaurant & Bar, an eatery that has been a part of the community for 42 years, will not be reopening after having closed in March 2020. Toad, a bar and live music venue next door, will stay open until it is sold, as well. Restaurant group Cambridge Eats and Beats have not yet determined whether they will sell the two businesses or the building, which Christopher's and Toad occupies, according to the group's co-owner Holly Heslop.
"It's been a long and painful decision," Heslop said. "We never dreamed that we would not reopen. Like everyone else, when COVID hit, we thought, there will be an end to this, a stop. The lingering for three years has been for so many businesses, especially restaurants, a very tough and challenging time."
Staffing for Christopher's, a large space that originally closed with around 65 employees, posed a challenge that led to the decision not to reopen. At Cambridge Common, another restaurant from the same group that stayed open, recruiting was a difficult process, and Heslop said that she realized the amount of time it would have taken to hire for Christopher's was "prohibitive." Other hurdles included the resources needed to keep a building open over the past three years and the removal of parking spaces in Porter Square.
"What we've learned is that, in this COVID era, there is no opening your doors and bouncing back to pre-COVID levels," Heslop said. "It's a long slog."
Heslop said that she does not know what kind of business would take over the spaces, but she anticipates that they will not remain the same. For Toad, in particular, it is unlikely that the spot will stay a small music venue. She added that management is not far along enough in the process to say how things might change, but it will not happen quickly.
Christopher's was known as a cozy, neighborhood restaurant and bar with regulars, some of whom would eat there every day. The spot had a strong emphasis on naturally-sourced foods and organic wines, beers, and spirits. Serving comfort fare, Christopher's offered a range of burgers and dishes such as fish tacos, nachos, and chicken pot pie. Meanwhile, Toad was an intimate hangout spot for people who love music or just wanted to see a new band.
Cambridge Eats and Beats' other two spots, Cambridge Common and Lizard Lounge, will remain open, and Heslop said that she feels optimistic about them. Cambridge Common is open daily, and Lizard Lounge has a goal of operating seven days a week. For Christopher's and Toad, Heslop hopes that when they change hands, the sale will be good for Porter Square.
"We love that neighborhood," she said. "We've been there for 42 years. We felt that our restaurant and Toad have been such a part of the community. We would love to see [something] that fits the community. That would be our dream."
Sign up for The Dish
Stay up to date on the latest food news from Boston.com.