Restaurants
Row 34 will open a new location in Kendall Square
The restaurant is an approachable destination for oysters and beer.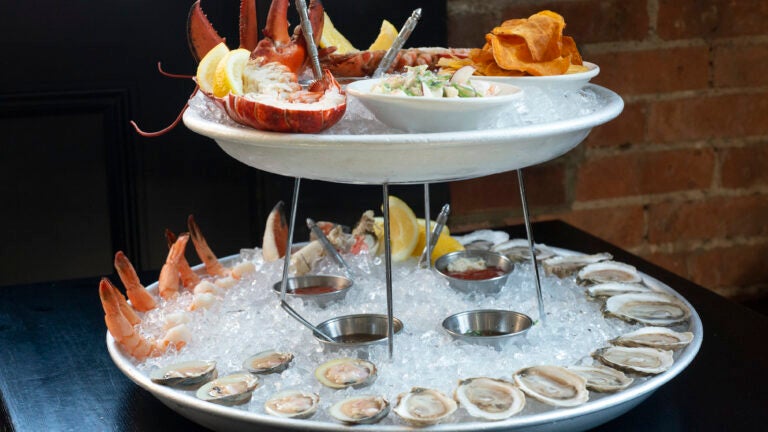 If you're looking to enjoy an over-the-top shellfish tower with friends, a popular seafood restaurant is expanding to Kendall Square this spring.
Row 34 will open its newest location on April 7, joining spots in the Seaport District, Burlington, and Portsmouth, New Hampshire. Known for its local oysters, raw bar, and beer program, the eatery will bring guests familiar dishes, with a personal spin. Co-owners Jeremy Sewall and Shore Gregory had always had visions of seeing the restaurant continuing to grow, and they saw the Kendall Square area as a strong fit.
"Kendall Square is obviously such a dynamic neighborhood," Gregory said. "We find that Row 34 is really complementary to neighborhoods in general. We felt that with all the change and growth taking place in Kendall, that Row 34 could act as another anchoring point for the neighborhood." He added that the spot is a destination for any kind of night. "Row 34 is a great spot to have a dozen oysters and a beer before heading out to another dinner, or you can call Row 34 home for your main event at night."
The Kendall Square location will feature a raw bar with oysters, shrimp cocktails, and crudo, made famous at other Row 34 locations. Guests can also expect to find classic dishes like lobster rolls, fish and chips, fried clams, and clam chowder, but at each Row 34, the chefs add a personal touch to the menus. Sewall said that parts of the menu will change every day, depending on factors like what fresh seafood is available. He shared that the seafood is mostly locally and regionally sourced.
"Almost every lobster we serve comes from York, Maine," Sewall said. "We have our own trucks. We go to the fish pier, four or five days a week. We buy fish from vendors that are buying it directly from small vessels. Almost every piece of fish we serve, we can tell you where it comes from and who caught it."
In addition, the new Row 34 will have a robust cocktail list, as well as a solid wine and beer program. There will be 20 beers on draft, including a lager from Sacred Profane Brewing, a company based in Maine. Standout cocktails include the Freezer Martini and Greener Pastures, made with blanco tequila and Row 34 aquavit.
The restaurant will feature two floors, with the main dining area located on street level. Guests will be able to view an open kitchen, as well as the raw bar, which will be "front and center." There is a private dining area downstairs, with two rooms that can be combined into a single larger space, and there will be a patio for outdoor dining. A local artist, Silvia López Chavez, has designed a mural for the interior space and an outward facing public art installation, on the Dock Street side of the restaurant.
Sewall and Gregory worked as a team, with "hospitality guru Garrett Harker and oyster maverick Skip Bennett," to open Kenmore Square's Island Creek Oyster Bar in 2010, as well as Row 34 in Fort Point in 2013. They moved on to open the Portsmouth Row 34 in 2015 and an Island Creek Oyster Bar in Burlington in 2016. In 2021, Island Creek in Kenmore Square closed, and Sewall and Gregory split from the partners. Island Creek in Burlington was rebranded as Row 34.
While Shore called the closing of Boston's Island Creek a "painful experience," he said that working through the pandemic with Sewall is what brought them to where they are today.
"Navigating through COVID creates one of those once-in-a-lifetime experiences where you realize, in a way, what people are made of at their core. [It] really brought Jeremy and I a lot closer," Gregory said. "Reflecting on that, ahead of opening [in] Cambridge… we're super psyched."
Row 34, 314 Main St., Cambridge
---
Tell us: Do you have a favorite restaurant in Kendall Square? Share where you enjoy eating, and let us know what you order. Fill out the survey or e-mail us at [email protected], and your response may be used in an upcoming Boston.com article and/or its social media channels.
Tell us: What's your favorite restaurant in Kendall Square?
Sign up for The Dish
Stay up to date on the latest food news from Boston.com.