Restaurants
Where to eat and drink along the Boston Marathon route
Cheer on this year's runners over a round of oysters and rosé.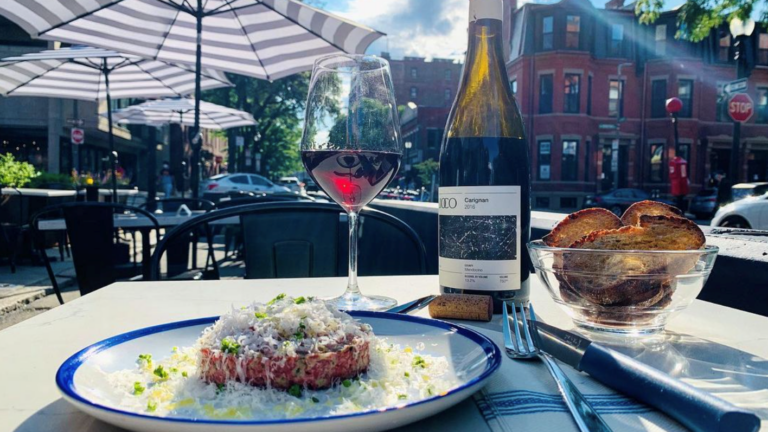 There are many spots to watch 30,000 Boston Marathon runners tackle the 26.2-mile route this year, but if your spectating plans include food and drink, the options get a little more narrow.
Still, restaurants and bars from the starting line in Hopkinton to the finish line on Boylston Street will offer prime views, marathon specials, or viewing parties — and sometimes, all of the above.
Michael Serpa, owner of Little Whale Oyster Bar, which opened last fall, said that he anticipates Marathon Monday will be a very busy day for restaurants like his.
"We're pretty much on that last little stretch, so that's awesome for us," Serpa said. He added, "In Back Bay, it's obviously pretty wild on Marathon Monday, especially that close to the finish line. Everyone comes out, waiting for their friends and family, and they're having lunch and drinks. There's a lot of energy going on."
The Marathon signals the start of spring for many restaurants, a time when business picks up, and Serpa described what the race means for local eateries.
"Daytime is crazy, and the whole weekend is pretty busy… It's like a million people come to town," Serpa said. "The lunch, the day of the Marathon, is like a wild party. At night, everyone's celebrating. You see the runners come in, and they have their medals on, and they want to have a big meal. They want to have oysters and steaks, lobster rolls. … It's probably the best day in Boston."
For more places to celebrate the 2023 Boston Marathon while eating and drinking, check out our list of local bars and restaurants offering specials and viewing parties along the route.
While Abe & Louie's Marathon Monday party is currently sold out, they will be open for regular dinner service at 5:30 p.m. At the steakhouse, you can order filet mignon, broiled Maine lobster, Nova Scotia salmon, and craft cocktails like the Golden Margarita and the White Negroni. (793 Boylston St., Boston)
The Back Bay seafood restaurant will be throwing a party from 10 a.m. – 4 p.m., with tickets costing $150. The spot will serve a continental breakfast, signature passed hors d'oeuvres, and there will also be chef-attended carving stations and a raw bar. From the outdoor patio, you can take in the marathon's action. (761 Boylston St., Boston)
This tapas bar inspired by the culture of Spain will be opening their doors earlier than usual, at noon. They'll be serving guests from a special menu but will also offer their typical charcuterie, snacks, and large dishes. And of course, their street-side patio is the ultimate place to watch racers passing by. (1700 Beacon St., Brookline)
Join the fun as this Mexican restaurant and tequila bar in Brookline will host a marathon party, featuring Bloody Marias, mimosas, and margaritas, starting at 10:30 a.m. There will be live music, and favorites such as tortas, nachos, and tacos will be served. Burro Bar has teamed up with Topo Chico and Tequila Partida for a special margarita menu. Viewers will be able to cheer Partida's master distiller José Valdez at Mile 23, as he runs his first Boston Marathon. (1665 Beacon St., Brookline)
The Cleveland Circle tavern, which sits squarely at Mile 22, will open a few hours early on Marathon Monday. Starting at 8 a.m., you can order from their brunch menu, which includes dishes like the Cinnabon pancakes and breakfast tacos. (1960 Beacon St., Brighton)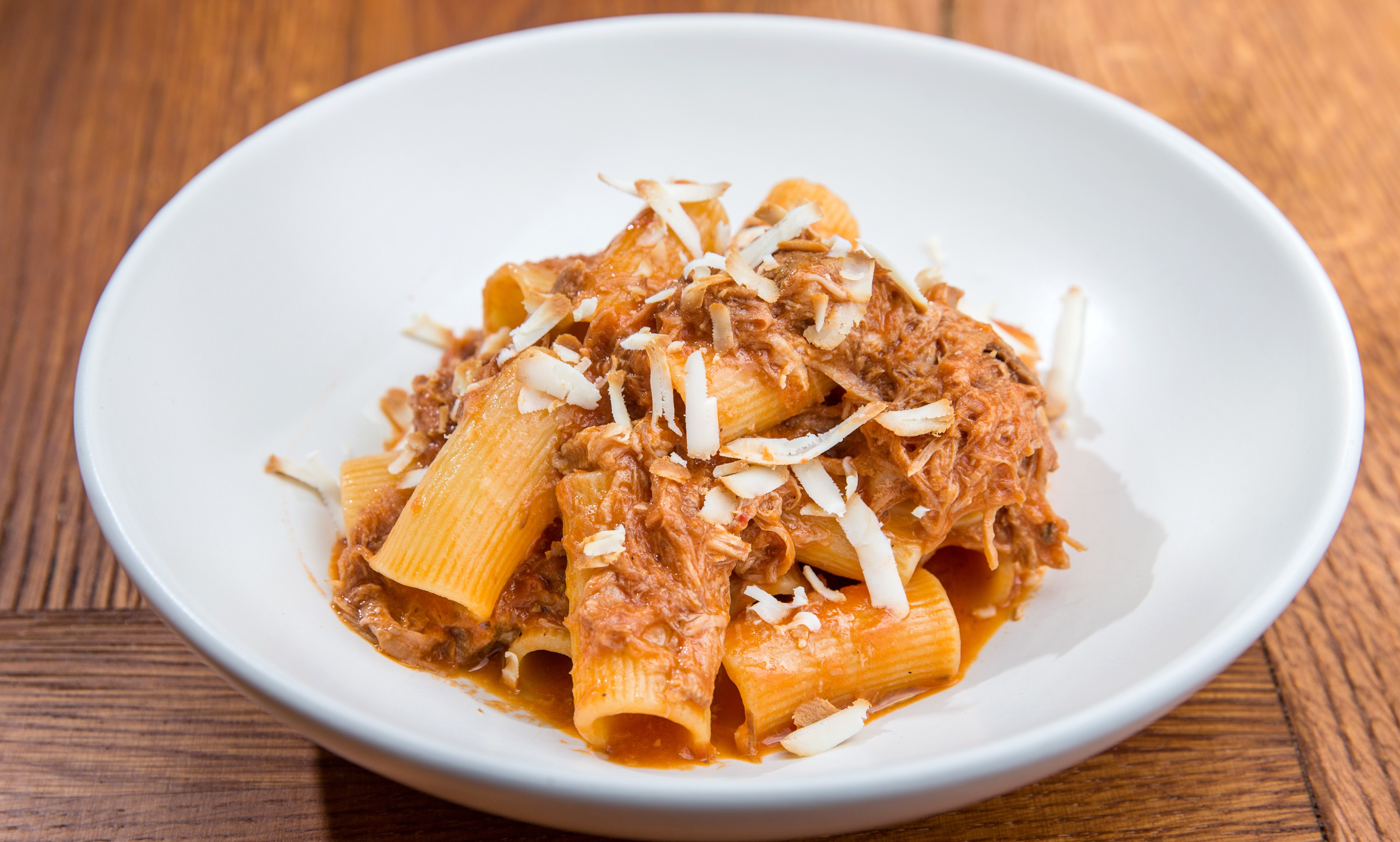 At La Pizza & La Pasta, one of Eataly's staple Italian restaurants, you can load up on carbs with runner's portions, or double-sized, signature pasta dishes, like the lo spaghetto al pomodoro and tagliatelle alla bolognese. The pizza alla pala counter offers delicious options for a quick snack or to take on the go. Runners who display their medal or race bib at the pastry counter can score a complimentary housemade pasticcini, a bite-size pastry. (800 Boylston St., Boston)
Brookline's Ivory Pearl will open at 10 a.m., serving a special menu for both food and drinks. Guests can dig into oysters, shrimp and ramp bao buns, bluefish tuna sandwiches, salmon burgers, griddled hot dogs, the Brookline Blues Burger, and "legs and eggs," chicken drumsticks with hatch red chili sauce and caviar. The spot is at Mile 23, and a crowd typically watches from Beacon Street. There will also be a doughnut pop-up from Lionheart Confections. (1704 Beacon St., Brookline)
This restaurant and entertainment venue near the marathon route, opening at 12 p.m., will serve a pretzels and pints deal. For $5, spectators can get a pint of Sam Adams and a pretzel stick. During the afternoon and early evening, there will be live performances with Shane & Jackson in the Backstage Karaoke Room. Guests can also bowl and play billiards and arcade games. (50 Dalton St., Boston)
Michael Serpa's seafood spot is located directly on the marathon route and is the perfect place to dine on oysters and sip rosé. The regular sidewalk patio will be open, and the second-floor private room gives a "front-row view of the action" of the racers turning off of Newbury Street. (314 Newbury St., Boston)
Not far from the finish line, you'll find Porto, a modern Mediterranean restaurant. For brunch, they'll be offering mortadella eggs Benedict, lobster Benedict, chicken and waffles, and frittata. Their all day specials include lobster rolls with fries and also the Porto Burger, which comes with applewood smoked bacon. Grilled oysters arrive with a choice of toppings, from mignonette to house hot sauce. (Ring Road, Boston)
Near the Prudential Center, Rochambeau is a vibrant brasserie and cafe specializing in French classics. The special marathon menu will feature steak tartare, a Rochamburger, bolognese, steak frites, charcuterie, and moules frites. Seating will be available indoors and on an expansive patio, so viewers can take in runners approaching the finish line on Boylston Street. (900 Boylston St., Boston)
This spot in Brookline offers delicious pies for people wishing to view the marathon: think of flavors such as the meatball and ricotta, buffalo chicken, and the sausage and onion. From the vegan menu, you can order General Tso's cauliflower bites, as well as other snacks, such as the sautéed Brussels sprouts. (1632 Beacon St., Brookline)
For spectators in search of a bite toward the start of the route, TJ's Food and Spirits in Ashland will offer a small breakfast menu, serving egg sandwiches and French toast. In the afternoon, they will host an outdoor barbecue with chicken tenders, cheeseburgers, sausage subs, and more. Once the race has cleared, their kitchen will fully open, and guests will be able to order from the regular menu. (355 W. Union St., Ashland)
At this Brookline restaurant, the team sets up two grills outside of the Tavern, making hamburgers, Italian sausages, and hot dogs available to patrons. Cocktails, like the Grapefruit Crush and The Bohemian, made with Ada Lovelace gin and elderflower, will be offered at the bar, and visitors can also enjoy the outdoor covered deck. (714 Washington St., Brookline)
Sign up for The Dish
Stay up to date on the latest food news from Boston.com.