Restaurants
Outdoor dining returns in Boston, but many restaurants await approval
Only 19 restaurants were approved on Monday.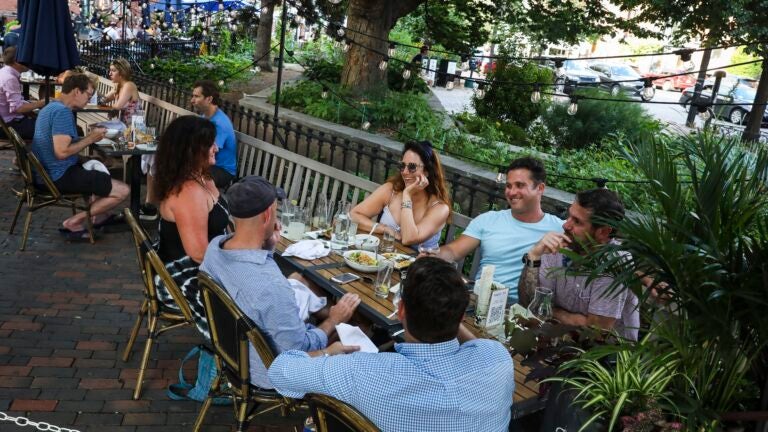 May 1 marks the start of the outdoor dining season in Boston, a time for customers to take advantage of the warmer weather and enjoy an al fresco meal. But you may not see your favorite restaurant offering service outside right away. According to WBUR, Mayor Michelle Wu's office has said that not all participants have been approved yet.
Through the outdoor dining program, restaurants can arrange patios along spaces such as sidewalks and parking spots for a monthly fee. On Monday, WBUR reported that over 40 establishments will be approved for outdoor dining by today. When reached for an update Monday afternoon, the City of Boston told Boston.com that 19 had been approved. This number is significantly smaller than last year's 300 eateries that participated in the program. A large number of restaurants have applied to the program in the last few weeks, and the city is working to process these applications quickly, WBUR said.
In 2020, the Outdoor Dining Pilot Program was created as a temporary state legislation to support businesses that were experiencing the financial impact of the pandemic. This past February, Wu announced that the city would offer a new, permanent outdoor dining program, allowing establishments to renew their outdoor dining accessibility every year.
However, outdoor dining in the North End will be limited. Patios can only be set up on the restaurants' private property or sidewalks of "adequate" width—not in parking spaces. The regulations in the North End had been put in place because of concerns about noise, crowding, and loss of parking, as well as the neighborhood's unique density. In March, we asked Boston.com readers whether tables should be allowed in the streets of the North End, and a majority responded that they would like to see this practice in place.
"Outdoor dining makes a neighborhood become really vibrant and alive. I think the concerns are legitimate, parking and crowding are problems, but there are other ways to work around this than stopping outdoor dining in the North End," reader Nicole S. from Quincy said.
The city is putting together a task force, made up of North End residents and business owners, to see if they can find a solution for the future.
Ahead of the outdoor dining season, readers shared their favorite restaurant for dining outside in Greater Boston. Many named spots in Back Bay, such as Mediterranean restaurant Porto, La Voile, and Bistro du Midi, which reader Nancy said has a "charming setting with [a] great vibe." Others recommended restaurants in Cambridge, like Oleana and Henrietta's Table.
---
We'd like to know: What's the best restaurant for outdoor dining in Greater Boston? Tell us your favorite spot and why the experience there is so special. Fill out the survey below or e-mail us at [email protected], and we may feature your response in a future article and/or on our social media channels.
What's the best restaurant for outdoor dining in Greater Boston?
Sign up for The Dish
Stay up to date on the latest food news from Boston.com.