Restaurants
Scores, a new bar and restaurant, opens near TD Garden
"We wanted to bring what the Fours was about into 2023."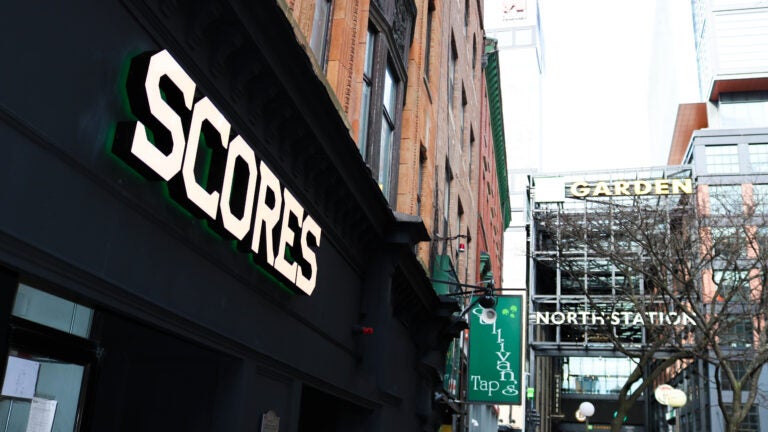 Good news, Celtics fans.
The much-anticipated opening of Scores is set for 4 p.m. Tuesday. It's right on time to grab a drink and a bite ahead of Game 5 of the Conference Semifinals between the Celtics and the Philadelphia 76ers.
Scores is opening in the location that once housed West End icon The Four's Restaurant & Sports Bar. Much has changed in the neighborhood since The Fours opened in the shadow of the Boston Garden in 1976, its name honoring Bruins great Bobby Orr and the magical number four.
In part, Scores aims to reflect the new West End's return to its roots as a residential neighborhood. One of the most spacious of the old-school West End bars, with 6,300-square-feet spread over two floors, the venue will, of course, keep its sports appeal, Scores' general manager Tyler Smith told Boston.com.
"It's still a sports bar with memorabilia everywhere and TVs wherever the eye can see," Smith said. "But we'll have lunch and dinner service for people who are just out for a bite. People can grab drinks. So it's not just a sports bar."
There are about 120 seats on each floor, with a 24-seat bar on the ground floor and a 12 seat bar in the restaurant.
"We have standing room, too, and 40 outdoor seats during the … Celtics play-off run at least," said Smith, formerly GM at Rochambeau in the Back Bay.
Sports is a constant visual and though the Fours' original memorabilia was sold off when it closed, a new collection was created.
"We went to many auctions and found amazing items," Smith said. "We are extremely proud of it, and it was so much fun to build. It's pretty much a sports museum."
A signed Bobby Orr photo guards the entrance as an homage to The Fours, according to Smith, and Magic Johnson's Team USA jersey hangs among local sports heroes ephemera.
"It's about 65 to 70% Bruins and Celtics because of the location," he added. "But we have Sox and Patriots memorabilia, as well as other sports legends."
Overall, the new design, which kept exposed brick in place and added cheery orange banquettes and an "iron mountain blue" backdrop, Smith said, has a bright, airy contemporary look.
"We wanted to bring what the Fours was about into 2023," he said. "It's very different to Fours and feels a lot more open."
New electronics added 50 speakers and 33 big-screen TVs throughout the two floors. While the ground floor bar atmosphere will be high-energy and game-centric, upstairs will be relatively quieter.
Food is served throughout, and, the menu is "traditional American fare like pretzels, nachos, and wings, but we have bao buns and tater tot poutine," Smith said.
Even the menu reads as a sports homage, including six different flatbreads each named for a Boston sports legend — like the Bam-Bam Cam (Neely, of course) with garlic sauce, mozzarella, mushrooms, roasted peppers, and onions.
Along with a full bar, including cocktails like the Thornton's Punch, a tiki-style drink named for Bruins' Shawn Thornton, Scores offers two boozy ice cream floats.
"The Black and Gold honors the Bruins; it's really like a root beer float. The Celtic's Shake is a vanilla milkshake, but colored green," Smith said. "So you can add your favorite shot and end your night with dessert and a drink at the same time."
Scores is open daily, 11:30 a.m. to 2 a.m., at 166 Canal St. in Boston.
Sign up for The Dish
Stay up to date on the latest food news from Boston.com.