Restaurants
5 restaurant openings we're excited about this month
Add these new restaurant openings to your list.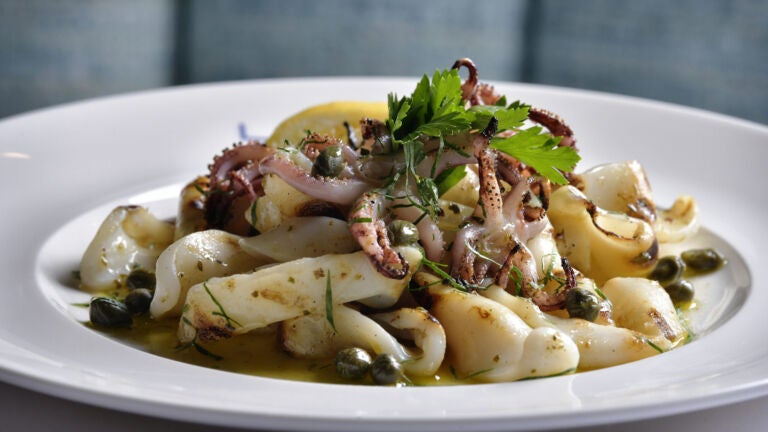 It's June, and new restaurant openings in and around Boston include a spirited bistro overlooking Boston Harbor, a long-awaited comeback of a multi-story 1990s icon, plus the reveal of New England's highest outdoor roof deck atop The Prudential Center's newest venue, View Boston.
Here's where we're excited to snag a reservation in June 2023.
Last year, New York City-based Limani brought its first location to the Boston area at The Street in Chestnut Hill. This summer, the Mediterranean-themed restaurant opens its second location closer to home, this time replacing the old Wagamama in the Seaport (but the modern face-lift and elegant, muted color palette would keep you guessing otherwise). Limani is celebrated for its interpretations of Cyprus and Greek staples, flying in seafood from the coastal shores of those locales to ensure the freshest connection to the Mediterranean lifestyle. The menu is regularly updated, and Greek spreads like tzatziki, tirokafteri, and skordalia are staples as well as octopus and lamb, prepared in different ways. Their elevated dishes are always created with specialty products like cold-pressed olive oil from the Peloponnese and small-batch items like capers from Santorini and saffron from Kozani, plus local organic vegetables.
100 Northern Ave. #1802
Now open
Tucked into the same building as the highly luxurious St. Regis Residences along the Seaport waterfront, this spirited bistro is set to become the area's trendiest new spot. The swanky two-story space seats up to 300 diners, providing them with unparalleled views of the harbor. There will also be seasonal waterfront deck seating, a first-floor grand central bar, and a more intimate second-floor bar. There will be a little something for everyone on the menu from Executive Chef Danny Levesque, formerly of Tavistock Restaurant Group and Davio's Northern Italian. The emphasis is on shared appetizers and more sizable entrees inspired by comfort classics, like prime rib and other premium cuts of steak, as well as fresh catch of the day and lemon ricotta ravioli. Local hospitality expert and managing partner David Doyle describes the space as a world-class experience that's at the same time friendly and welcoming. "SAVR is the culmination of my career in hospitality," he said.
150 Seaport Blvd.
Opens: June 23
Debuting as New England's highest outdoor rooftop deck, there's no doubt Stratus is going to be a summer hotspot. Perched at the top of View Boston's Cloud Terrace (floor 51), visitors can dine and imbibe at this 360-degree open air roof deck. Since Boston does have mercurial weather, there's an indoor cocktail lounge in addition to the exterior space, which will keep the sky-high bar in season all year long. The menu consists of small, shareable plates — like a balsamic vinegar dipping flight — which pair nicely with craft cocktails that are labeled as "twists on iconic staples." There's the View Boston Ward 8, a take on the rye-based drink with lemon juice that was created in the eponymous Boston ward in the late 1800s; instead of the traditional orange juice, this rendition uses pomegranate. There's also the Tokyo & Tonic, with whiskey, botanicals, plum, and tonic as well as classics like red and white sangria and mimosas. Beer fanatics will appreciate the specialized craft menu and unique cans, inclusive of hard kombucha.
800 Boylston St., Floor 51
Opens: June 15
Located on The City level of View Boston (Floor 50), this new restaurant above the clouds offers a family-friendly menu curated by Chef MJ Avalos. The bistro-style venue is open from 11am to 9pm with an all day menu featuring unique bar bites like chocolate dipped bacon strips and beef jerky, appetizers like lobster roll crepes and Celtic mussels, as well as a selection of salads, hearty mains and desserts. Known for her "cooking in color concepts," where she mixes in fruits and vegetables to compliment a variety of dishes, Chef Avalos created the entirely new menu, including signature dishes, and cocktails, drawing inspiration from the region's four seasons. Diners can choose from a selection of reservations, including an "elevated lunch" entry ticket, or a stool at the 22-seat window-facing bar. There will also be a private dining space called Studio 50 for groups to book, which includes unparalleled access and entry to this new space.
800 Boylston St, Floor 50
Opens: June 15
Revered in the '90s for its five-story concept featuring an Italian restaurant, lounges, and nightlife, Umbria returns to the North End in the former Ristorante Fiore space. The contemporary version will still be multiple stories, but a condensed offering from its original acclaim to keep the experience more intimate. Owned by Frank DePasquale and the DePasquale family, there will be two floors of dining, as well as a rooftop lounge in the style of a Miami roof deck, which is one of the few rooftop eateries in the North End. The Italian menu focuses on the rustic cuisine of the region of Umbria — which will be accented by the interiors reflecting an old world Tuscan Villa — and will also include a steakhouse for a wide selection of Italian-style cuts.
250 Hanover St.
Opens: June 28
Sign up for The Dish
Stay up to date on the latest food news from Boston.com.