Restaurants
SAVR brings a modern American steakhouse to the Seaport
The new restaurant is located at the St. Regis Residences.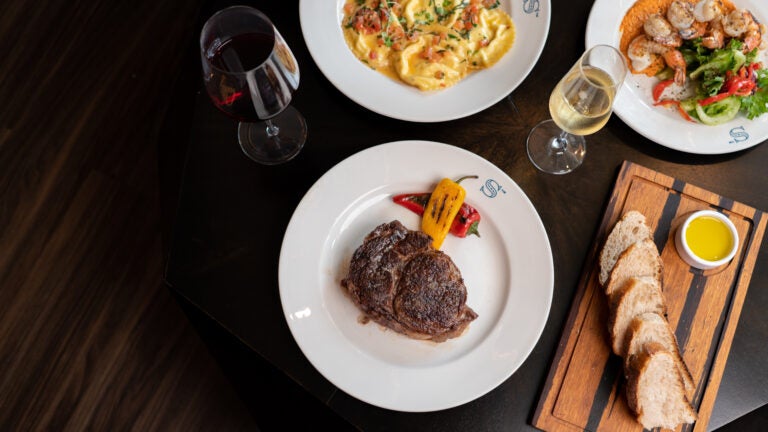 SAVR restaurant opens Thursday within the eye-catching St. Regis Residences condominium in Boston's Seaport, offering both condo owners and non-residents something to savor.
St. Regis residents have their own private interior entrance to the restaurant and the option for in-home private dining. But SAVR is open to all.
"We really hope the residents treat us as an extension of their living room, but we want to be very inviting to the general public," SAVR's managing partner David Doyle said. "The building is unique and we want to do something that complements that, but something that also stands out as being separate."
Doyle is a veteran of both Rebel Restaurants, where he oversaw several locations for Temazcal Tequila Cantina and Tony C's Sports Bar and Grill, and also Smith & Wollensky — he opened Boston's waterfront branch. For his first restaurant as co-owner, Doyle is going for what he knows best: a modern American steakhouse atmosphere with natural wood millwork, richly toned royal blue tile, and a touch of New England coastal culture via specially made lobster pot chandeliers.
The floating staircase connecting the ground floor with the second is a focal point, and SAVR takes full advantage of its waterfront location with two outdoor decks and folding doors that open up the restaurant to the water.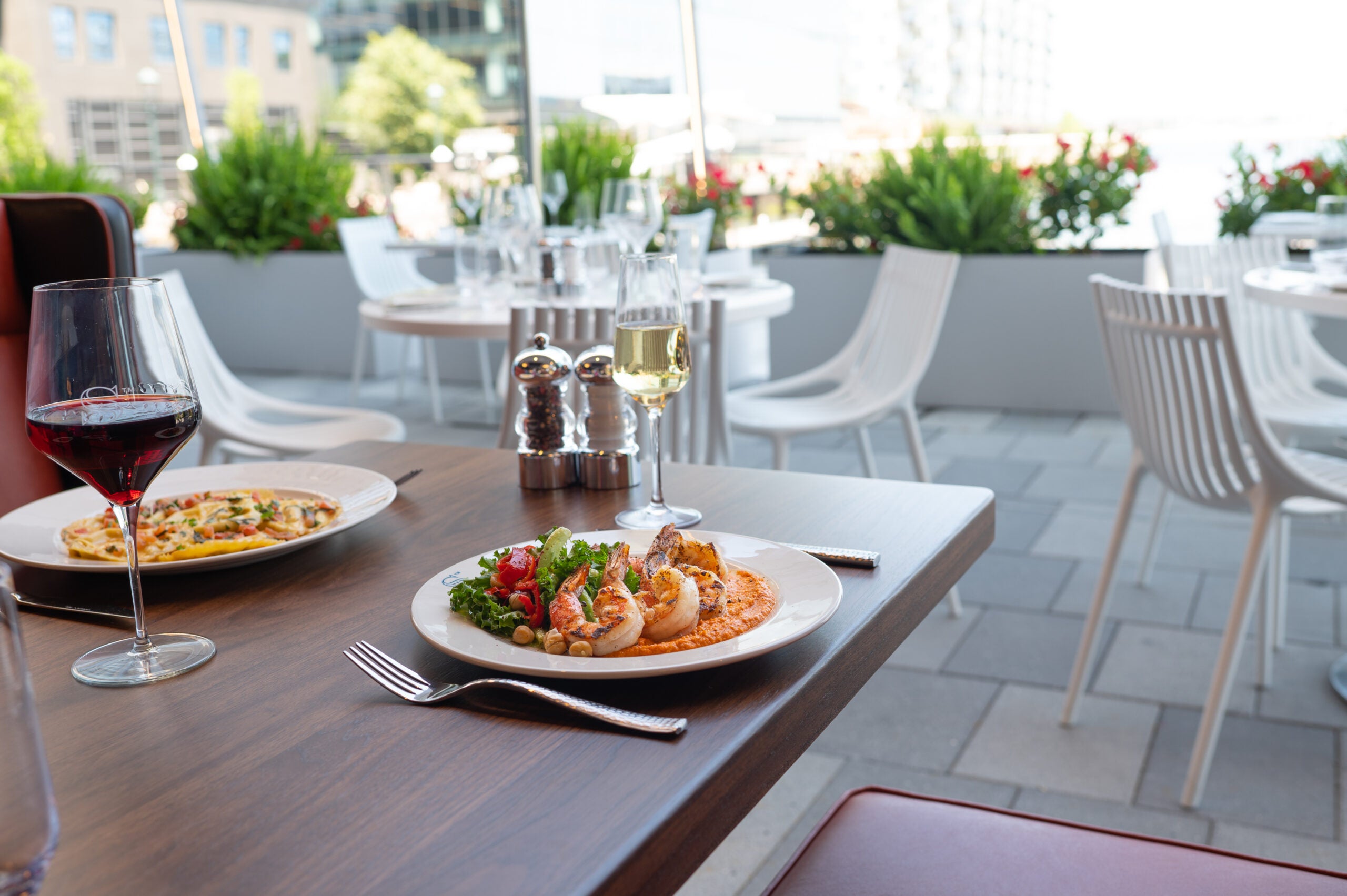 The sizable two-story space seats 300 in total, with 180 seats inside and 120 outside. The main first-floor bar offers 28 seats, while the second floor bar is smaller with eight to 10 inside, and another eight to 10 outside on the three-quarter wraparound terrace.
Overseeing the kitchen is executive chef Danny Levesque, a Boston native most recently the executive chef at Abe & Louie's, but with a pedigree that includes Davio's and the legendary, erstwhile Upstairs at the Pudding.
SAVR's menu includes fresh handmade pastas, seafood, and wood-fired grilled meats, with steaks a focus.
"It reflects my background and Danny's background in steakhouses," Doyle said. "We will have a unique prime rib and a French dip sandwich. Brick-pressed chicken with a sherry jus and fingerling potatoes, a lemon ricotta ravioli, and wood-grilled portobellos. Our pasta Bolognese and branzino are awesome."
Among a dozen or so craft cocktails are three different espresso martinis: dark, creamy, and gold. Dark is a regular espresso martini, creamy adds Rochester, N.Y.-made Black Button bourbon, and the gold is made with Wild Harbor, a plant-based, gluten-free clear liqueur.
"And we serve a sampler of all three together," Doyle said.
SAVR partnered with Washington State's Milbrandt Family Wines to produce its own signature house wine, but the wine list is deliberately concise: "I didn't want to go too crazy," Doyle said. "We will have about 75 to 80 different bottles. Some big names. It will be about 80% American wines. I am a big fan of Californian reds."
SAVR is initially open for dinner service only, with brunch and lunch following later this summer.
"We're opening during the busiest time in Boston and don't want to rush things," Doyle said.
SAVR, located at 150 Seaport Blvd., is open daily, 4:30 p.m.—11 p.m.
Sign up for The Dish
Stay up to date on the latest food news from Boston.com.