Restaurants
Does Boston really need Sweetgreen's $25 lobster roll salad?
We taste-tested the new local menu item to find out.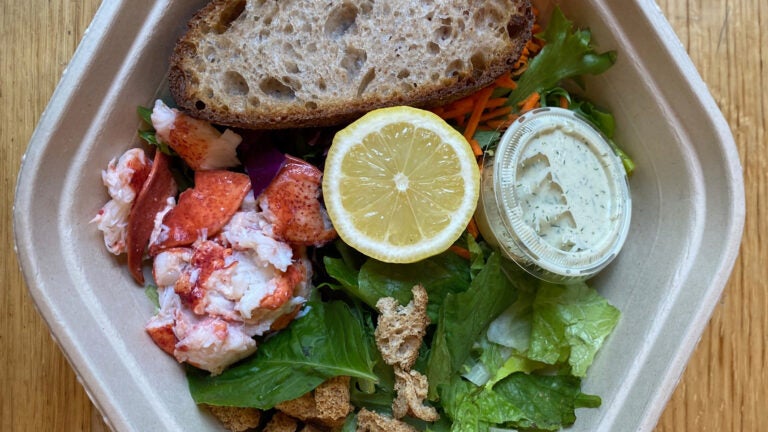 Here in Boston, we know we're spoiled with lobster. The crustacean, plucked straight from nearby waters, graces menus for miles and miles from city limits.
Nearby, there's no shortage of places to find a great lobster dinner, the best lobster rolls, or a market that will steam one right out of a tank. Which makes our intrigue with Sweetgreen's lobster roll salad all the more surprising. We're used to seeing lobster everywhere — on mac and cheese, at Fenway Park — but a fast-casual salad chain is new territory, even for us.
Sweetgreen's salad features chopped romaine, spring mix, basil, shredded cabbage, raw carrots, focaccia croutons, Green Goddess ranch dressing, a fresh lemon squeeze, and, of course lobster, which is sourced from the Luke's Lobster chain. It's available at Boston-area restaurants for a limited time.
Three intrepid Boston.com staff members recently picked up Sweetgreen's lobster roll salad for an unscientific taste test. Here's what they found.
The Setup
What's your first impression of Sweetgreen's lobster roll salad, which is billed as being "inspired by the iconic East Coast lobster roll"? What's your reaction to that?
First of all, let's start with the name. How are you going to call it a lobster roll salad when there is no roll? Just call it a lobster salad like they do on the Cape. A traditional lobster roll is typically just lobster meat, bread, and mayo or butter with a little seasoning and maybe some filler. This dish is pretty different than that. — Khari Thompson
I ordered ahead through the app, and while I was slightly scared by the "consume within 15 minutes" warning, with the dressing on the side, everything held up well. — Gary Dzen
It's colorful to look at, with shreds of orange carrot, purple cabbage, and of course, the bright hues of the lobster itself. — Shira Laucharoen
The Salad
How was it, and most importantly, how was the lobster?
It's good. I like it because it's different. The Green Goddess dressing is a nice spin that gives more of a herb-like taste. It's a solid, hearty salad. … My one little nitpicky issue is that they served the lobster in a plastic cup instead of putting it on the salad directly. You know those little plastic cups that they put the salad dressing in? Imagine one of those filled with lobster. Not a ton of meat. It seemed like mostly claw, with bits of knuckle and a little slice of a tail. — Khari Thompson
The lobster, which was a mixture of claw and knuckle, was juicy and tender, but could have used just a touch of seasoning beyond the lemon. The buttery focaccia croutons brought a welcome crunch and might have been meant to imitate the flavor of a toasted brioche bun. The Green Goddess ranch dressing is a nice spin on the filling of a lobster roll, but I found myself wanting it to be creamier and richer. I know that the base of the salad is meant to be simple, so that the meat can shine through, but I overall felt that it was a little plain. It could have been more flavorful, and I'm not sure that trying the salad is as satisfying as digging into an actual lobster roll. — Shira Laucharoen
In this instance, I received all claw meat. The lobster came tender, fresh, and undressed, a win for anyone typically turned off by the mayo in a traditional lobster roll. Be warned, though, that the Green Goddess dressing is a Dill Bomb, so even if you like that herb you should tread cautiously. The salad eats like typical Sweetgreen, in that you feel slightly virtuous while you're consuming it. In this case tasting every vegetable is a good thing: the cabbage and carrots provide a serious crunch factor, and I should probably eat raw basil more often, right? Because these full, fuzzy leaves taste pretty good in here. What you're missing, though, is the New England-style hot dog roll, something soft to balance the chewiness of the lobster meat. But listed at 340 calories, this is a less guilty option. — Gary Dzen
The Verdict
Does Boston need a $25 Sweetgreen lobster roll salad?
… with the steep price tag, I'm not sure that I would order this again. The lobster roll salad adds an interesting twist to Sweetgreen's menu, but in the end, there's still room for improvement. — Shira Laucharoen
No, not really. Lobster is readily available here. It's a solid salad, but nothing revolutionary. If I'm paying more than $20 for lunch, it better be amazingly delicious. — Khari Thompson
As someone who's not trying to pay anywhere near that price point for a fast-casual meal for one, I'm inclined to say no. — Gary Dzen
Sign up for The Dish
Stay up to date on the latest food news from Boston.com.