Restaurants
Sally's Apizza will expand to Massachusetts
The Connecticut chain plans to open spots in Woburn and the Seaport.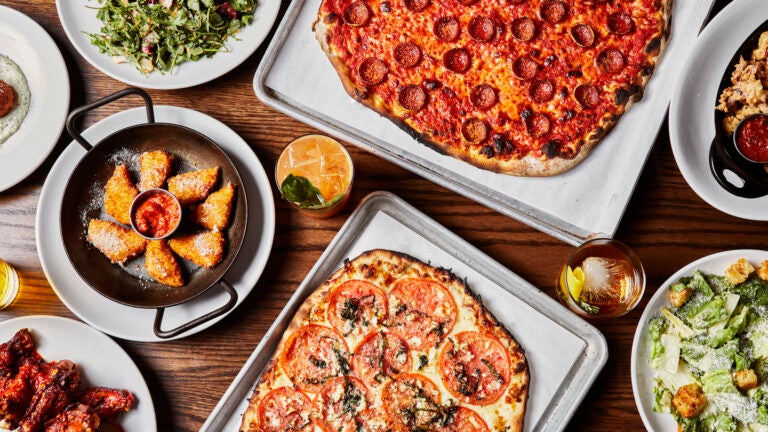 Pizza lovers have a new reason to rejoice: a restaurant chain from Connecticut will be spreading to the Greater Boston area.
Sally's Apizza, known for "hand-craft, authentic New Haven pizza" made from "custom designed ovens," will open locations in Woburn Village in 2023 and Boston's Seaport District with an anticipated opening for 2024, according to Andrew Ronck, senior marketing manager. The chain was founded in 1938 by Salvatore "Sally" Consiglio, and currently has locations in Fairfield, Stamford, and New Haven, Connecticut. The restaurant has plans to open additional Connecticut locations in Newington, Norwalk, and Wethersfield, an article by the Boston Globe reported.
Ronck told Boston.com Sally's Apizza decided to expand to Massachusetts for the proximity to their home base in New Haven and Southern Connecticut. "There's a number of exciting new developments, all around the Greater Boston area… It's just a good market for people who are already familiar with our brand and the quality of our pizza," Ronck said.
Boston.com readers are no strangers to quality pizza — they recently recommended over 100 restaurants in Greater Boston, with Regina Pizzeria voted as the most popular pick.
Sally's Apizza specializes in the unique New Haven-style pizza, which is "characterized by its thin crust that is chewy, yet crispy," Ronck said. "It's more of a sauce-forward pizza. We have a sweet and tangy tomato sauce… It's light on the cheese… But by far the most identifiable aspect of New Haven-style pizza is the iconic char."
At the Massachusetts locations, guests can expect specialty pies, similar to those served in Connecticut, including the white potato and rosemary, the New Haven original clam pie, and the Garden Special. Other Italian classics include the chicken parmesan and rigatoni vodka. Desserts such as tiramisu and cannoli pie will also grace the menus.
Sign up for The Dish
Stay up to date on the latest food news from Boston.com.