Restaurants
Sugar Skulls brings frozen treats to High Street Place
The shop puts a Mexican twist on sweets and drinks.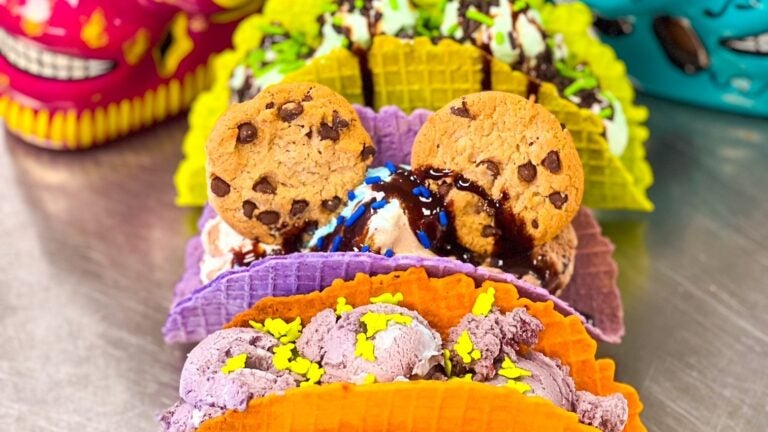 There's a new spot to indulge in frozen treats in Downtown Boston, and you'll want to stop by on one of these hot summer days.
Sugar Skulls, an ice cream, dessert, and drink shop, opened at High Street Place on July 17, offering colorful food and beverages with festive flair to customers. The business comes from the same team behind North East of the Border, also based at the lively food hall, and it's meant to complement the Mexican taqueria. Founded by Chris Wandell and Gustavo Lecanda, the concept brings the culture and flavors of Mexico to Boston.
"A sugar skull is a [skull] head shaped from sugar," Lecanda, who is from Cancún, said. "They're very popular in Mexico, [for] the Day of the Dead, the Día de los Muertos. That tradition is very popular."
On the menu, patrons can expect to find a variety of sweets. These include ice cream tacos, coming in flavors such as banana split, cookies and cream, The Green Monstah, and birthday cake. Guests can also order a churro ice cream sandwich, which layers a choice of ice cream between two churro buns. Boozy ice cream floats, such as the raspberry champagne, the Kahlua and Coke, and the limoncello also make an appearance. Those looking to sip a frozen cocktail can pick from options such as the chili mango, the peach Bellini, and the piña colada.
"You go first to eat tacos [at North East of the Border], you eat lunch, you eat burritos, and if you want dessert, you go to Sugar Skulls," Lecanda said.
The space is shaped like a bar, where customers can sit on stools and talk to each other. Sugar Skulls is the team's third brick and mortar location, with North East of the Border having originated as a food truck business. Lecanda said that he would welcome the opportunity to open more shops in the future.
---
Vote: What would you be the most excited to order at Sugar Skulls?
Sign up for The Dish
Stay up to date on the latest food news from Boston.com.