Restaurants
Detroit Pizza Co. will open in Brighton's Oak Square
The pizzeria is slated to open in early August.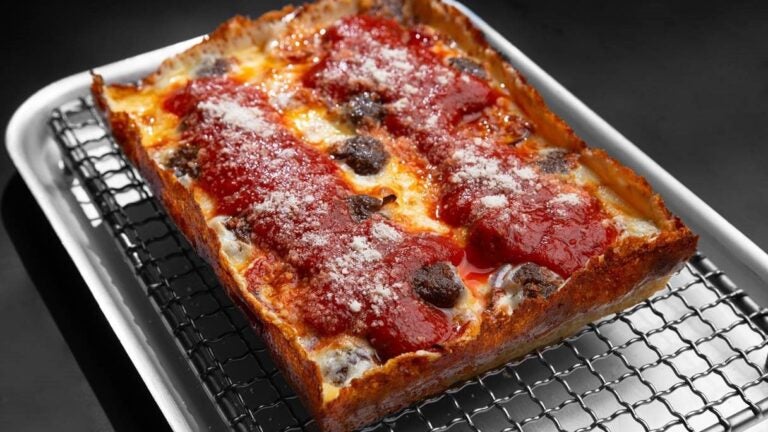 If you're a fan of the Detroit-style pizza trend that has spread across the country, there's a new spot coming to Boston.
Detroit Pizza Co. will open in Brighton's Oak Square neighborhood in early August. The restaurant will be takeout and delivery only, and it will introduce diners to a kind of pizza that has gained popularity nationally, while still growing its presence in Boston. Owner Anastasios Anastasiadis said that he has worked in pizzerias for much of his life and is looking forward to opening Bostonians' eyes to this specialty.
"I grew up in the pizza business," Anastasiadis said. "I've been doing this for a little over 20 years now. I've done everything from the Greek-style pan pizza to hand stretched New York-style pizza. I got introduced to Detroit-style pizza, and it's just something that there isn't too much of in this area."
Detroit-style pizza is a deep dish, rectangular pizza that is cooked in a blue steel pan. The Wisconsin brick cheese is spread to the edges, so that it cooks with caramelization and crisp. The dough, Anastasiadis said, is fluffy, similar to a focaccia. At Detroit Pizza Co., the cheese will be laid down first, then the toppings and sauce, with some exceptions.
The menu at Detroit Pizza Co. will showcase some specialties. These include the Motor City Roni, which features cup and char pepperoni and shaved fontina. The OG Buffalo is made with fresh, buffalo chicken and a drizzle of either ranch or bleu cheese dressing. Patrons can also build their own pizzas, choosing from toppings such as sausage, thick cut smoked bacon, peppers, onions, mushrooms, or Mike's Hot Honey. For those wanting something besides pizza, they can enjoy salads, chicken wings and tenders, and soft drinks.
Boston.com readers know their pizza — in a recent guide to pizza in Greater Boston, they recommended over 100 restaurants, naming Regina Pizzeria as their most popular pick. New pizza places will be coming to the area, with the Sally's Apizza chain bringing New Haven-style pizza to Woburn Village and the Seaport, later this year and with an anticipated 2024 opening, respectively.
Anastasiadis said he is hoping to expose the Brighton neighborhood to Detroit-style pizza that is often overlooked in Boston.
"This pizza is for everyone to try," he said. "We have a lot of students in the area, a lot of young professionals, a lot of people who just work in the area. I'd like for everyone to just come try this pizza."
Detroit Pizza Co., 600 A Washington St., Brighton
Sign up for The Dish
Stay up to date on the latest food news from Boston.com.