Restaurants
Gufo, a new Mediterranean-Italian restaurant, opens in Cambridge this week
Coda Restaurant Group is opening its newest concept Friday.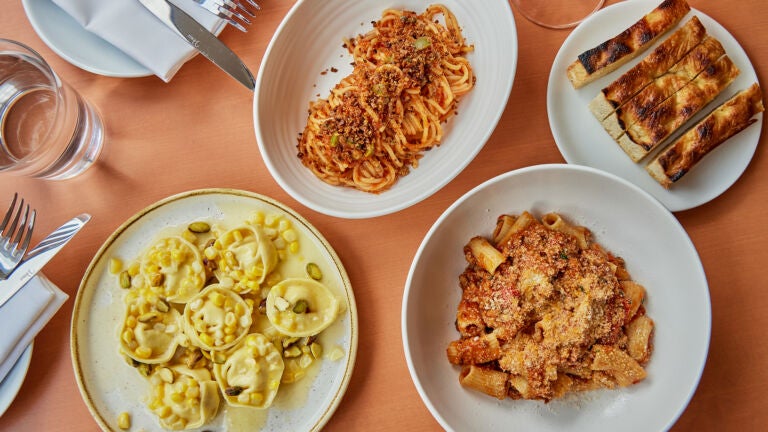 Gufo, the latest restaurant from Coda Restaurant Group, will open Friday at 660 Cambridge St. in Cambridge. The modern Italian restaurant opens with dinner service as the first stage for the multifunctional, 4,200-square-foot space. Next month, Gufo will open its café, serving house-made pastries and enoteca-inspired sandwiches such as mortadella and stracciatella-stacked atop focaccia.
In addition to the restaurant and café, Gufo features a 50-seat, all-weather patio and a bocce court that's available on a first-come, first-served basis. During the day, guests will be able to order from the café counter and bring out the gourmet to-go items to the courtside high-top tables. Service will also be available during the evening.
"It was really important to provide different avenues for people in the neighborhood," executive chef Andrew Hebert told Boston.com, who joins Gufo most recently from sister restaurant The Salty Pig. "We wanted to be open all day and have something available at any time."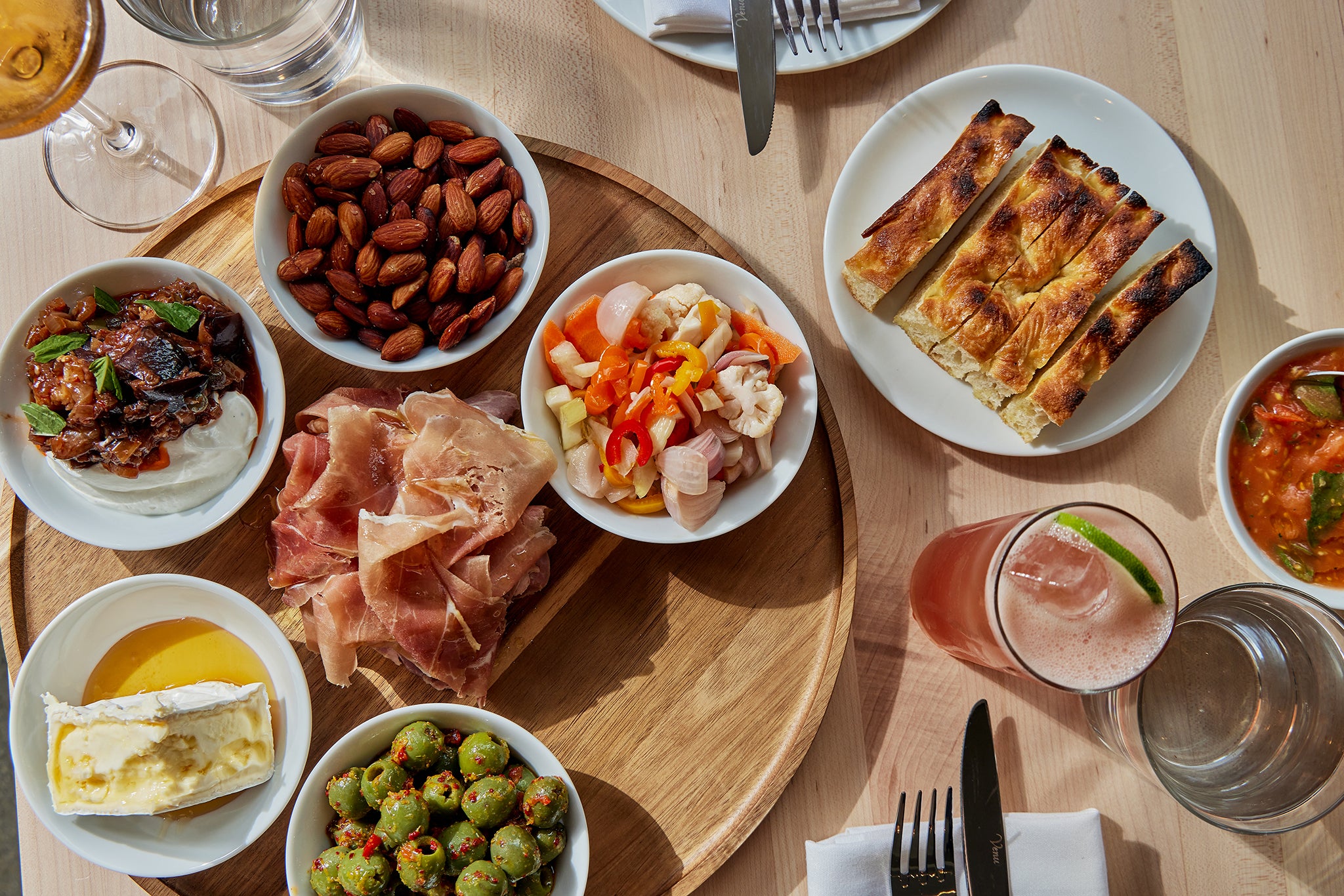 Gufo translates to "owl" in Italian — you'll notice sketched owls on the wallpaper throughout the ethereal interiors — which Coda Restaurant Group director of operations and partner, Ted Hawkins, explained: "We have taken on the Gufo as our identity as we pay homage to this humble, fierce, and wise animal as we strive to be a neighborhood restaurant filled with care, thought, and intention open to our community from morning until night."
In the name of community, Hebert said that the menu in the main dining room is meant to be shared.
"That's the way I like to eat," he said, "to try a little bit of everything."
As Hebert steers clear of the traditional appetizer and entree menu, the dining experience is divided into four sections: bites, shared plates, pizza, and pasta.
The "bites" begin with a seasonal selection of six snacks that resemble a mezze board. In this way, Hebert said the menu is slightly more Mediterranean-Italian with some African influences rather than focused on a particular region of Italy. Items like artichoke, prosciutto, and olives are priced at $6 each, but the price is discounted for four items ($22) or six items ($30) to encourage diners to try them all.
"When I write a menu, I try to think about how people can share things and enjoy things as a group," Hebert said.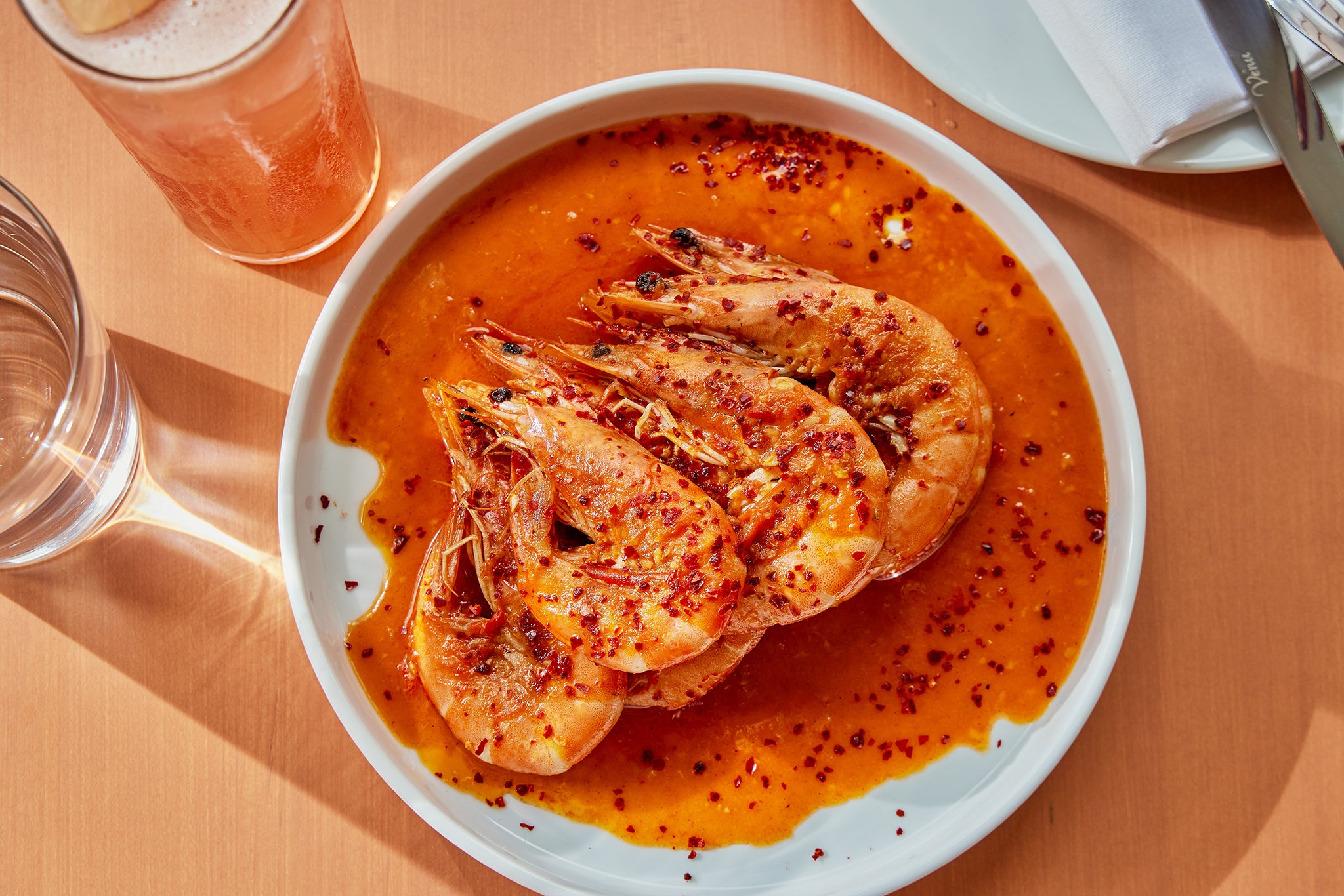 Shared plates include arancini, head-on shrimp, and whole roasted fish, which is currently black bass marinated and finished in chermoula (North African salsa verde).
"When people see it being walked through the dining room, it grabs their attention," Hebert said.
The 12-14 inch thin-style, hand-tossed, creatively topped pizzas are in similar style to The Salty Pig, using a slightly larger Wood Stone, gas-fired hearth for the ideal crispiness. Having opened for friends and family this week, Hebert said a fan-favorite pie on the menu has emerged: white pizza with mozzarella, sliced zucchini and anchovy filets that's finished with a sprinkle of arugula and spicy fresno vinaigrette.
As for pasta, he said the squid ink bucatini is a standout with skinned clams, andouille butter, lemon, and parsley.
Dessert could be considered the fifth portion of the menu as Hebert is thrilled to offer soft serve ice cream — starting with chocolate and vanilla — topped with seasonal toppings. Right now, that includes coconut duca, sweet coconut with nuts, as well as a magic shell, chocolate that's poured over and hardens atop the ice cream.
"It is all very approachable," said Hebert, adding that the cafe will offer a comfortable, yet chic, work-from-home alternative while the "oasis" of a patio and outdoors area is ideal for eating pizza and drinking beer, wine, or a variety of proprietary craft cocktails with friends.
Gufo, 660 Cambridge St., Cambridge. Once the café opens, the coffee counter will serve from 8 a.m. to 4 p.m.; café lunch from 11 a.m. to 4 p.m.; dinner from 5 to 9:30 p.m., and the 16-seat bar will serve light snacks and pizza from 4 to 11 p.m.
Correction (July 31, 2023): Executive chef Andrew Hebert's name was misspelled in a previous version of this story. It has been corrected. Boston.com regrets the error.
Sign up for The Dish
Stay up to date on the latest food news from Boston.com.