Restaurants
Nan Xiang Express opens in Chinatown
The fast casual spot took over the former Gourmet Dumpling House space.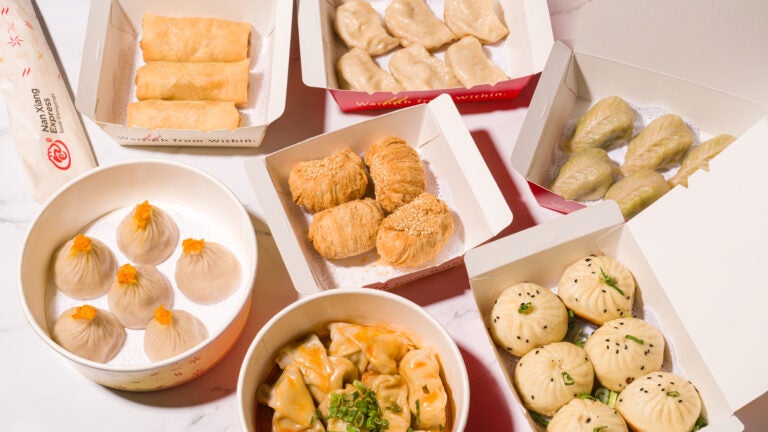 If you've been craving soup dumplings, there's a restaurant chain that has launched a new location in Boston's Chinatown.
Nan Xiang Express will hold a grand opening in early August, serving Shanghainese cuisine to patrons in a fast casual setting. It began welcoming guests with a soft opening last week. The eatery is an offshoot of the Michelin-recommended restaurant Nan Xiang Xiao Long Bao, whose original location is in Queens, New York. The Express concept launched in Maryland in 2022 from co-founder Eddie Zheng, with the idea of expanding access to their signature dishes outside of the tri-state area.
"It was more to bring [the cuisine] to the customers, instead of them having to come to New York," spokesperson Michael Ma said. They would expand to new locations while running smaller operations. "That was the idea behind Express — to be able to spread out more."
On the menu at Nan Xiang Express, patrons will find their famous soup dumplings. The six bite-sized morsels come with fillings such as crab meat and pork, as well as spicy beef (both $10.95). They have a thin skin and are bursting with savory soup inside, served with black vinegar and shredded ginger as condiments. Ma said that they are one of a kind.
"What makes ours stand out are the flavors," he said. "The feedback that we're getting from the Nan Xiang Express customers is how much they're like [those] from our full service restaurants."
Customers can enjoy a variety of other offerings, such as pan fried buns ($7.95 to $8.95) and Shanghai fried udon noodles, which are prepared with meats like chicken ($13.95) and shrimp ($14.95). For appetizers, try the spring rolls ($5.95 to $6.95), scallion pancakes ($5.95 to $8.95), or cucumber salad ($7.55). To drink, the restaurant offers iced and hot soybean milk (both $3.50), as well as beverages like the pineapple green tea ($5.95).
The modestly sized space has 23 seats available, but guests may also choose to order takeout and, eventually, delivery. The decor of Nan Xiang Express is different from what you would see at Nan Xiang Xiao Long Bao; it is more modern, brightly colored, and features a "trendy, hipper vibe," according to Ma. Customers can order at the counter or at a kiosk, then sit down with their meals.
Nan Xiang Express occupies the space formerly filled by Gourmet Dumpling House, which closed last summer, after 15 years of serving the Chinatown community. Ma said that this history presents something of a "double-edged sword."
"This is great, because [there are] customers that know this location for dumplings," he said. "But at the same time, we don't want them to come and show up, expecting the dumplings that they're used to." Nan Xiang Express' offerings will be different and unique, he acknowledged.
The business has plans for expansion, Ma said. If Nan Xiang Express in Chinatown is successful, they may open more Expresses in the area, as well as a possible Nan Xiang Xiao Long Bao. Currently, there are three other Express locations in New York and Maryland. The company intends to launch five more Express spots in the tri-state area this year. Customers can find three sit-down restaurants in New York and New Jersey, and two more will be coming to those states in early 2024.
Nan Xiang Express, 52 Beach St., Boston
Sign up for The Dish
Stay up to date on the latest food news from Boston.com.