Restaurants
Central Perk Coffeehouse will open on Newbury Street this fall
The café is set to open in late October.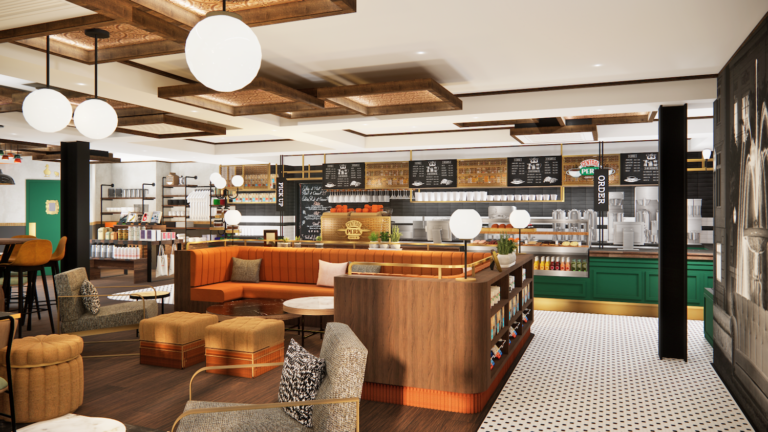 Fans of the TV series "Friends" will be excited to see one of the show's iconic gathering spots brought to life — and soon, they'll be able to visit it themselves.
Central Perk Coffeehouse will be opening in Back Bay in late October. The cafe draws inspiration from the coffee shop set in New York City where the lead characters of "Friends" would spend time conversing. It will debut as a collaboration between Warner Bros. Discovery Global Themed Entertainment and CenPer Holdings, LLC. The menu has been created with guidance from creative advisor Tom Colicchio, a James Beard Award winning restaurateur. Joe Gurdock, president and COO of CenPer Holdings, said that "Friends" and Central Perk as a setting in the show hold cultural meaning for many people.
"'Friends' remains one of the most watched shows," he said. "It's been really interesting. Since the pandemic, what's been emerging is this very distinct, three generations of fans. It's really been a timeless, unique TV franchise that speaks to people. During some of these rougher times, and as we come out of them, it's a familiar, fun, and friendly brand that people recognize."
The cafe will serve breakfast, lunch, and shared plates in the evening. Guests can enjoy dishes like the Signature CP Bagel and frittatas. For lunch, they can try the Joey's Meatball Sandwich, the Rachel's Side Salad, and the Grandma's Chicken Salad. Central Perk will also serve light fare like savory focaccia pizzas and bar snacks, as well as desserts, like the Mama's Little Bakery Cheesecake. Signature coffee drinks will be made from six original coffee blends, which include the "How You Doin'?" (medium roast), "We Were on a Coffee Break" (dark roast), and "Oh.My.GAWD!" (cold brew blend). Beverages like the Princess Consuela's Banana Mocha and the Chandler's Chocolate Milk Cold Foam will be served, as will beer, wine, and cordials. An espresso martini will make an appearance, as well.
Gurdock said that he hopes the coffee shop will be something of an oasis to guests. Central Perk will be housed in a brownstone on 205 Newbury St., and inside, the space will look very similar to the set from "Friends." The layout will be inspired in part by details like the iconic orange couch in the show, though the design of the cafe will be slightly modernized and updated. Outside, there will be two patios and a parklet. Merchandise, such as apparel, coffee blends, and collectibles, will be available for purchase onsite and online.
The team behind Central Perk has plans to expand to other locations later, but the Boston spot will be its first. In Back Bay, it hopes to attract patrons who may be shopping in the neighborhood.
"Friends" holds special meaning to Gurdock, and the message of the show is one that resonates with him.
"The values and the themes that are presented from 'Friends' are universal," he said. "It's a time in your life when your friends become your family. There was a community on 'Friends,' and they centered that community and their daily lives, their daily moments, [in] Central Perk, as we all do often in coffeehouses."
Central Perk Coffeehouse, 205 Newbury St., Boston
---
Tell us: Do you have a favorite moment from the TV show "Friends"? Let us know what you found memorable. Fill out the survey below or send an e-mail to [email protected], and your response may appear in an upcoming Boston.com article.
Tell us: What's your favorite moment from the TV show "Friends"?
Sign up for The Dish
Stay up to date on the latest food news from Boston.com.