Restaurants
Rosebud American Kitchen and Bar in Davis Square temporarily closes
The historic Somerville diner will be rebranded under its new owners.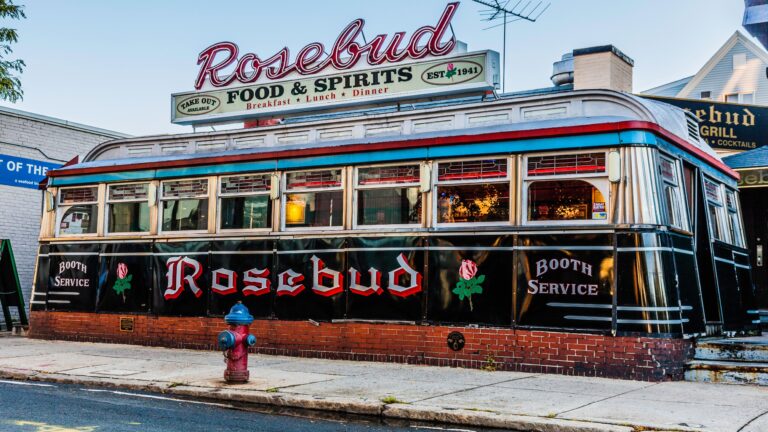 A popular American restaurant housed in a Somerville dining car is undergoing some changes: it has closed for the time being and will experience a transformation.
Rosebud American Kitchen & Bar, known for serving regional comfort food in laid back digs, welcomed guests for their last meals Sunday before a temporary shut down. Alpine Group sold the restaurant to Bindaas Concepts in June, and on September 21, Rosebud's leadership announced to staff that they would be laid off. The plan is for Rosebud to reopen with a new menu that will feature both American and Indian dishes. New ownership will be renovating and rebranding the restaurant, and they have not yet set a reopening date.
"We definitely recognize and want to honor the history and legacy of Rosebud," said Bindaas Concepts' marketing manager Sruthi Chowdary. "It will definitely have components of the menu that are classic, like cheeseburgers, eggs Benedict, and French toast, things that [evoke nostalgia]… It will definitely have that piece." She added, "The basic goal is to transform the historic diner into an Indian-inspired American diner."
The new menu will change by the season. Indian-inspired dishes include a roasted root vegetable salad with mango chili vinegar, Kashmiri deviled eggs, and a mango lassi parfait. They will continue to serve pies, which the diner used to be known for, and will introduce gluten free and vegan dishes.
When Bindaas Concepts acquired Rosebud in June, it was their intention to keep operating without many changes, retaining staff and keeping the old restaurant concept. Eventually, they realized that they were losing money, Chowdary said, and they decided to pivot and change plans. One of the reasons for discharging staff is that the owners do not know how long the closure — during which renovations to the roof, HVAC system, and cosmetic features will take place — will last.
"We couldn't ask them to hold on until we changed the concept and retrain them because we didn't have a definitive time plan on the new revamp," Chowdary said. "So we didn't know how long we could keep them."
Employees who wish to return to Rosebud once it reopens will have to reapply. Chowdary said that the restaurant gave all employees circumstance letters explaining the reason for the layoffs, issued final paychecks, and paid them for their vacation days. The company encouraged staff to apply for unemployment. MassLive reported that some team members had not worked there long enough to qualify. These individuals will be offered severance packages, Chowdary said.
Community members took to Facebook to express their grievances about the layoffs. One user called what happened "an urgent situation," adding that "your help is needed." Another posted about her disillusionment with how the changes were handled.
"I'm devastated. Rosebud is an institution. Everything about it, food, beverages, atmosphere, and service, [is] impeccable. I'm horrified to hear about the [many] employees being forced out," she wrote. "And I really don't understand the need to change a menu that is already excellent. This is super sad."
Chowdary confirmed that it is true that when negative comments were posted, a social media team member removed some of them and blocked users from their Facebook page. She stated that Rosebud regrets the mismanagement and takes responsibility for the situation. Going forward with the temporary closure and rebranding, she said that the team has learned, while acknowledging the difficulties that arose.
"We completely understand the emotion and pain surrounding it," Chowdary said. "We are immigrants too. We came here, and we worked those jobs too. So I get it. It is a business decision, but it does feel personal. But it is an industry we work in too. Sometimes it happens to the operators, and sometimes it happens to the employee. We see it, we hear them. We will try to never repeat this again in our future."
Sign up for The Dish
Stay up to date on the latest food news from Boston.com.