Restaurants
Eastern Standard is finally back. Here's what you can expect.
Boston's beloved brasserie and bar from Garrett Harker returns in a new location with nostalgic nods to the original.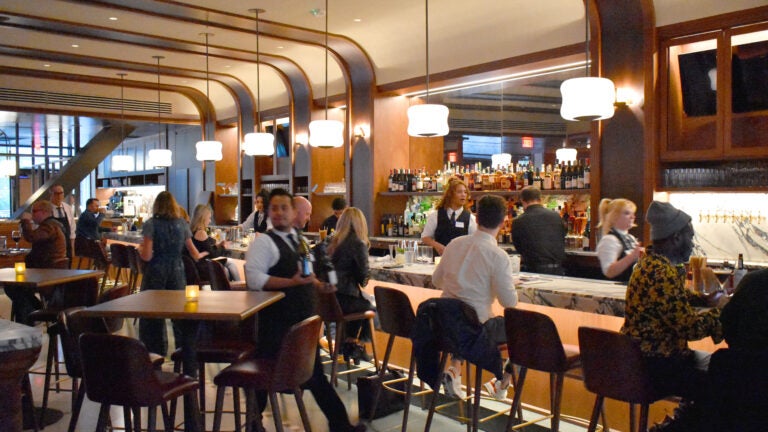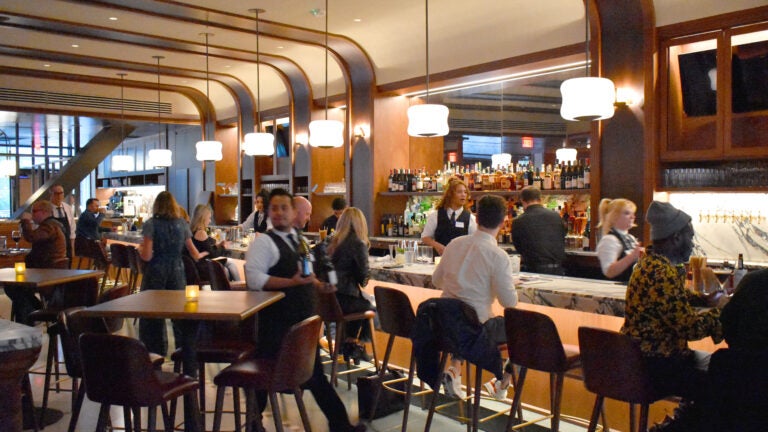 Garrett Harker is back with a vengeance — last month, the reputed restaurateur debuted All That Fish + Oyster as his first concept at The Bower in the Fenway. Now, the long-awaited return of his flagship Eastern Standard is finally over. The restaurant reopens for dinner service tonight.
"We're so excited to be home again," Harker told Boston.com. "While we've been on a little break, we're excited to pick up where we left off and to provide a really dynamic dining room for the city."
Celebrated for its convivial and classic vibe, the original Eastern Standard opened in 2005 and lived at its Kenmore Square address until it shuttered in February 2021. It was a place for everyone, from the baseball fan grabbing a quick craft brew before the game, to a group of friends settling in for a night of quality brasserie fare, to an intimate date night with plenty of oysters and bubbly.
That's the same atmosphere Harker envisioned for the new Eastern Standard.
"Eastern Standard was always meant as a place where people could gather under so many different circumstances," Harker said, recognizing that his approach to hospitality is having the ability to connect, and connect with, anyone who wants a place to have a little respite over quality food and wine. "I hope people really find the new space just as conducive to that."
At its new location (775 Beacon St.), Eastern Standard is able to channel the energy from Kenmore Square, Fenway Park, House of Blues, and MGM Music Hall.
"We're excited to plug back into that energy," Harker said. "The neighborhood around us is the lifeblood of Eastern Standard — it always was and will be."
Longtime regulars may feel a sense of nostalgia, which Harker said wasn't done to replicate the space but to pay homage to some aspects of it, including the 23 bar stools at a commanding marble bar beneath arches and columns. The dining room is once again regal and timeless: "a rich tapestry of marble, beautiful millwork, and terrazzo," Harker said. "Everything we did design-wise was done with the most enduring, timeless craftwork, and a vision of what the next 30 years might look like in this room."
Diners can also expect former favorites on the menu designed by culinary director Nemo Bolin: salad niçoise, salt cod fritters, steak tartare, and an expansive raw bar are back. So are the Plats du Jour, a decadent daily feature ranging from braised chicken and ricotta dumplings on Monday to honey lacquered Long Island duck breast on Thursday to mushroom bolognese lasagna on Sunday.
Newness shines through at Equal Measure, a cocktail bar adjacent to the 160-seat dining room of Eastern Standard. The spaces are connected unlike The Hawthorne, a remote counterpart to the former Eastern Standard.
"The vision was for folks to fit Equal Measure into their classic dining experience at Eastern Standard," said Harker, describing friends meeting for a drink at Eastern Measure prior to dinner or continuing their reservation with a nightcap.
Equal Measure, led by industry veteran Jackson Cannon (who also runs Boston.com's Cocktail Club), offers an ever-rotating selection of cocktails by the season, plus classic cocktails as well as unique and cult Old World wines. The bar also highlights craft beers from near and far, and has partnered with Narragansett Beer for the brand's first-ever collaboration with a restaurant to create the ES Pilsner, a Bohemian-style brew with a crisp malt for an apropos pairing with seafood.
"We're just really excited," Harker said.
Eastern Standard and Equal Measure are located at The Bower, 775 Beacon St.
Sign up for The Dish
Stay up to date on the latest food news from Boston.com.