Restaurants
Widowmaker Brewing officially opens in Brighton this week
The Brighton location will feature menu items from Bone and Bread.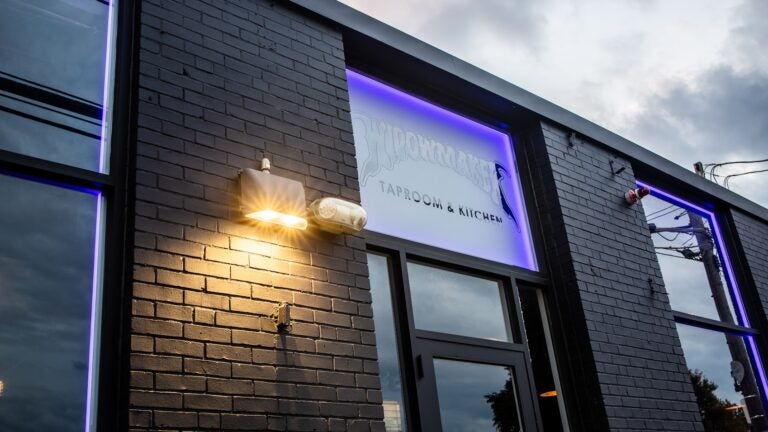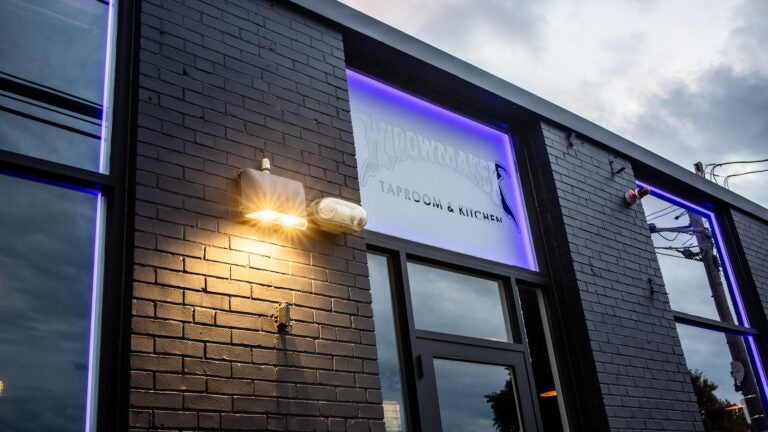 Fans of a popular brewery will be excited to hear that they will be officially opening a much anticipated location in Brighton, their first permanent spot in Boston.
Widowmaker Taproom & Kitchen will welcome guests for full service on Wednesday, and they will hold a grand opening on Saturday. The North Beacon Street location will join Widowmaker's brewery and taproom in Braintree, as their second brick and mortar spot, but will be distinguished by offering food from Bone and Bread. Founder Ryan Lavery said that moving into the former Brato Brewhouse and Kitchen space in the musical Allston-Brighton neighborhood felt like a natural fit. The area, now home to Roadrunner Boston and Brighton Music Hall, is one that many Widowmaker team members explored as artists during their youth.
"Widowmaker had been looking to grow for some time," Lavery said. He added that when the opportunity to claim the space at Brato became available, "We jumped right on it."
At the Brighton location, beers such as Widowmaker's famous Blue Comet, an IPA, will be served. Through their production facility, they'll also be making drinks like the Splatterhaus, featuring flavors of blood orange, raspberry, cherry, and pomegranate, with additions of vanilla and lactose. The Graveroller, a hard seltzer series, will also be produced on site. Because Bone and Bread, known for its "farm to street food," will be subleasing the space, guests can order bites such as a Brewery Burger, sandwiches, and a Korean street corn dog. Ramen dishes like the chili garlic crisp noodles and grilled cheese and tomato soup ramen will be prepared.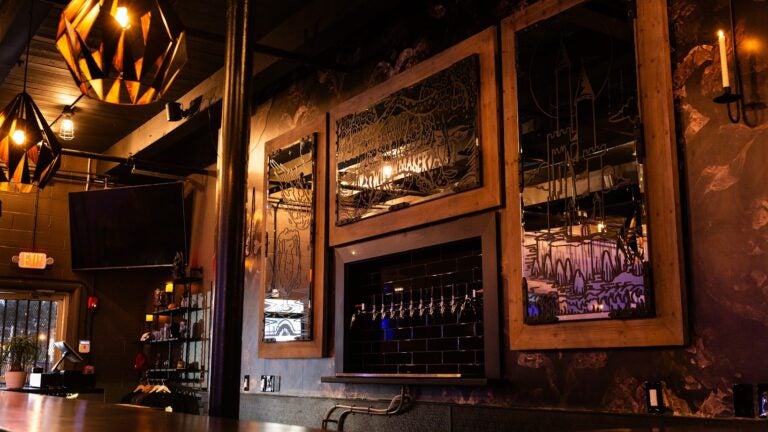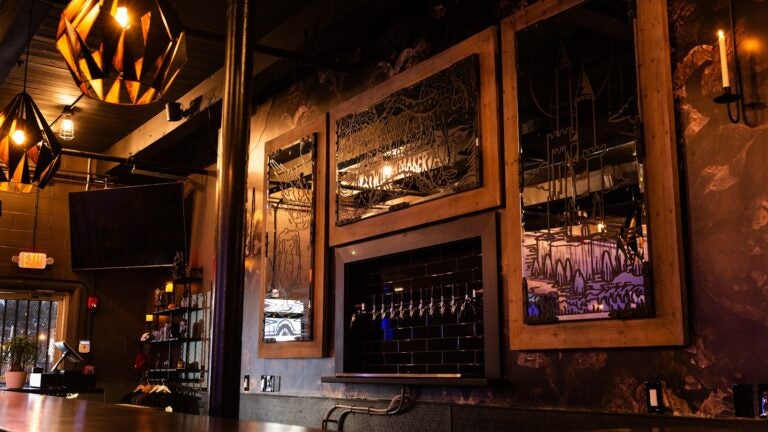 Opening just in time for Halloween, Widowmaker's Brighton brewery is meant to resemble a "gothic ski lodge," said Lavery. The location will hold just under 100 seats, and up to 146 when the patio is open. It features a faux fireplace, retrieved animal skulls, electric candles, and windows lit by vibrant LEDs, while science fiction books decorate the space. There is a bar, various seating options like booths and high tops, and spaces for people who just want to get a drink, without dining. A mural outside from a local tattoo artist, Johnny Garlin, completes the location's eclectic aesthetic.
The Brighton location will hold events, many of which are still being planned. Lavery said that they may host "vinyl nights," during which a DJ may spin rock records. Widowmaker has collaborated with Rolling Releaf, a cannabis delivery service, to produce a drink called Welcome To Grassachusetts, and they will celebrate with a release party in early November.
The area has always been influential in the lives of the Widowmaker team, many of whom were part of the local music scene in their teens and twenties, Lavery explained. "A lot of us grew up playing in bands, practicing across the street at the Sound Museum or playing shows at Great Scott, O'Brien's [Pub]," he said. He added that the team wants to support the community in keeping "Rock City" alive.
Lavery said that he would like to see Widowmaker become an important part of the Brighton neighborhood that he and staff feel so connected to.
"The Braintree spot is similar to what a lot of breweries offer, as far as a big warehouse space, converted into a communal area, with big tables and benches," he said. "This feels a little more cozy. It is Widowmaker: it represents who we are as people and as a business. We're really excited to let people see it."
Widowmaker Taproom & Kitchen, 190 N Beacon St., Brighton. Tuesdays – Thursdays, 12 p.m. – 10 p.m. Fridays – Saturdays, 12 p.m. – 11 p.m. Sundays, 11 a.m. – 8 p.m.
---
Share with us: Do you have a favorite restaurant in Allston/Brighton? Let us know the best place to eat and drink, and what you love about it. Fill out the survey below or e-mail us at [email protected], and your response may be used in an upcoming Boston.com article and/or its social media channels.
Tell us: What's your favorite restaurant in Allston/Brighton?
Sign up for The Dish
Stay up to date on the latest food news from Boston.com.