Restaurants
Fish Market Sushi Bar in Allston has closed
The eatery was known for its fresh, high quality ingredients.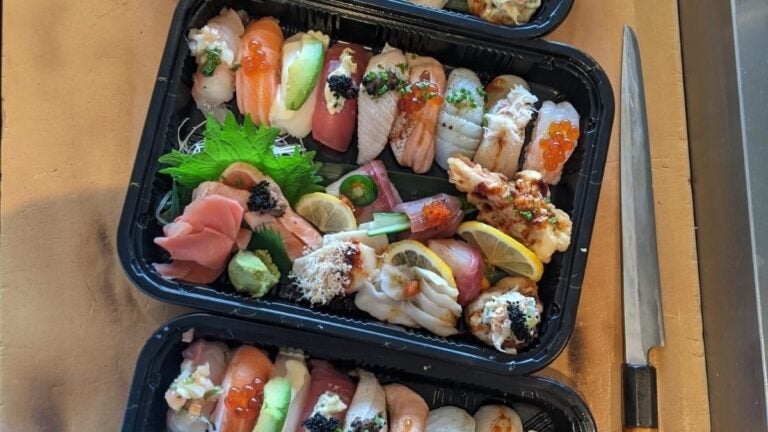 A sushi restaurant in Allston, known for its affordable and unique offerings, welcomed the public for the last time this weekend.
Fish Market Sushi Bar, an understated but memorable part of the neighborhood's dining scene, officially closed on Sunday. Owners Man Cheng and Kin Chan said that the reason for the shuttering is a loss of customers in the aftermath of the pandemic, as well as a rise in food and labor costs. Chan added that both partners operate other restaurants that they will be focusing on instead, Tori Jiro in Watertown and Saigon Tiger in Somerville's Davis Square.
"The reason we're closing is [that] after the pandemic, people's eating habits have been different," Chan said. He said after COVID-19 hit, "people stayed locally in their neighborhoods," but before, they would "come from other cities to Allston." Chan also said that he noticed diners showing an interest in Sichuan cuisine and hot pot, more than Japanese sushi offerings.
The restaurant on Brighton Avenue opened in 2009, after Cheng and Chan left their positions at Oishii, a high end sushi bar, and decided to start their own business. The space was minimalist, featuring four tables and a bar, and it could seat a maximum of 19 people. Fish Market Sushi Bar's owners carried over the skills they had learned at Oishii's South End and Chestnut Hill locations, preparing cuisine that used fresh, high quality ingredients, they said.
Customers enjoyed ordering cold appetizers like the avocado ball, made with tuna, flying fish roe, and more, mixed with a lemony mayo dressing. They also would dine on the black cod with sweet miso, a hot appetizer. Other popular menu items included the foie gras with truffle sushi and the Chef Tony salmon maki, featuring ingredients like seared salmon, crab stick, and tempura flakes. To drink, the Momokawa Pearl sake, which showcased tropical flavors like coconut and banana, was a favorite among guests.
Chan said that he will miss the neighborhood and the employees who worked at Fish Market Sushi Bar for many years. Cheng said that the restaurant will hold a special place in his memory.
"It [became] a second home," he said. "You got to see new people. … It was energetic. We could easily talk to anyone who came into our restaurant."
---
Share with us: Do you have a special memory of Fish Market Sushi Bar? Let us know what you liked to order and what made the experience there unique. Fill out the form or email us at [email protected], and your response may appear in a future Boston.com article.
Tell us: Do you have a special memory of Fish Market Sushi Bar?
Sign up for The Dish
Stay up to date on the latest food news from Boston.com.