Restaurants
Chinatown banquet hall China Pearl will reopen this winter
The restaurant will emerge from its temporary 2020 closure with new renovations.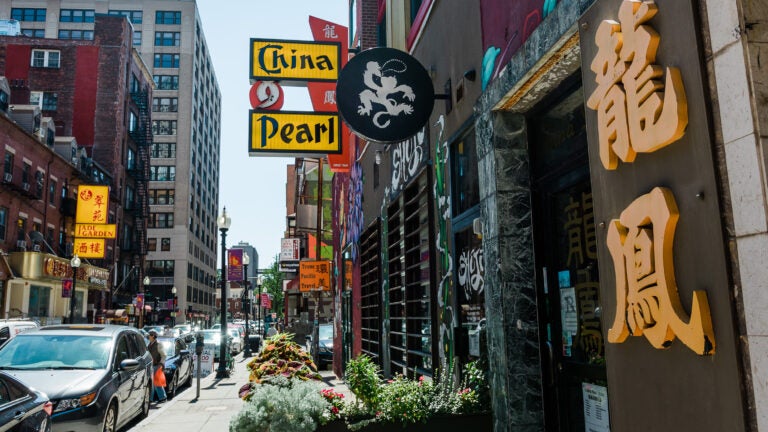 Patrons of a renowned dining establishment in the heart of Chinatown have long anticipated its return from its pre-COVID-19 closure — and it looks like the wait is almost over.
China Pearl, a decades-old banquet hall and dim sum spot on Tyler Street, is poised to reopen this winter, according to a press release. The restaurant, which is operated by the Moy family and longtime friends, temporarily closed in February 2020 before the pandemic lockdown, and the team used this time to begin renovations. Owner Brian Moy told Boston.com in an email that the changes to the historic spot were much needed.
"With a restaurant as old as China Pearl, this renovation was a long time coming, but because we were operating successfully and hosting so many weddings and celebrations, there wasn't a great time to do it before COVID-19," Moy wrote. "The opportunity to renovate was a small silver lining of the pandemic for us."
The institution, which Moy called "the oldest active Chinese restaurant in Boston," was famous for its ornate interior, but didn't have any windows. Several new windows will allow natural light to illuminate the space during the daytime, because of the renovations. Other improvements include the revealing of exposed brick walls and the unearthing of hardwood floors from the 1800s. When guests visit, they'll be able to enjoy familiar, nostalgic menu items, as well as "some more creative, modern takes on Chinese food," Moy wrote.
China Pearl is a mainstay in the Chinatown community, a place for gatherings like wedding celebrations and political meetings. Having grown up around the restaurant, Moy explained that it holds a strong connection for him.
"I have so many great memories of working with nonprofits in the community, fundraisers with politicians, and building [many meaningful] relationships with our guests," Moy wrote. "It is really special to be able to meet a couple dating for dim sum, and then eventually host their wedding, then meet their children, and host those celebrations, along with the elders' special birthdays. It really brings me joy to be able to know families from all stages of their family tree and be connected with their celebrations."
Moy also leads several other restaurants, including China Pearl in Quincy, Shojo, Ruckus, and Nomai.
Sign up for The Dish
Stay up to date on the latest food news from Boston.com.