Shopping
In search of the perfect Valentine's Day gift? These local chocolate and flower shops have you covered.
Here's where to find boxes of truffles and beautiful bouquets.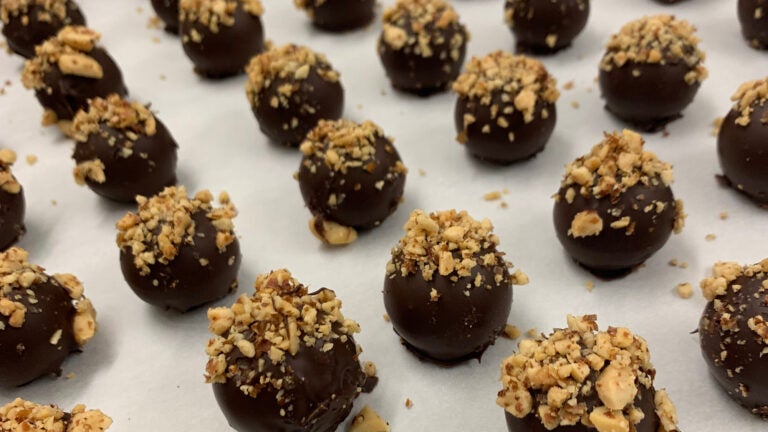 If your plans for Valentine's Day have shifted from a candle-lit meal at your favorite restaurant to an elaborate takeout spread, know this: The tradition of gifting flowers and chocolates for the holiday is still going strong.
At Cacao, a chocolate and nuts shop with locations in Jamaica Plain and Newton Highlands, Valentine's Day gifts mean heart-shaped boxes filled with a customizable collection of chocolate, and dark chocolate lip molds filled with either dulce de leche or Nutella.
"We also make chocolate-covered strawberries every year for Valentine's Day," said Perla Rosario, who co-owns Cacao alongside her fiancé, Leo Baez. "We dip it in 62 percent dark chocolate. It's Venezuelan and Dominican chocolate, so it's very good quality."
Rosario, who serves as Cacao's primary chocolatier, has a deep-rooted love of chocolate. Her family owns a cacao farm in the Dominican Republic, but it wasn't until 2018 when Rosario and Baez opened Cacao in Jamaica Plain, that she really honed her craft. Now, Rosario makes beautiful bonbons, truffles, and chocolate barks, while Baez focuses on roasting nuts. The shop uses Valrhona chocolate féves to make most of the chocolate in-house, though Rosario said eventually they'd like to use cacao from her family's farm.
Following the success of their Jamaica Plain shop, Rosario and Baez opened a second location in Newton Highlands in November.
"The last thing we thought was that we'd have to open in the middle of the pandemic," Rosario said. "We didn't know what to expect, but the community has been so supportive. We're happy to be there."
Antonietta Barros, owner of Giselle's Flowers & Gifts in Roxbury for 18 years, is expecting a busier than usual Valentine's Day season due to COVID-19 and recommended placing orders early. Many folks this year are looking for ways to celebrate at home, she said, and gift those they can't celebrate with.
"People are reaching out to people they haven't seen or can't see [with flowers] — grandparents and other loved ones," Barros said.
This Valentine's Day, chocolate shops around Boston, Cambridge, and Somerville are well-stocked with sweet treats that would make any sugar fiend happy. Pair it with a bouquet from one of the florists below, and you're well on your way to a memorable Valentine's Day gift.
Did we miss any chocolate or flower shops in Boston? Please let us know in the survey below.
Chocolate shops

Au Chocolat, Boston
Beacon Hill Chocolates, Boston
Cacao, Boston & Newton Highlands
EHChocolatier, Cambridge
Gâté comme des filles, Somerville
Godiva, Boston
Gourmet Boutique, Boston
L.A. Burdick Handmade Chocolates, Boston & Cambridge
Lindt Chocolate Shop, Boston
Petrova Chocolates, Online (locally based)
Phillips Chocolates, Boston
ROYCE' Chocolate Boston, Boston
Serenade Chocolatier, Brookline
Somerville Chocolate, Somerville
Taza Chocolate, Somerville
Teuscher Chocolates, Boston
Flower shops
Back Bay Florist, Boston
Beach Plum Floral, Boston
Bloom Couture, Boston
Boston City Florist, Boston
Brattle Square Florist, Cambridge
Central Square Florist, Cambridge
Fern, Boston
Giselle's Flowers & Gifts, Roxbury
Hanaya Floral, Cambridge
Jayne's Flowers, Boston
Market Floral Studio, Boston
Nellie's Wildflowers, Somerville
Olympia Flower Store, Boston
Orly Khon, Boston
Robin's Flower Shop, Boston
Rouvalis Flowers, Boston
Sunny Florists, Boston
Table & Tulip, Boston
Wildfolk, Somerville
Winston Flowers, Boston
Get Boston.com's browser alerts:
Enable breaking news notifications straight to your internet browser.