Streaming
Hulu's 'Taste the Nation' heads to Lowell
The episode, which features multiple Lowell restaurants, premieres Friday night.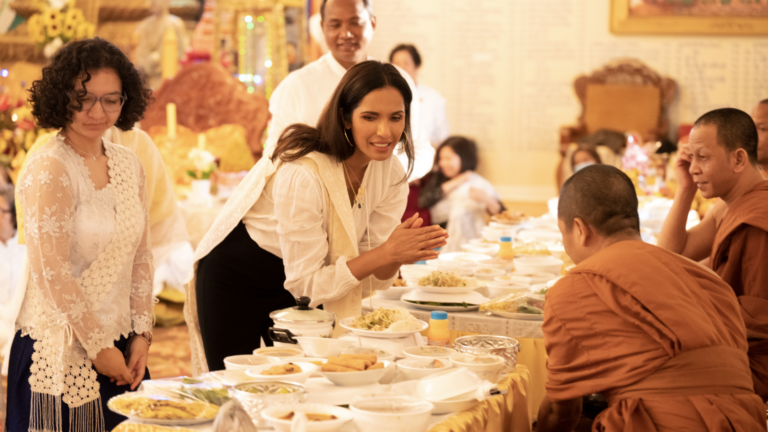 Lowell is the setting of an episode of the second season of Hulu's "Taste the Nation with Padma Lakshmi," which is premiering on the streaming service today.
The 10-episode series once again finds program Lakshmi, an award-winning cookbook author and the show's executive producer, taking viewers on a culinary adventure across America, exploring the diverse communities behind what's cooking in kitchens around the country.
One of those communities is the Cambodian immigrants who settled in Lowell, America's first purposely built factory town, who are the focus of the episode titled "On the Tip of my Kreung." Kreung is a generic word for a number of herb and spice pastes used in many Khmer dishes.
One of the restaurants featured is Simply Khmer Restaurant on Lowell's Lincoln Street, which is owned by Sambath Eang Lee (head chef), Denise Ban, and their son Xavier Eang Lee. They opened Simply Khmer in 2007 to provide the food they grew up with in Cambodian to the local community.
"Firstly, an immigrant cooks to feed the community. It is a necessity," said Xavier, who is the restaurant's sous chef and manager. "Secondly, it is a place for locals and visitors to experience Cambodian food and culture. But it starts as being food for us."
One featured dish is amok trey, a fish dish poached in a coconut milk curry sauce and served in a banana leaf.
During the episode, Sambath recalls the pain of growing up under the Khmer Rouge genocide in the 1970s.
"Padma wanted to talk to my parents about their experience," Xavier said. "My father is a product of that time. He doesn't open up much. But Padma was super welcoming, and it was really moving to see my dad open up. There are some very raw moments as he relives certain things."
Xavier's mother escaped with her parents and four siblings. Xavier's father, who was about 13 and put to work in a rural labor camp, lost his father, brother, and grandmother.
"He remembers a lot of the bad stuff," Xavier said. "They are never fully away from their trauma, and it gets passed on through generations."
Which is why being seen is important, according to Xavier. He feels this program helps to validate his family and the community.
"The last thing I wanted to do was work in this restaurant, " Xavier said, referring to his earlier career in marketing. "But now I understand food is a tool to share a culture. It's not a transaction, it is an act of love. Doing the show reinforced my pride in the sense that my people have a story. It reassured me that I do have a future."
The second season of "Taste the Nation with Padma Lakshmi" premieres on Friday, May 5, on Hulu.
Sign up for The Dish
Stay up to date on the latest food news from Boston.com.