Wickedpedia
What's the oldest Italian restaurant in the North End?
"The menu is almost all pizza."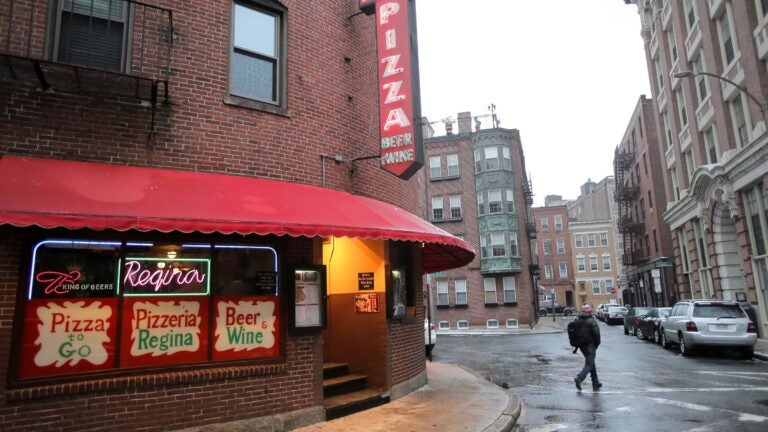 While dining out in the historic North End, you may find yourself wondering, what's the oldest Italian restaurant in the neighborhood?
The answer appears to be the popular Regina Pizzeria, which first opened on Thacher Street in 1926, according to the North End Historical Society's Tom Damigella. Serving bestsellers like its cheese and pepperoni pies over the course of the almost 100-year run, Regina spokesperson Stuart Thompson said that the small eatery has not changed much, even retaining the German oven used when it first opened.
"It basically opened as a pizza parlor, and it attracted local immigrants that were familiar with pizza, light Italian food," he said. "Today, it's often argued whether they should be introducing more products, like salads, but the menu is almost all pizza."
The recipe for the thin crust has been passed down over the years, Thompson said, and its flavor comes from the fact that the restaurant ages the dough. Toppings have likely "changed dramatically," he added, because of the accessibility of ingredients today. In terms of the restaurant's space, it maintains its old character: The brick building holds booths that are still in the same configuration, and the original oven has not been moved.
The Thacher Street location was founded by Luigi D'Auria, and when he died, he passed the business on to a relative, believed to be his grandson. In the 1940s, the restaurant changed hands, most likely because the inheritor was either incapable, not old enough, or not interested in running a pizza parlor, Thompson said. It was sold to the Polcari family, who had roots in Southern Italy. Today, the Polcaris operate 12 Regina Pizzeria locations and two Polcari's Italian restaurants.
When Regina Pizzeria first opened, the North End would have been considered an Italian enclave, said research and adult program director for the Paul Revere House Robert Shimp. The neighborhood was densely populated by Italian immigrants, who formed tight-knit families and communities. Bobby Agrippino, owner of North End Boston Food Tour, said that during this time, there would have only been a handful of restaurants and that people would not frequently go out to dine.
"A lot of folks couldn't afford to go out and eat," he said, adding that it would have been "a luxury" for families to visit a restaurant.
In the years following Regina's opening, more Italian food establishments arrived in the neighborhood and remain open today. Caffé Vittoria, which opened in 1929, serves cappuccinos, cocktails like the North End Express, and treats, such as cannoli and tiramisu. A traditional, sit-down restaurant, Cantina Italiana opened in 1931 and serves a full menu including fettuccine alla carbonara and chicken parmigiana.
Thompson said that Regina Pizzeria has remained in the community for as long as it has because of its classic offerings.
"Because they typically have a line outside, they try to keep it as simple and authentic as possible," he said. "If you walk into a Regina right now, that operation is going to be about as similar to something you would have seen in 1926 as possible."
Wickedpedia: Your unserious questions, seriously answered. Have a question about Greater Boston or New England you've always wondered about but never thought to ask? Boston.com's new Wickedpedia series aims to track down the answers to these long-burning (often random) reader questions — the more obscure the better. Submit your question below or email it to [email protected], and if it's selected, we'll put a reporter on the case.
Sorry. This form is no longer available.
Newsletter Signup
Stay up to date on all the latest news from Boston.com