Wickedpedia
What is apizza? And how is it different from regular pizza?
Apizza, which is different in style and pronunciation from regular pizza, is the pie to eat in New Haven, Connecticut. Now, the specialty pizza is growing across New England.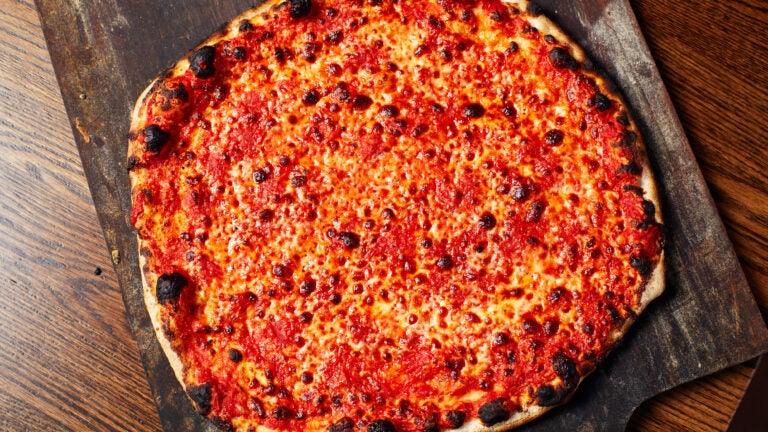 In Boston, it can feel like there are endless options when it comes to pizza. It's not a city known for a specific pizza style, but due to cultural influences from Italian immigrants, and the pizza capital of the U.S. just a four-hour train ride away, there's plenty of pies to try.
Even closer than New York City is a pizza — or rather, "apizza" — promise land.
New Haven is home to apizza, which is different from a large slice of New York pizza, though they are both descendents of Neapolitan pizza. Apizza has been the pie to get for a century in New Haven, and it's by far the most popular pizza in that region, according to the many apizza loyalists who live there.
That includes Colin Caplan, who runs Taste of New Haven, a food and drink tour service for the Connecticut city. He calls himself a pizza expert, having written about New Haven pizza and helped produce a documentary about apizza.
"It's like anything of the highest quality: Once you know something that's so good, you won't want to eat another pizza again," Caplan said.
It's also been raved about by visitors and food writers that go to try the local cuisine. But despite its cult following in the region, it has only started spreading across New England in the last 15 years, Caplan estimated.
"What you're looking at, really, is a new fad," he said. "The fact that it's happening so quickly tells me that it's going to keep going."
What's apizza?
Before we get into specifics over ingredients, you have to know how to pronounce this pie. It isn't "ah" in front of "pizza," but rather "ah-beets."
It sounds that way because that's how pizza was pronounced in Naples. Caplan said New Haven pizza pays homage to those roots, down to the ingredients used, the methods of cooking, and yes, even its language.
"The understanding is that this is the original kind of pizza," Caplan said.
You may or may not want mozzarella on your pie (more on that soon) — you'd call that "mootz."
Though this has nothing to do with Neapolitan pronunciations, another word in apizza's lexicon is "charred." When you see the almost black spots on the crispy, oblong-shaped crust, don't call it burnt.
Now onto the ingredients, which typically consist of three main components.
The star of the show is that charred, chewy crust. It looks that way because it's prepared in a hot brick oven powered by coal.
This pizza is also sauce forward, which is noticeable if you've seen or eaten a bright red original tomato pie from famous New Haven establishments like Frank Pepe Pizzeria or Sally's Apizza.
On top of that crushed tomato sauce is a dusting of grated Pecorino Romano. You won't find mootz on these pies — unless you order it as a topping.
To get these three elements — and these three elements only — on a pie would be called the original tomato pie, or a plain pizza.
"It's the balance of these pies that make every bite dance on your palette, from the acidity of the sauce and the smoothness of the mootz and the actual charred bake on it," said Ted Zizlsperger, COO of Sally's Apizza.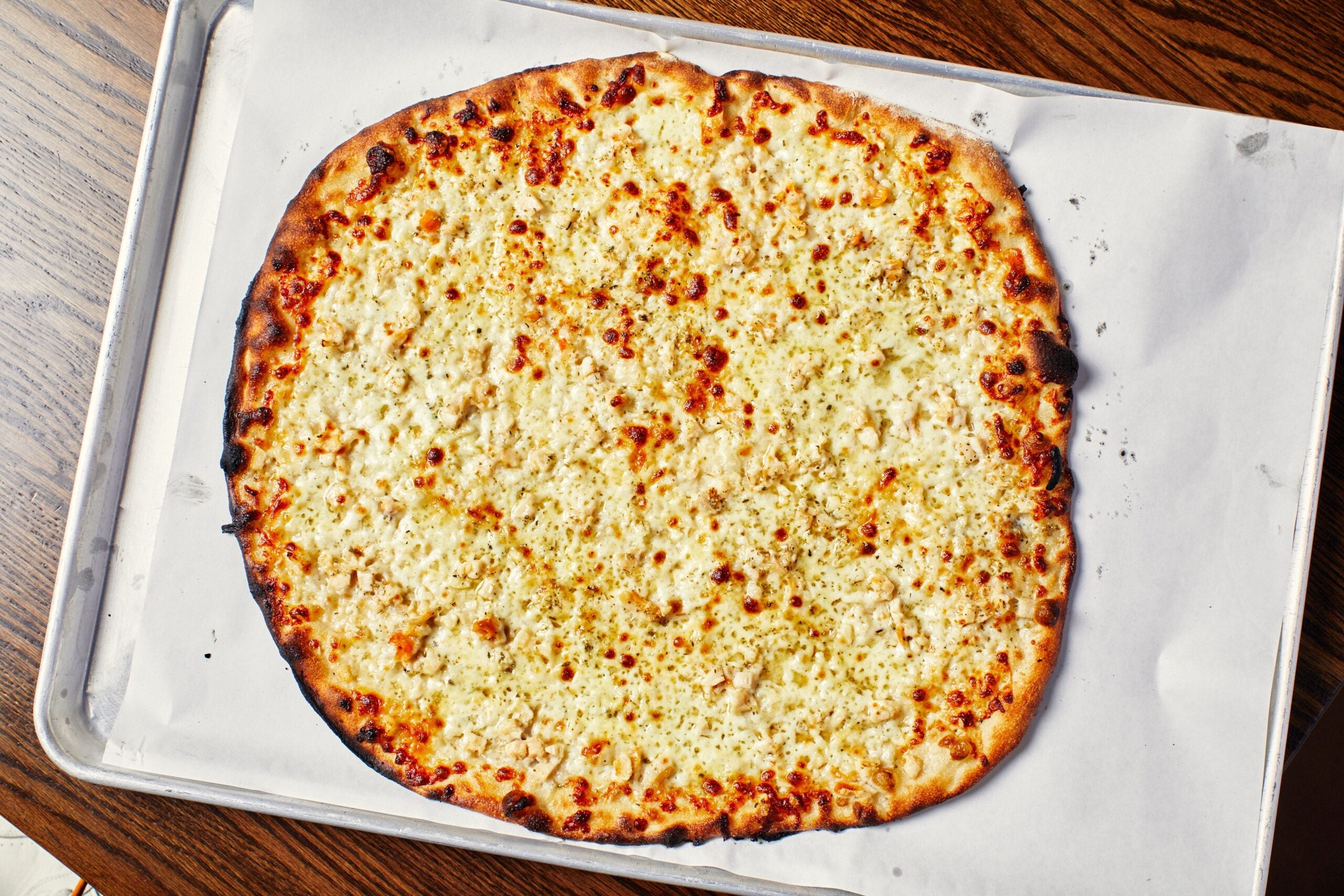 There are other uniquely New Haven pies served up at spots like Sally's. The white clam pizza is a favorite among apizza enthusiasts, topped with chopped littleneck clams, a healthy dose of garlic, Pecorino Romano, and even some mootz (though no tomatoes on this one).
Then there's the truly bizarre — and delicious if you're a fan of starch, like the creator of this pizza was: a pie with potatoes, either mashed or thinly sliced, as a topping.
Lastly, you (usually) can't order apizza by the slice, unlike New York-style pizza. So be prepared to share with friends or enjoy it as leftovers.
Apizza in Boston
New Haven is only two-and-a-half hours from Boston, meaning apizza has been in close proximity to the city for almost a century. Yet it's only been in the last 10 years that the New Haven pizza has taken up brick-and-mortar space in New England's biggest city.
Frank Pepe was the first to move in, which opened its first shop in 2015 in Chestnut Hill — then two more suburban spots a handful of years later.
Another option for those hankering for a New Haven pie is APIZZA, located within North Station. Unlike Frank Pepe, APIZZA is not New Haven-based (though certainly New Haven-inspired).
The shop comes from the team at Mida, chef Douglass Williams and managing partner Seth Gerber, who grew up in Connecticut. Williams said he's "always on the hunt for what's next," and that happened to be apizza for him.
But it was also more than that — he loves that food is history, and in apizza's case, an immigration story, and he thought bringing one of the few apizza shops to Boston would help "spread that gospel."
"It's not just to provide apizza, and not just to do it because it's fun — it's to pay homage," Williams said. "That's the main point of having it in the restaurant."
You'll notice one item on their menu, the Crown Street, which is their version of the aforementioned potato pie and is named after the birthplace of this pizza, Bar New Haven on Crown Street. But their pepperoni comes highly recommended by the chef.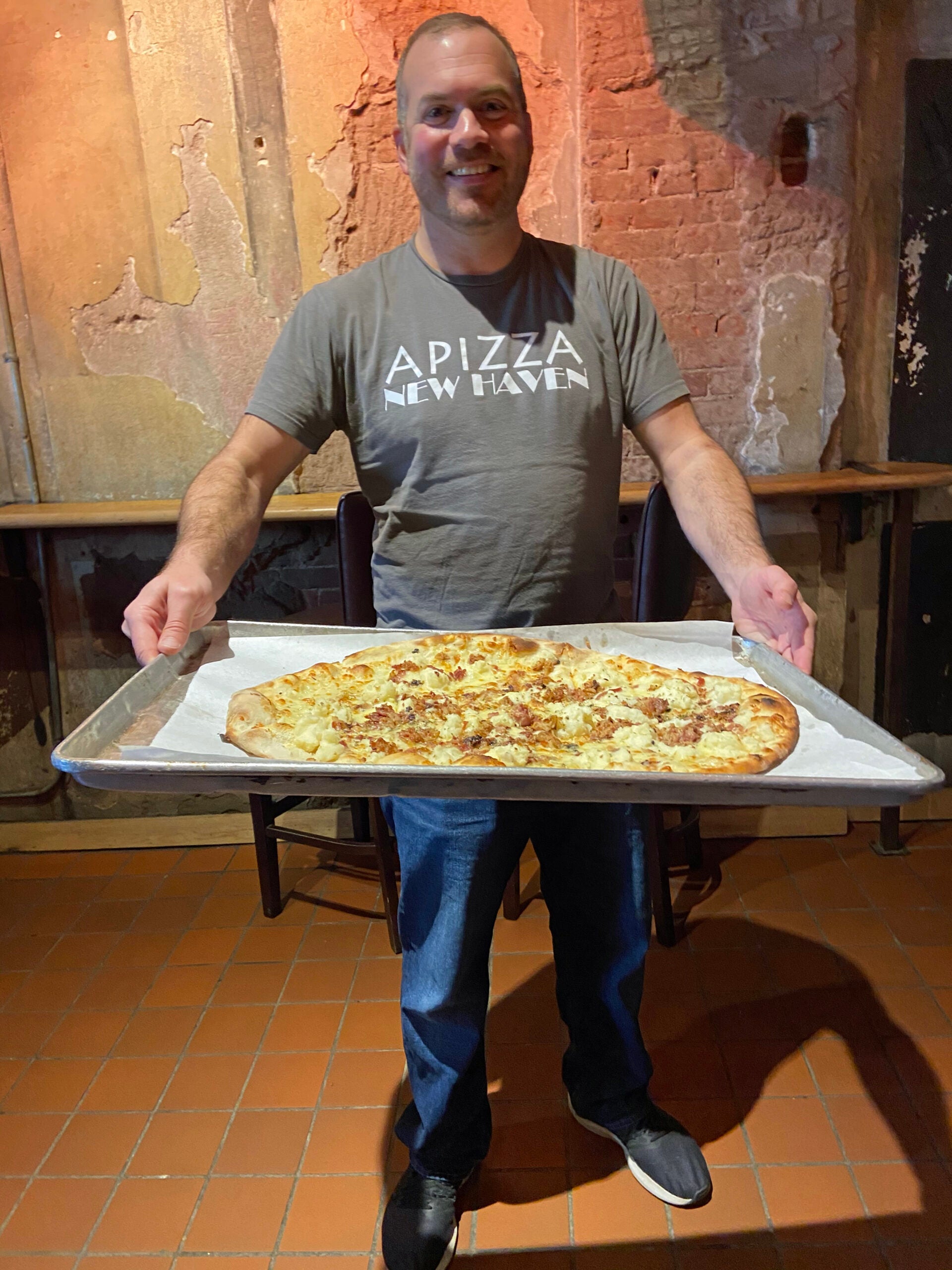 And in case you need more options to get your apizza fix, there are more pizza joints coming soon. Sally's is opening two locations in the coming months, one in Woburn and the next in the Seaport.
"People come from across state lines to try Sally's," said Zizlsperger, who added that Bostonians have been some of the local chain's most loyal fans. "To shorten that commute and make Sally's their local pizza shop was something we set out to do."
It's been more often the case that places — either individual shops or even counters at bars — have served one type of New Haven pie among other pizza styles, said Caplan, who keeps track of shops that serve apizza across the country in a Google map. That's the case for Montano's in Provincetown and Casa Pizzeria in Western Massachusetts.
Caplan said apizza's profile has been raised to the general public (non-New Haven residents), in part, thanks to the internet and foodie culture.
And positive press coverage in food media — Eater, Food & Wine, and reviews from Barstool Sports' Dave Portnoy (who feuded with a Somerville pizza shop recently) — sure helps, said Andrew Ronck, Sally's senior marketing manager.
"Everybody has become foodies in this day and age and are curious about these things that are out there that they've never tried," he said.
Caplan had one final — and crucial — note to give as an apizza expert.
If you have leftovers, never microwave quality pizza like New Haven pizza.
Opt to put it on a skillet, covered with no oil, or on a sheet pan, so that the cheese melts and the crust crisps again.
"You still want it to taste as good as you can get it," he said.
Newsletter Signup
Stay up to date on all the latest news from Boston.com