Politics
Mark Zuckerberg says he'll try not to further 'antagonize' Elizabeth Warren
"I would rather someone get elected, even if I disagree with them on everything, which I don't think is the case here, than not give them the ability to say what they think."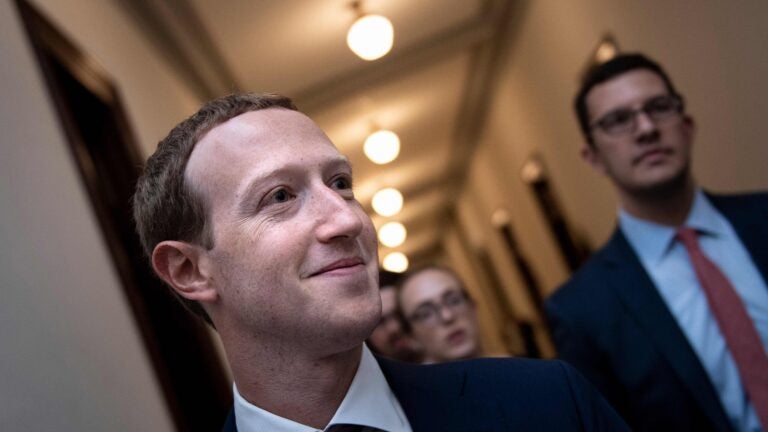 Mark Zuckerberg says he'll try not to further "antagonize" Sen. Elizabeth Warren.
The Facebook co-founder and CEO live-streamed a question-and-answer session with employees Thursday afternoon, after the audio of a previous meeting was leaked and published by The Verge earlier this week, in which Zuckerberg said, among other things, that it would "suck" to fight Warren's effort to break up Facebook, if she followed through on her campaign pledge if elected president.
The comments elicited a forceful response from Warren, who tweeted that what "would really 'suck' is if we don't fix a corrupt system that lets giant companies like Facebook engage in illegal anticompetitive practices, stomp on consumer privacy rights, and repeatedly fumble their responsibility to protect our democracy." On social media, the Massachusetts senator reiterated her belief that concentration in the tech industry is hurting innovation and consumers. She even used Zuckerberg's pledge to "go to the mat" against an anti-trust lawsuit in a fundraising email Thursday.
"Let's try not to antagonize her further," Zuckerberg said when a Facebook employee brought up Warren in Thursday's live-streamed meeting.
The 35-year-old tech billionaire was asked how Facebook could stay impartial toward Warren over the course of the next year, given that he has said her presidency could pose an "existential" threat to the company. And while Zuckerberg doubled down on his promise to fight any possible government lawsuits to break up Facebook, he said the company values "giving people a voice" and allowing them to freely express themselves above all else.
"Even when people disagree with what I think would be good to happen in the world, I still want to give them a voice," Zuckerberg said. "That's what we're here to do."
Zuckerberg said he was worried about a "trend … on a lot of fronts," in which people look to shut down or censor opposing views.
"That's not the type of company that we're going to be," he said. "I would rather someone get elected, even if I disagree with them on everything, which I don't think is the case here, than not give them the ability to say what they think."
The meeting Thursday wasn't the first time questions have been raised about Facebook's treatment of Warren. In March, the social media platform temporarily removed several of the presidential candidate's ads promoting her then-newly-released plan to break up tech giants like Facebook, Google, and Amazon. The company said the ads violated their rules against using Facebook's logo, but ultimately restored them in "the interest of allowing robust debate." Nevertheless, Warren's campaign said at the time that the incident highlighted one of the reasons she wanted to break up the company.
"If you want proof of Elizabeth's point that Facebook has too much power, look no further than their ability to shut down a debate over… whether Facebook has too much power," the campaign wrote in an email to supporters.
As part of her plan to break up "Big Tech," Warren says she would appoint regulators who would more aggressively enforce anti-trust laws and unwind "anti-competitive" mergers, like Facebook's purchase of WhatsApp and Instagram. She says doing so "will promote healthy competition in the market — which will put pressure on big tech companies to be more responsive to user concerns."
Zuckerberg reiterated Thursday that he thinks Facebook would win in the courts if they faced a federal anti-monopoly lawsuit.
However, the recent dust-up with Warren also gave him a window into the unsubstantiated yet persistent concern among some conservatives that tech companies are biased against them. While Facebook and other internet giants, like Twitter and Google, say they do not censor conservative views, Zuckerberg said he could empathize with the worry, given the political makeup of the companies.
"We're in the Bay Area," he said. "It's an overwhelmingly progressive place, and I think people in tech industry overwhelmingly donate to Democrats over Republicans. So at almost every layer of the company — and not just our company, but the industry overall — people are expressing a lot of policy preferences that are in favor of one side versus the other."
The questions about Facebook treating Warren impartially rose from just "one policy disagreement, on something that happens to be quite important to us," Zuckerberg said.
"But the fact that that raised this question of 'Well, how can we not be biased?' I don't know. I just think it's a real moment for at least understanding where other people are coming from, who have had this concern pointing in the other direction for a long time," he said, adding free expression will remain the "primary thing that we care about."