Local
Massachusetts voters can now request a mail-in ballot online
"My hope is that this new online portal will cut down on the time it takes for voters to apply for their ballots."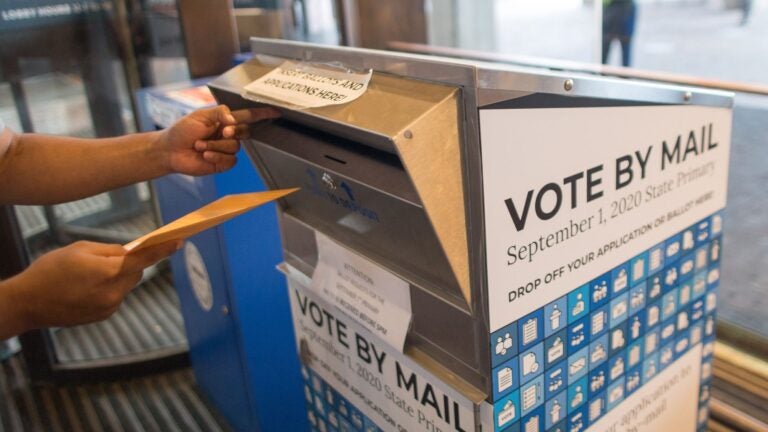 Massachusetts voters who are still looking to request a mail-in ballot for the general election this fall can now do so online.
Secretary of State Bill Galvin unveiled an online portal Wednesday allowing residents to ask to have a ballot mailed to them, without the hassle — and potential delays — of first having to mail a ballot application to their local election office.
"This new portal is just one more way for voters to request their ballots by mail this year," Galvin said in a statement. "This online system will be helpful for those voters who are away from home right now, and did not receive the Vote by Mail applications that were mailed to them recently."
The system requires users to first verify their voter registration status by entering their name, birth date, and zip code (if they are not registered, the deadline to register to vote in Massachusetts is Oct. 24). Then, all they have to do is confirm the address to which they want the ballot to be sent and check a box affirming their identity and swearing not to request a ballot from any other jurisdiction for the Nov. 3 election.
"My hope is that this new online portal will cut down on the time it takes for voters to apply for their ballots, by eliminating the need for a local election official to wait for the application to arrive in the mail," Galvin said, adding it should allow voters to "get their ballots sooner and return them in plenty of time for them to be counted."
The expedited process comes after mail delivery delays, along with unprecedented turnout and mail-in voting, created some issues during the state primary earlier this month — especially since many voters didn't apply for a mail-in ballot until just "a couple of weeks" before the primary, Galvin said at the time.
Galvin ultimately advised voters who hadn't mailed back their ballot at least two weeks before the Sept. 1 primary to hand deliver their ballot or vote in person instead (which remains an option as long as voters don't also turn in the mail-in ballot they requested). The late arrival of many ballots also resulted in Galvin seeking a court order to allow several communities to finish their counts in the days after the election.
For the general election, mail-in ballots must be postmarked by Nov. 3 and reach local election offices by Nov. 6 in order to be counted. Galvin has encouraged voters to send back their mail-in ballot at least several weeks before Election Day. Voters who hand deliver their ballot to their local election office or drop box must return them by 8 p.m. on Nov. 3.
Galvin's office was required to create the new online ballot request portal, a first in Massachusetts history, by the emergency voting reform law passed this summer in the wake of the COVID-19 pandemic.
"Sending ballot applications directly to registered voters led to record participation this September — with nearly half the votes being cast via mail balloting," Rahsaan Hall, the director of the racial justice program for the Massachusetts chapter of the American Civil Liberties Union, said in a statement.
"But we know those applications did not reach all voters, we are particularly concerned about low-income voters, the young and the elderly, and voters of color in the Commonwealth," Hall said. "The portal will help empower these voters to register, request a ballot, and make sure the system works."
After local election offices were strained by the vote-by-mail process during the primary, Galvin said last month that the general election would be an even bigger test for the newly expanded system.
"The volume is going to be much greater," he said.
Get Boston.com's browser alerts:
Enable breaking news notifications straight to your internet browser.