Politics
Live blog: Election Day 2020
Follow the latest Election Day reports below as they come in from across Massachusetts.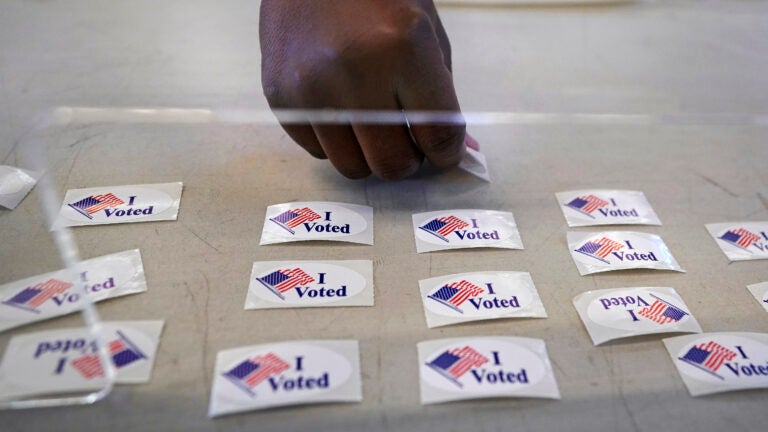 Man drives from Mass. to Georgia to vote after not receiving mail-in ballot
It took 30 hours, and a 2,000-mile drive round trip, but Joe LaMuraglia and his 13-year-old Volvo, named Sophia, are back in Massachusetts after a last-minute trip to Georgia for LaMuraglia to cast his ballot.
LaMuraglia told The Boston Globe that while he's been living in West Roxbury with his partner, Steve, since the onset of the COVID-19 pandemic, he's technically a resident of Georgia. He had requested an absentee ballot, but it didn't arrive.
"They looked it up, they were able to track it, and they had the street address and they had the zip code right," he told the newspaper. "But they had the state wrong — they sent it to Virginia."
As Election Day approached and no ballot appeared in his mailbox, LaMuraglia made the decision last week: If the ballot wouldn't come to him, he would head to Georgia to cast his vote, according to the Globe.
Steve and Sophia began the southward trek, making a pitstop in Connecticut. He made it to Savannah on Wednesday, waited in line for about an hour, voted, then pointed Sophia north.
His choice for president? Joe Biden, he told the WCVB.
"I did it because, one, this election is super, super important — and I'm stubborn," he said, according to the news station.
Marty Walsh: Boston saw 48 percent voter turnout by 3 p.m.
Mayor Marty Walsh said 48.3 percent of Boston's 432,000 registered voters had cast a ballot as of 3 p.m.
The number includes mail-in ballots processed so far and ballots cast during the early voting period, Walsh said, adding that workers were still collecting ballots from each of the city's 17 drop boxes.
"Right now, we're on pace to eclipsing one of the highest turnouts in the history of the city," he said.
The city had no issues reported at polling places, according to the mayor.
"As of right now, we have no complaints right now of any type of incidents at our polls," he said.
Walsh reminded voters who had not yet cast their ballot that they can do so after 8 p.m. when polls close so long as they are waiting in line at their polling location at that time.
He also advised voters to be patient while national election results are processed.
"Don't be surprised if you don't have all of the national results tonight," the mayor said. "There's heavy voting throughout the country as all of the stations have been reporting. So I think that we'll have maybe some idea later in the night who the president is, who the next president is, but I think we're going to have to watch that as we move forward here."
Boston mayor Marty Walsh speaks as the final votes are cast in the 2020 election. https://t.co/nynIT7RD4S

— WCVB-TV Boston (@WCVB) November 3, 2020
Nonprofit group warns of 'intensification of Trump electioneering' in Mass. small towns (3:28 p.m.)
Lawyers for Civil Rights, a nonprofit headquartered in Boston, said in a statement Tuesday afternoon that the group is seeing "an aggressive intensification of Trump electioneering" in small Massachusetts towns, including Seekonk, Ware, Hubbardston, Dartmouth, North Adams, Palmer, and North Attleboro. 
"Despite well-established state rules against electioneering, we have significant reports of 'Trump' and 'MAGA' masks and hats being worn to polling sites," the nonprofit said in a statement. "Multiple reports of people driving around polling sites in these communities in trucks with Trump flags and signs along with Trump supporters congregating and shouting right outside of polling sites. Some voters and congregants are also refusing to wear masks. We are responding in real-time enforcing state rules against electioneering and public health protocols."
The nonprofit group, which has more than 2,000 volunteers trained through its non-partisan election protection campaign, raised similar concerns earlier Tuesday.
Lawyers for Civil Rights reports 'extremely aggressive Trump electioneering' in Dartmouth, Lawrence (12:44 p.m.)
Lawyers for Civil Rights, a nonprofit headquartered in Boston, issued a statement Tuesday reporting "extremely aggressive Trump electioneering" in Massachusetts on Election Day, particularly in Dartmouth and Lawrence. 
We have seen extremely aggressive Trump electioneering, particularly in Dartmouth and Lawrence. #VOTE #Elections2020 #Election2020 #ElectionDay #elections #Vote2020 #vote #mapoli #bospoli #Boston

— Lawyers for Civil Rights (@LCRBOSTON) November 3, 2020
The nonprofit said it has received more than 200 calls and requests for help from voters in the last 24 hours, and identified a "number of issues" emerging at polling sites in the state by mid-morning. 
"We started the morning with excessively long lines, particularly in Mattapan, Dorchester, and Hyde Park," the group wrote. "Long lines coincide with polling locations that house multiple precincts. These excessively long lines present challenges surrounding COVID-19, particularly for the elderly and those with disabilities. The elderly are particularly struggling with the dynamics of voting during a pandemic. At peak times, we have seen as many as 150 people in line at a time, and waiting times in excess of 40 minutes."
We are tracking significant confusion surrounding mail-in ballots. Voters often don't know where to drop them off.. #VOTE #Elections2020 #Election2020 #ElectionDay #elections #Vote2020 #vote #mapoli #bospoli #Boston

— Lawyers for Civil Rights (@LCRBOSTON) November 3, 2020
In at least one polling site in Lawrence, people were not allowed to vote in person even though they never received their mail-in ballot. We addressed the issue in real time. #VOTE #Elections2020 #Election2020 #ElectionDay #elections #Vote2020 #vote #mapoli #bospoli #Boston

— Lawyers for Civil Rights (@LCRBOSTON) November 3, 2020
The group, which has more than 2,000 volunteers trained through its non-partisan election protection campaign at work on Election Day, said it has so far received some reports of "improper requests for identification" and allegations of law enforcement officers threatening the arrest of poll monitors.
"While these are being generally requested to facilitate the administrative process, it is highly disturbing that this is disproportionately affecting the Latinx community, especially in Boston, Lawrence, and Waltham," the legal nonprofit wrote. "Although Massachusetts election laws require the presence of a law enforcement official to guard ballot boxes, we have already seen law enforcement officials aggressively confronting non-partisan Election Protection volunteers, particularly in Springfield, Framingham, Cambridge, and Boston. Law enforcement officials have gone so far as to conduct the forcible removal of poll monitors from precincts."
Officials issue reminder on the rules for mail-in ballots (11:35 a.m.)
If you're returning your ballot today, bring it to your local election office or a drop box in your city or town by 8 p.m.

Otherwise, you may vote in person at your polling place until 8 p.m.

Drop Boxes:https://t.co/exZKvYmchX

Polling Places:https://t.co/xH7U2oZXk8

— Mass. Elections (@VotingInMass) November 3, 2020
Mayor Marty Walsh casts vote in Dorchester, says he won't 'go to bed until they call it' (10:17 a.m)
Among those waiting in the long line in Dorchester, Boston Mayor @marty_walsh. #ElectionDay @NBC10Boston @NECN pic.twitter.com/yjPuW1r2FH

— Jeff Saperstone NBC10 Boston (@JeffNBCBoston) November 3, 2020
Mayor @marty_walsh will be watching election results just like everyone else. And he says, "I will not go to bed until they call it." #ElectionDay @NBC10Boston @NECN pic.twitter.com/u6l2GacPDY

— Jeff Saperstone NBC10 Boston (@JeffNBCBoston) November 3, 2020
Mayor Walsh voted in person in Dorchester and he says Election Day is "kind of like the Super Bowl." How did you vote this year? | Stay with Boston 25 for all-day election coverage. –> https://t.co/MHVNgHGBfa #boston25 pic.twitter.com/jmMOkflL7S

— Boston 25 News (@boston25) November 3, 2020
For me, #ElectionDay is like the Super Bowl. pic.twitter.com/9IwkfFUZD4

— Mayor Marty Walsh (@marty_walsh) November 3, 2020
State: More than 2.3 million Massachusetts voters cast their ballots during early voting (9:13 a.m.)
More than 2.3 million Massachusetts voters cast their ballots during early voting in the state, according to the data released Tuesday morning by Secretary of State Bill Galvin's office. The state expects mail-in ballots will continue to arrive through 5 p.m. Friday, with other ballots being hand-delivered until 8 p.m. on Tuesday. 
According to Galvin's office, 2,562,718 voters applied to vote by mail or voted early. Before polls opened Tuesday, the state had seen 2,342,945 ballots returned, meaning 91. 9 percent of the early voting and mail-in ballots that were provided were returned. The state is estimating voter turnout, ahead of polls opening Tuesday morning, to be about 48.9 percent. Voter turnout in 2016 was 69.6 percent. 
Since so many have already voted, the state said Tuesday that long lines at the polls are not expected "outside of peak hours."
With so many people having voted already, long lines are not expected outside of peak hours today.

All polling places are set up for social distancing & safe voting. Poll workers will be masked and sanitizing surfaces all day.

— Mass. Elections (@VotingInMass) November 3, 2020
Here's the unofficial snapshot of early voting numbers released by the state early Tuesday:
# of Voters Who Have

Applied

to Vote by Mail OR

Voted Early

:

2,562,718

# of Ballots Provided (In-person or by mail):

2,559,667

# of Ballots Returned:

2,342,945

% of Voters Who Have Applied to Vote by Mail or Voted Early:

53.2%

% of Ballots Returned:

91.9%

% Voter Turnout:

48.9%

% of 2016 Turnout:

69.6%
Party Breakdown:
% of Democrats Already Voted:

55.5%

% of Republicans Already Voted:

37.9%

% of All Other Voters Already Voted:

46.8%
 Mail & In-Person Breakdown:
# of ballots returned by mail:

1,384,454

# of ballots returned in person:

968,491

% of ballots returned by mail:

58.8%

% of ballots returned in person:

41.2%
Bill Galvin expects a 'large' turnout on Election Day, says disruptions at polls won't be tolerated (8:15 a.m.)
Massachusetts Secretary of State Bill Galvin says voters can expect an orderly day on Tuesday with large turnout. 
During a press conference on Monday, Galvin stressed that state officials will "insist" on order as voters cast their ballots. Every polling location in the state will have a police officer present, Galvin said, with the purpose to "keep order."
"It is a statewide law that you cannot engage in any political activity within 150 feet of the voting area," he said. "That means that all political activity must cease at that point. There can be no interaction with the voter after that point to the extent of trying to influence the outcome of their vote. We believe that these rules are very clear. We also believe that they must be enforced and that they will be enforced. 
"We have been in contact with both major parties to discuss the issue of observers," Galvin said.  "We've explained to them that while they have the right to have observers, we're recommending very strongly to them that they make sure that the local election officials are informed of who the observers are going to be and where they're going to be."
The secretary of state said observers are not allowed to interact with voters at all and are not permitted to "roam the polling location." They must stay in one place where they can see and hear what is happening but not get involved in any way. 
Galvin said the state has been in touch with independent observers from various civil rights groups and has been assured by state party chairs that the required conduct will be followed by their own observers.
"If, in fact, there is any effort to disrupt the polls tomorrow by any means, whether it's by drive-by caravans or anything else, we will insist that law enforcement take action immediately to make sure the polls remain accessible," Galvin said. "We hope that will not be necessary and I don't believe it'll be necessary. That's not been our history here in Massachusetts, but because so much concern has been expressed about this, I wanted to speak directly to that. All in all, I think we will see a good day tomorrow."
What officials have said about law enforcement preparations for Election Day (8:15 a.m.)
Massachusetts Gov. Charlie Baker activated up to 1,000 members of the National Guard for Election Day in the event that local officials request their assistance for maintaining public safety should any large scale protests or demonstrations occur following the election.
Baker said Monday during a press conference that it has become "habit" over the last four years to call in the National Guard when local officials request the action. 
"Sometimes it's on very short notice, sometimes it's in advance of a storm or something else, or sometimes it's in response to a fire," the governor said. "And we've also brought them out when local communities have raised concerns about their ability to safely manage really large outdoor gatherings, and we've heard from a number of our colleagues in local government who asked us to make the guard available, if need be, sort of later in the week. But the goal here is to basically be supportive of local communities."
In a statement, Executive Office of Public Safety and Security Secretary Thomas Turco said  there are no indications of any public safety risks in Massachusetts. A spokesman for Massachusetts State Police said in a statement that the department is not aware of any "specific or credible threats to election sites."
"As for public gatherings related to the elections, we – through our State Police Watch Center and our Homeland Security Operations Center – will continue to monitor developing incidents and intelligence through the election and the days beyond to maximize situational awareness, response capabilities, and public safety," spokesman Dave Procopio said. "We will deploy enhanced staffing prior to Election Day, on Election Day, and on the days that follow to ensure safety and security at the locations for which we have primary jurisdiction, such as the State House and other state properties throughout Massachusetts, as well as to assist local police departments that request our help to protect public safety in their communities."
Carol Rose, the executive director of the ACLU of Massachusetts, wrote in a column over the weekend that regardless of the election's outcome, law enforcement "must protect the right to protest and peacefully assemble."
"Unfortunately, some police have responded to recent protests with tear gas, pepper spray, and baton strikes on peaceful political protesters," Rose wrote, defending the rights of protesters. "Responding to peaceful political demonstrations with violence is antithetical to law enforcement's duty to protect the public and to keep peace. Mayors and police commissioners should exercise leadership to stop this recent pattern of violent and counter-productive conduct toward political protesters."
The ACLU leader also urged Massachusetts officials not to "assist federal law enforcement in any effort to undermine the right to protest or peacefully assemble."
2020 Election Day kicks off with polls opening in Massachusetts at 7 a.m. (5 a.m.)
Election Day is finally here.
Tuesday, Nov. 3, will see the final chance for voters to cast their ballot for the presidential candidate they want to see in the White House in January, at a time when the COVID-19 pandemic has sickened 9.2 million Americans and killed more than 230,000 people across the United States.
In Massachusetts, the polls will be open from 7 a.m. to 8 p.m. for voters who haven't already cast their general election ballot during early or mail-in voting. Massachusetts voters can also head to their polling place to fill out a ballot if their mail-in ballot hasn't yet reached their local election office or if their ballot was rejected.
Polls will be open 7am-8pm statewide on Election Day.

You can vote at your polling place if:
-You haven't already voted OR
-Your ballot hasn't reached your local election office yet OR
-Your ballot was rejected.https://t.co/jBrByhxViJ

— Mass. Elections (@VotingInMass) November 2, 2020
Voters in Massachusetts will see more than just the race between President Donald Trump and his Democratic challenger, former vice president Joe Biden, on their ballot. Check out our voter's guide, and catch up on some of our past election coverage below:
Get Boston.com's browser alerts:
Enable breaking news notifications straight to your internet browser.