Politics
Here's what Annissa Essaibi George said in her concession speech to Michelle Wu
"This race may technically be over, but the work is not done."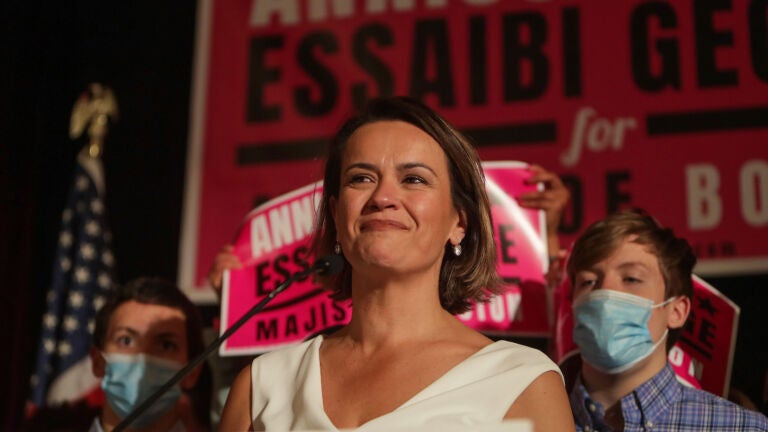 "Don't ever forget I'm from Boston."
That's how Boston mayoral candidate Annissa Essaibi George kicked off her concession speech Tuesday night, with election results indicating that residents had delivered a commanding win to her City Council colleague and general election rival Michelle Wu.
In a speech to supporters Tuesday night at the Fairmont Copley hotel, Essaibi George offered "a great big congratulations" to Wu, who will go on to become the first woman, person of color, and Asian American elected as mayor of Boston.
"I know this is no small feat," Essaibi George said. "You know this is no small feat."
The Dorchester native and mother of four sons added that she wants Wu, who also has two sons, "to show the city how mothers get it done."
"And I'm going to teach her how to say it the right way," Essaibi George, who sometimes leaned into her Boston accent, jokingly added.
The unofficial election results Tuesday night confirmed what was widely expected after weeks of polling indicated that Wu — the top vote-getter in the September preliminary election — held a large lead in the two-person finale.
Essaibi George, a 47-year-old former teacher-turned-at-large city councilor, campaigned from the beginning as the more moderate and pragmatic candidate, in contrast to Wu's platform of structural change. However, she was unable to grow her support significantly beyond her strongholds in parts of Dorchester, South Boston, and West Roxbury. The two candidates were at odds over issues like rent control, eliminating public transit fares, education, and police reform.
Those divisions — which grew contentious toward the end of the race as Essaibi George tried to flip voters — went unmentioned in her speech Tuesday night. Recalling her snowy campaign launch last winter outside East Boston High School, Essaibi George struck a more unifying chord.
"I spoke about how Boston is a city of scrappy, hard-working people," she said, adding that "together, we can accomplish anything."
"Some of those scrappy, hard-working people supported the mayor-elect," Essaibi George continued. "Some of those scrappy, hard-working people are in this room. It will take all of us scrappy, hard-working people to move Boston forward."
During her speech, Essaibi George thanked her supporters — going through the list of unions representing nurses, emergency responders, city workers, and construction workers that campaigned on her behalf — as well as her family, including her sons.
"It is not easy to be a teenager — not easy when your mother is running for mayor," Essaibi George quipped.
And she urged her supporters to stay civically engaged, whether it was donating or volunteering to help the homeless, visiting a small business in an underserved neighborhood, or doing a favor for an elderly senior. It was a glimpse into Essaibi George's vision of how to affect positive change in the city she loves "more than anything."
"This race may technically be over, but the work is not done," she said. "Our work is not done. It's going to take every single one of us, and I promise you I'm never going to stop fighting for the city that I love."
Newsletter Signup
Stay up to date on all the latest news from Boston.com